Turning casual website visitors into paying customers is no easy feat.
After all, it often takes more than displaying your products on your website for shoppers to purchase your products.
You'll need the right strategies and tools, from a compelling landing page to using automation tools, to convert your casual visitors into subscribers or buyers.
The good news is, there are tried and tested tips to help you turn your visitors into buyers, and that's what we'll cover in this guide.
Ensure seamless website navigation
One of the effective ways to encourage visitors to buy from you is to make it easy for them to get what they are looking for on your website.
Make browsing through your site as seamless as possible. Use navigational cues and elements.
Ensure your icons, menus, headers, and other site components are easy to see and allow visitors to jump from one page to the next within two to three clicks.  
Implement a simple yet logical website navigation structure and leverage design elements such as colors, texts, and icons to make browsing through your website quick and easy.
Design your website navigation structure and elements with your visitors in mind.  
The easier your visitors can browse through your website, the better their user experience. This contributes to memorable and positive interactions with your brand, encouraging potential customers to buy your products and act on your conversion goals.
Create an app
One of the most effective ways to boost your conversions is to provide unique, memorable customer experiences that help your business stand out from your competitors.
Take your visitor's shopping experience on your website to the next level by creating an app that helps visitors find products quickly and offer interactive shopping options.
For instance, you could create an app with customizable and advanced product search filters to help shoppers look for items from your store instantly.
It makes it uber easy for visitors to buy your products, allowing you to deliver convenient shopping experiences and encouraging more purchases.
Remember to run regular backups of your app codes and data to ensure they're secure, intact, and safe from data loss.
If you use Azure DevOps to build your app, leverage Backrightup.
The tool lets you run an automated Azure DevOps backup of all your business-critical codes and items in your repository so you won't have to do it manually.
This adds a layer of protection to keep everything safe in case of server crashes and malware attacks (among others) that might cause you to lose your data.
Also, having data backups ensures you have all you need to fix any bugs or issues with your app that could cause errors and ruin the user experience.  
Leverage a user friendly website builder
Regardless of how amazing your products, services, and other offers are, they're not always enough to convince shoppers to buy from you.
You'll need to provide exceptional interactions with your brand on top of delivering top-quality products and services.    
A great way to achieve this is through a well-designed, user-friendly website.
Creating a website can require time, effort, and resources, but you can simplify the process through an easy-to-use website builder such as Wix.
Wix, one of the easiest ecommerce platforms to use, offers an intuitive interface, hundreds of customizable templates, and a myriad of site-building tools.
You can choose a template, customize it as you prefer, and add essential pages such as your blog and landing pages.
It also offers other critical website components, including integrations with payment processing systems and automation features to streamline running and managing your website.
Even if you have limited site development and design skills, Wix can help you get your website up and running in no time.
Plus, using the website's ready-to-use templates helps ensure your site has the essential elements to make your site easy for visitors to use, increasing the chances of them converting into buyers.
Publish highly relevant content
Address your visitors' common pain points and deliver content that can resonate with them by publishing valuable content.
Create blogs, articles, how-tos, lists, videos, and other content types that help educate, entertain, or inform your visitors.
These provide perfect opportunities to engage your potential customers while presenting your products and services as a solution.
Consider these tips when creating your content.
– Use content marketing software. Churning out quality content takes a lot of time and energy, so streamline this process by using reliable content marketing software.
For instance, monday.com lets you centralize all your content marketing resources, materials, projects, etc., allowing you to manage your tasks and workflows more efficiently.
You can collaborate with your team better and access everything easily through a content calendar, project board, and other task management features. This helps speed up your content deliberation, planning, progress tracking, and production processes.
– Ensure high-quality content. Making grammar mistakes and typos is one way of turning off potential customers since these content errors can make your brand seem unprofessional.
Ensure your content is grammatically correct and sound by using tools such as Grammarly.
Grammarly helps you correct any spelling, grammatical, or formatting errors and issues. It scores your write-up based on specific guidelines and suggests corrections and revisions to improve it.
Publishing relevant content will also help increase your web page's visibility in search engine results pages and bolster your Search Engine Optimization (SEO) efforts.
The higher your visibility, the more traffic your website can get, increasing your conversion and sales opportunities.
Create compelling landing pages
Landing pages play a vital role in converting your visitors into paying customers.
After all, a landing page is a perfect place to show passive visitors most of the details and elements they need to know about your products and services — enough to convince them to explore your site and learn more about your offers.
Create a landing page that best suits your branding and supports your marketing efforts and conversion goals.
Add other elements and create a compelling call to action. Airbnb's landing page is a classic example of this.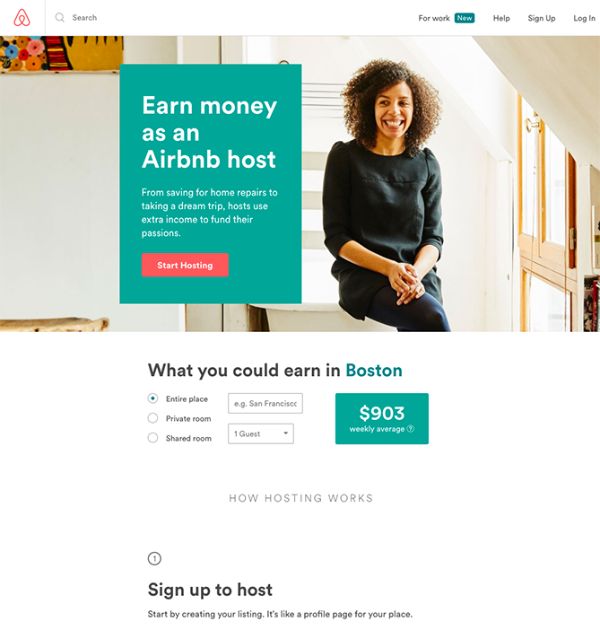 The message is clear and enticing, inviting visitors to convert on the spot. It also provides a bit more information about how much an Airbnb host can earn, which can help compel visitors to learn more about the offer.
Create a landing page that can instantly spark your visitors' interest, encouraging them to explore more about your services, offers, and products, and, ultimately, buy from you.
Offer discounts and exclusive offers
There's nothing more enticing than the offer of buying something for less.
Use this tactic to your advantage by providing discounts on your visitors' first purchase once they sign up for your email list.  
It's an excellent way to grow your email list and propel your email marketing efforts while enticing visitors to buy your products and services.
Streamline this process by using Mailchimp. The platform lets you create beautiful sign-up forms easily with eye-catching designs and compelling CTAs.
 

You can choose a layout and customize it as you prefer, add your branding and other elements, and easily include your exclusive offers and discounts to build your pop-up or sign-up forms.
Nail using discounts and offers to grow your email list and convert customers with these few tips.
Keep your message short and simple. Avoid overcrowding your sign-up forms. Keep your text brief and clear and include only necessary elements.
Highlight essential components. If your goal is to entice visitors into buying, emphasize your discount or exclusive offers with eye-catching colors, text, and a catchy message.
Automate sending a welcome email. Let visitors know you sent them the discount you offered immediately by automating delivering your welcome emails containing your discount codes.
It can be an effective way to entice your visitors to purchase your products on the spot.
Increase your conversions and sales today
Turning passive visitors into paying and even loyal customers takes a bit of time and effort before you see some level of success.
Put the hard work in now, and you're bound to see your traffic grow, get better visibility in SERPs pages, increase visitor engagement, and, ultimately, skyrocket your conversions and sales.
Kickstart your efforts with the tips in this guide and see which ones work best for your business.