As one of the best content management systems (CMS) on the internet, WordPress attracts many users from different levels of expertise. Whether you are a newcomer or an already established internet user, WordPress could be the best CMS to fit your needs. But so far, how well do you really know about this platform?
Listed below are ten things you should know about WordPress. From its features to user experience, the list will hopefully provide insights into what you will be facing once you decide to sign up as a new WordPress user.
What Exactly is WordPress?
In short, WordPress is a platform where you can create as well as manage websites. Moreover, the system also offers you options to work on your digital content including, but not limited to, editing and publishing.
That's why WordPress is a content management system above all things.
However, you will only have full access to WordPress' functions if you use WordPress.org and not WordPress.com. Yes, there are two WordPress sites.
If you go with .org, you can get full features that allow you to build your website from scratch. To do that, you will need to get website hosting.
WordPress.com, on the other hand, will let you have your website right away but with some limitations.
You will have limited online storage, have no permission to monetize your website and won't be able to install plugins or themes. The good side is, you can have it for completely free with less set up.
Now, let's move on to 10 interesting facts about WordPress that may help you shape your vision of your future website.
1. It's Completely Free and Open-Source
If you love coding, then this one might interest you. WordPress' software is open-source. It means that you can study WordPress' source code and even make adjustments.
What is more, you can sign up to WordPress for free. However, while the core of WordPress is free, you will need to spend some money if you're looking to build a robust website.
Now, you might already know that to launch your site online, you need proper web hosting. These services, however, can be quite expensive.
If you're on a budget you can try 000webhosting to start off. You can have 10 GB of bandwidth for free and many other offers that will cost you nothing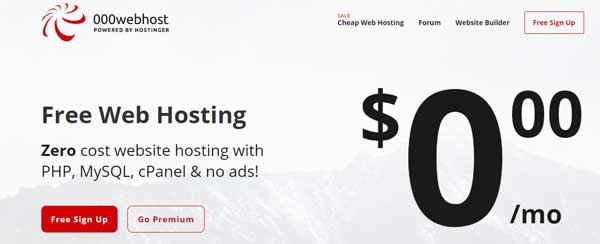 2. It's More Than a Blogging Platform
WordPress was once a well-known blogging site. Nowadays, it has been developed to fit the many needs of its users.
Few of many things you can turn your WordPress into are online stores, news portals, and ecommerce sites. And of course, it is still a powerful blogging site.
3. WordPress is User-Friendly
As one of the best CMS on the Internet, WordPress offers an intuitive user experience that will help you manage the content of your website.
From writing to editing to publishing your content, WordPress lets you finish your tasks in a simple way. Take a look at WordPress' writing interface below.

The settings are placed as simple as possible. Some functions will pop up when you are writing while others are already available on the dashboard.
4. Customize With Plugins
One of the best features of WordPress is the thousands of plugins. When setting up WordPress for the first time, you might find its interface quite basic.
Plugins are used to add new functionality to your site. You can use it for anything – SEO, security, setting up an online store and so on.
Installing plugins to your site is also a simple task. In your homepage, you will find a Plugins button under the Dashboard column.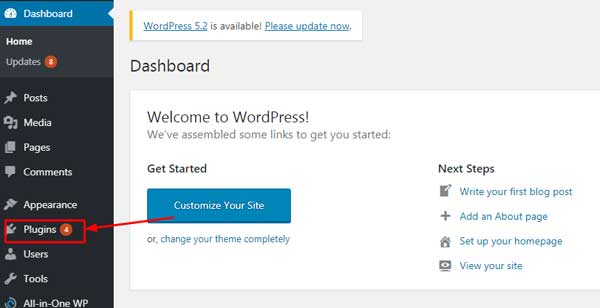 Once you put your cursor on the button, an option to add plugins will appear. It will take you to a new page where can browse all the plugins.
5. WordPress Developing Can be a Career
Due to WordPress' popularity, there is always work for developers.
You can begin with learning HTML, CSS, and PHP – knowing how to use these languages is crucial if you want to become a WordPress developer.
In addition, it is important to see where you fit on the system as a developer. There are front-end developers who program the user interface of websites.
A back-end developer, on the other hand, focuses more on the server side on keeping the website running without issues.
Regardless if you choose to be a front-end or a back-end job, you can make a lot of money. In the US alone, a WordPress developer can earn up to more than $100k per year.

6. Extreme Popularity has Benefits
WordPress' popularity is no joke. It has 70 million users around the globe. As a user, you can benefit a lot of off of this.
For instance, it is easier to find solutions to your problems. Since there are millions of users, it is likely that there are many others before you who faced the same problems.
There are many coaching sites or forums that focus on solving WordPress' related issues.
Moreover, the huge popularity will give you a more secure platform, loads of functionality and powerful extensions. You can create a robust, safe website in no time.
The big number of users also improve WordPress in two more ways. First, WordPress now supports more than 60 languages to accommodate its users.
And secondly, you can find WordPress meetups around the world hosted by WordPress communities. The meetups are usually in the form of workshops, social gatherings, co-working, and many more.
7. Plenty of Themes for Your Site
If the site's layout is one of your main concern, you are in luck. There are thousands of themes that you can install anytime. Whether you intend to create blogging, e-commerce, education, an entertainment site – you will always find the right theme.
8. Monetization Couldn't be Easier
WordPress makes it very easy to make money from a website.
You can become an affiliate, use Google AdSense or simply sell your own products.
Fact is, WordPress has all the needed tools for you to monetize your website and make money of it.
9. WordPress is Responsive
Have you experienced zooming in or out while browsing on your smartphone? Annoying right? If you happened to face that issue, that particular web page is mobile device friendly.
Luckily, most WordPress themes are responsive to all screen sizes. Meaning that your website will look good on both desktop and mobile devices alike.
10. Be More Secure with Advanced Protection
As an open-source CMS WordPress is expected to face threats. With its system being available for anyone to study, there is always a chance for WordPress' sites to be hacked.
Yet, you should not be too worried. WordPress' developers understand this matter and provide its users with layers of protection.
Some are built-in, while others are third-party features.
Of course, to ensure maximum security of your site, there are steps you can take yourself. Such as creating a strong password, using a two-step authentication process and, of course, getting reliable hosting services.
In addition to that, WordPress has plenty of plugins to further increase the security of your site.
Conclusion
Whether you are a developer, a businessman or a blogger, there is always space for you in the WordPress community.
WordPress offers you many perks that will be useful in your site's management.
Don't forget that WordPress gives you many opportunities to make money – either by monetizing your website, developing one or creating WordPress products.
All in all, WordPress is an amazing platform which you can use free of charge!