Presentations are a powerful tool for sharing new research findings within scientific communities, educating colleagues and junior staff members about critical new techniques, and promoting your medical career.
Why Use Medical PowerPoint Templates For Your Presentations?
We have put together a carefully selected list of the top medical PowerPoint templates that you can use to create a stunning presentation about medicine on your own.
Every presentation requires a lot of planning and work. You have a lot of work to accomplish, including research and speech preparation. In addition to all of that, you also need to create an interesting PowerPoint presentation.
You don't need to use the boring default template or spend hours creating the ideal slideshow anymore thanks to the expertly created PowerPoint templates that we found on MasterBundles. These PowerPoint templates are some of the best for use in presentations with a medical topic of any type.
You can download PowerPoint templates from our list to get started well regardless of your profession, whether you're a doctor, dentist, nurse, researcher, or medical sales representative. Additionally, our list of suggestions on what to look for in a medical PowerPoint template might be helpful.
How to Choose a Medical PowerPoint Template?
Here are a few pointers to help you create a PowerPoint presentation that is more impactful, whether you're delivering a speech at a medical conference, creating a slideshow for an educational event, or creating a presentation for a team meeting.
Very simple content layout
It is usually easier to get your point over to your audience when you choose a simple, basic slide design. The important aspects of your presentation are highlighted in a slideshow with a minimum content structure, which increases its effectiveness.
For a more polished presentation, use a PowerPoint template with lots of white space between the information and design components and a simple backdrop in a dark or light hue.
Easy-to-edit designs
The main goal of a pre-made PowerPoint template is to simplify the process of creating a presentation slideshow for you. But a lot of templates fall short because they create excessively intricate slide designs that are difficult to change.
Make sure the PowerPoint template you select contains aspects that may be quickly tailored to your tastes. It's crucial to have the option to adjust the colors and fonts, as well as to insert photos into presentations using placeholders for images.
Charts, graphs, and diagrams that are editable
In your medical presentations, you will undoubtedly reference several figures, studies, and research findings. When you solely use language to convey data and statistics, it can occasionally be challenging for the audience to understand them.
In order to effectively depict data in your presentations, make extensive use of charts and diagrams. Fortunately, the majority of medical PowerPoint templates include customizable charts and graphs you can change to better effectively present your data.
5 Quick Medical PowerPoint PPT Presentation Tips
Here are a few simple suggestions to improve your medical or healthcare presentation. You'll stay on topic and efficiently communicate with your audience.
Understand your goals and audience
The audience you are trying to address should be able to relate to your presentation. Make sure your presentation is appropriate for their level of understanding. Make your speech specific. Your presentation should be tailored to the medical remedy you are offering or the conclusions of your study. Have a clear objective and speak to your target audience.
Write a simple story
Presentations are narratives. It must captivate the audience, build to a climactic moment, and keep them interested from start to finish. Regarding your medical issue, try to address any concerns or worries that your audience could have.
Don't make your design too complicated
Less is usually more powerful. The number of slides in your presentation should not exceed what is necessary to effectively convey your arguments. Frequently, 10 to 25 slides are sufficient.
Share your enthusiasm
The significance of keeping your audience in mind while you prepare your presentation has previously been touched upon. Now think of ways to make this more powerful.
Consider every presentation to be a performance. So, energize your approach to the platform, maintain your composure, and strive to wow the audience. As you deliver your narrative to the audience, smile, speak clearly, and address each person individually.
Simple is best
Be careful to avoid using any needless medical or scientific jargon and keep your audience in mind. Using too many acronyms or terminologies they are unfamiliar with will make your audience confused. You might also have to educate them on difficult or unfamiliar processes. Try to keep their viewpoint in mind when you succinctly explain your views to them.
Top 5 Medical PPT Templates For Your Next Presentation
We've gathered this list of best medical ppt templates to help you to create a professional presentation without any trouble. It doesn't matter if you are a presentation expert or it's your first presentation, all you need is a computer and a desire to get all the attention from the audience.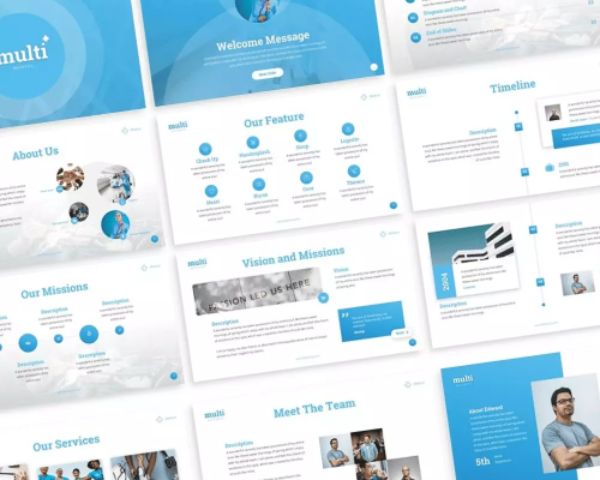 This is a Powerpoint presentation theme that may be used for a variety of purposes, including those related to medicine, healthcare, and other industries. All of the elements, including shapes and colors, are customizable, so you can make changes with simply Powerpoint.

This wonderful medical PowerPoint template bundle is designed for healthcare professionals, physicians, scientists, and medical students. You may make presentations, seminars, or slideshows with them quickly and effectively. These templates are the best method to make your presentation memorable, whether you have to give a presentation at conferences, hospitals, or colleges.

You no longer have to spend time creating complicated presentations. Simply download this presentation, make the necessary text and graphic changes, and save. Spend more time on speech preparation. Fully adjustable and designed to satisfy all of your demands. Each slide is organized and appealing with full editing possibilities.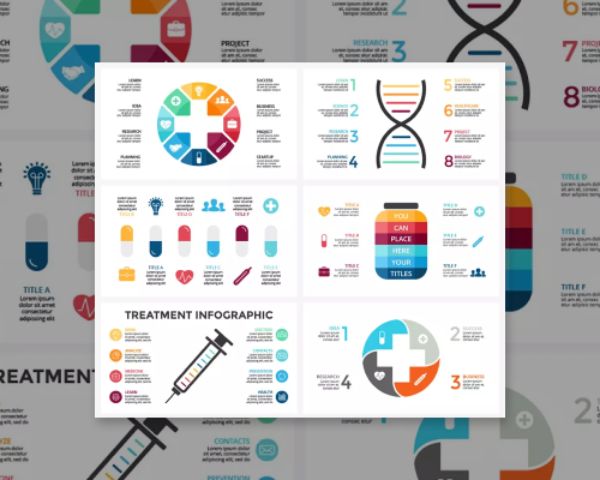 If you're seeking a medical and health care presentation design for your clients, this template can be the perfect option. This template has a contemporary appearance and a clear design presentation. All images in the presentation may be readily placed with a single click. These 16 infographics are available in PPT, PPTX, KEY, PSD, EPS, AI, and JPEG formats. Every file is extremely simple to modify with the software you use: Powerpoint, Keynote, Photoshop, and Illustrator.

Check out this fully editable template that will help you create simple but still engaging and informative presentations. Themes-specific, adaptable, and simple to use and adjust To effectively present your business concept, use a contemporary template with an eye-catching design. 
Let's Sum Up
So, now that you are done with this article, you can begin your journey of creating the best medical presentations. You only need the right template and some time to prepare it. If you didn't find the template that will fit your need in our list, don't hesitate to visit MasterBundles where you can find not only templates for any purpose, but also fonts, illustrations, graphics and lots of other things to help you create best designs.