Promotional products can be a great way to generate buzz about your brand and get the word out about your business, and custom water bottles are a good choice. Most people these days are health-conscious enough that they're interested in carrying water and staying hydrated, and most are aware that they can keep single-use plastics out of landfills and out of our oceans by drinking from reusable water bottles instead. That's why the reusable water bottle market is expected to reach $11 billion globally by 2025.
Water bottles are not only popular, but they can also maximize exposure for your brand messaging. People carry water bottles with them everywhere — when they go shopping, when they work out, and even when they head to the office. Images of your custom water bottles may even appear in customers' Instagram and Facebook feeds.
But you shouldn't just choose the cheapest custom water bottle you can find. Choose quality materials and high-end features to make your custom water bottle appealing to your customers. That way they'll use it longer and more regularly, and you'll get more advertising out of it. Let's take a look at some of the factors to consider when designing your own custom water bottle.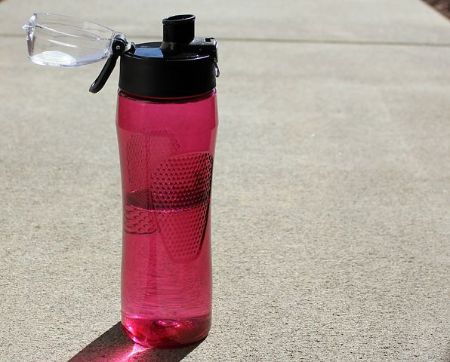 Brand
You don't have to buy your custom water bottles from some no-name manufacturer — and you shouldn't, if you want your customers to use them for a long time, post on social media about them, and maybe even get excited about snagging new bottle designs you might create in the future. You can have water bottles from any of the top bottle brands customized with your logo. Customers will love drinking from a CamelBack, KOR, or Nalgene bottle with your logo on it.
Features
If it holds water, and doesn't leak, a water bottle doesn't need any other functionality, right? Wrong. Your customers may be more willing to carry a custom bottle that provides insulation and vacuum sealing to keep hot drinks hot and cold drinks cold. They might go for a fruit infuser to add flavor and nutrients to their water, or an ice infuser to keep the drink cold.
Customers who travel may want a lightweight aluminum bottle, while those who spend most of their time sticking close to home will prefer an attractive, but relatively heavy, glass bottle. You can even get water bottles with carbon filters in them for those who don't like the taste of water straight out of the tap. Think about how you want your customers to use your reusable water bottles and choose features accordingly.
Lid Type
Screw-top lids aren't the only game in town anymore, and they may not be what your customers want in a water bottle. Sure, the wide-mouth of a classic Nalgene bottle might be the fastest way to get water into your system when you're feeling parched. But a push-and-pull top is easier if you're trying to rehydrate mid-activity, such as in the middle of a marathon or long bike ride. A dome-covered flip spout or pull spout can keep the mouth of the bottle clean whether you're camping or working a 12-hour shift in the ER. But some lid types, like ones with reusable straws or glass lids, are best for customers who live a more relaxed, indoorsy type of lifestyle.
Material
Glass, plastic, aluminum, and stainless steel are the most common choices when it comes to choosing the right material for your custom-designed water bottles. Glass, aluminum, and stainless steel are popular because they don't affect the taste of the beverage, but glass is breakable and aluminum can also sustain dents and other damage easily. Stainless steel can transfer heat from hot beverages, and plastic may not be safe for hot drinks at all. Some plastics may contain bisphenol-A, or BPA, which has been linked to health issues like cancer and diabetes, and plastic materials may stain if filled with coffee, tea, or colorful drinks like Kool Aid.
When choosing the right material for your custom water bottle, consider how the customers will use the bottle and what will appeal to your customer base in general. If you're a high-end brand catering to customers who like nice things, a pricier glass bottle might be more appealing to them. If you're an active, outdoorsy brand catering to that kind of customer, a plastic bottle with a push-and-pull top, a flip top, or even a wide-mouth screw-on top may be more appealing.
Custom water bottles can be a great way to get your brand messaging out in the world while building your relationships with customers. Design a bottle that your customer base will love, and grow your revenue from sales.