PPC strategies tailored in a vacuum are likely to fail. If you don't consider the environment, it is similar to driving blindfolded—you never know what surrounds you and what will happen in the next moment.
The good news is that you can automate your PPC competitor analysis and get all the insights you need to refine your PPC strategy and overtake your competitors. From this guide, you will discover 10 tips to leverage automated PPC competitor analysis with the PromoNavi platform.
Let's start!
#1: Find Your Actual PPC Competitors Based on Keyword Overlapping
The first issue you'll face is to uncover your actual PPC competitors. It looks trivial but the task is challenging, especially when you deal with a new campaign and don't have enough data for the Google's Auction Insights report which shows your main competitors. You need to iterate over your keywords on Google's Search and write out all the domains from the Paid Search results. 
Keep in mind that if you're searching competitor ads under your Google login, you'll get personalized results—meaning that you may not see some of your competitors' ads because of the targeting settings. To eliminate personalization, you can search for competitors with Google's Ad Preview and Diagnosis Tool. It simulates user location, language, and device type (mobile, tablet, or desktop).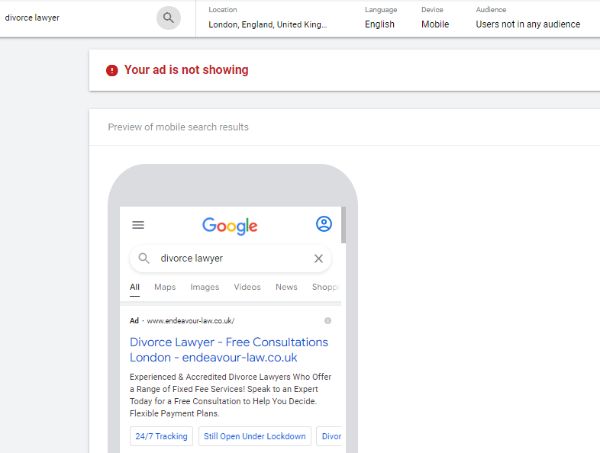 Ad Preview and Diagnosis Tool in Google Ads
Let's say you've found 30 sites. It may not be necessary to analyze each site in detail because some competitors may show ads only for several of your keywords, meaning that they won't trouble you while running your ads.
To find the most significant competitors, you should take into account keyword overlapping that shows how many of the competitor's keywords are the same as yours.
For existing campaigns, you can see the Overlap Rate from the Auction Insights report. However, this data is unavailable for new campaigns or any other domains that are not on Google's report.
How to discover keyword overlapping for any domains
PromoNavi Competitor Analysis tool will come in handy for you here. 
The first step is to enter your domain (or choose a Google Ads account that you've linked to PromoNavi). The tool will suggest up to 4 competitor domains—you can substitute these domains or enter yours. The system detects the country based on the main targeted location. However, you can change the country if needed.
After you run an analysis, scroll down to the Paid Keywords section and look through the Keywords Overlap chart. The intersecting areas show how strong the competitiveness is between specific sites.
In the example below, we see that overstock.com and wayfair.com compete strongly with each other, unlike other sites. 
Check the same way with all your possible competitors. Narrow your initial competitor list from 30-40 sites to 3-5 of the most significant; that would be a good start for further analysis.
#2: Understand Your Competitors' PPC Scope
The next challenge in analyzing your PPC competitors is to discover their PPC advertising scope: how much paid traffic they drive, how many ads they show, and how many keywords they target. These insights are essential to understand the ways your competitors apply their PPC strategies and to estimate their ad spend.
For example, let's analyze competitors for target.com using PromoNavi's Competitor Analysis tool. 
First, we look at the Compare Summary and see that two competitors (wayfair.com and overstock.com) drive 2x and 4x more paid traffic than our site. At the same time, overstock.com has less variety of ads than the main competitor and even our site.
On the Paid Traffic Compare chart, we see how paid traffic has been changing during the previous 30 days. We can make some interesting observations. For example, the amount of paid traffic for "our" site has been dropping since the middle of January, but competitors continue to hold the paid traffic amount. This means that we should revise our PPC strategy to take our place in Paid Search.
#3: Dive into Auction Insights to Refine Your Bidding and Budgeting Strategy
The Auction Insights report in Google Ads lets you compare your performance with competitors who are participating in the same auctions as you. This data will help you make decisions for your bidding and budgeting strategy.
How to make use of the Auction Insights data?
Let's take a look at the ad-group level report and try to refine the PPC strategy based on the data in the report.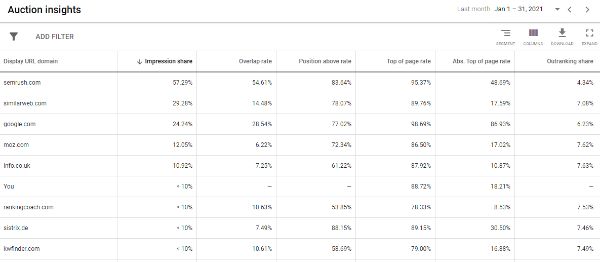 An example of the Auction Insights report in Google Ads
Here are key takeaways:
– Considering Impression share, we can say that five competitors show their ads more often than we do. However, from that five, only three competitors have an Overlap rate higher than 10%, meaning they are the most significant for us, and we should deeply analyze their PPC strategies.
– Our Impression share is much lower than leading competitors receive. To consider all other factors, such as Quality Score and landing page relevance are equal, the higher Impression share is the result of a higher ad budget.
– The Top-of-page rate is 88.72%—which is pretty good. However, the Absolute top-of-page rate is low. If we want to show our ads in the very first position on Google's Search, we should increase the maximum bid or revise our bid adjustments.
To get the Auction Insights data visualized, you can run a competitor analysis in PromoNavi. Choose a connected account, enter your competitors, and scroll down to the Auction Insights section. Here you can see the same metrics as in the Google Ads report, but their values are visualized on the charts.
#4: Uncover Your Competitors' USPs
Ad copies should attract potential customers—you know that, and your competitors know that as well. That is why they probably place their unique selling propositions (USPs) in their search ads.

Why does it matter? 
Well, you should be aware of key messages your competitors drive to their audiences. Considering competitors' USPs, you'll be able to create your USPs that will help you to stand out from other advertisers.
PromoNavi's Competitor Analysis tool will help you here. In the Competitors Paid Ads section, you can see all the ad copies for domains you've entered. Look through the ad copies, especially the Search ones, to discover your competitors' USPs and get ideas for your ads as well.
#5: Scrap PPC Keywords You're Missing
In most cases, your competitors target some keywords that you're missing. To increase audience reach and find new keyword ideas, it would be reasonable for you to discover these missing keywords. The good news is that you don't need to do this manually—PromoNavi's Competitor Analysis tool has an option for this task.
To get started, you should run an analysis and move to the bottom of the report; on the Missing tab you will find all the keywords your competitors target and you don't.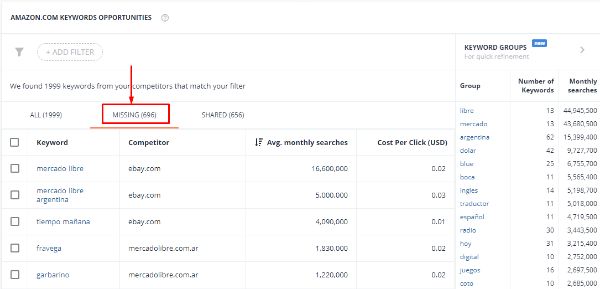 #6: Get Ideas for Visualization of Ad Creatives
Before you dive into making banners for your campaigns, you should take a look at your competitors' visual creatives to discover the strengths of their ad design, key messages, and possible drawbacks.
When analyzing your competitors in PromoNavi, go to the Competitors Paid Ads section; on the Image ads and HTML ads tabs, you will find all the creatives from their sites. You can look through the ads in the table or download them with a single click. For each ad, you can see the URL of the landing page, popularity, country, and the date the ad was detected.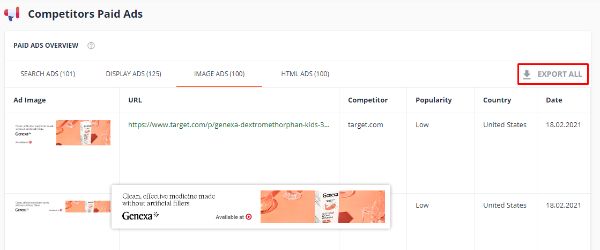 #7: Understand Your Competitors' Keyword Strategies
Of course, we can't know how competitors organize their keywords across ad groups and what match types they use because this data is closed. But, we can fish out some stats such as the number of keywords and total paid traffic amount; by comparing this data within the so-called Traffic-Keywords map, we can approximately understand whether competitors run their ads for high-, mid, or low-volume keywords.
Here is an example of such a map available in PromoNavi's Competitor Analysis tool:
If you see that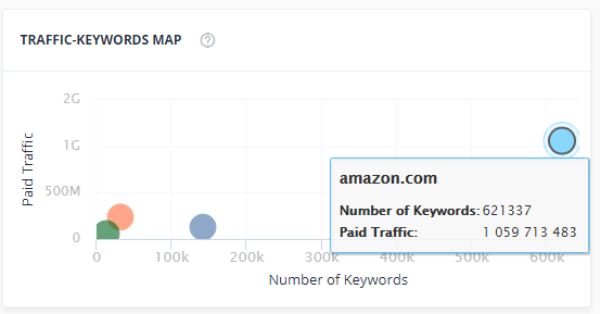 a site drives a lot of traffic for a smaller number of keywords, you can assume that these keywords are likely high-volume, and vice versa. However, there are other factors that affect the traffic, such as Quality Score and bid strategy; to check your assumption, you can click on a circle and filter out the keywords related to the selected site.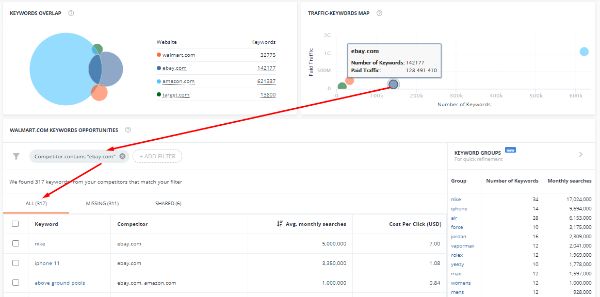 #8: Be Aware of Irrelevant Competitor Keywords
When you download your competitors' PPC keywords, you should carefully look through the list to exclude eligible keywords. It's essential because your competitors may offer services that are not similar to yours. 
To save time on searching irrelevant keywords, make use of quick filters available in PromoNavi's Competitor Analysis tool. Hover the cursor over the eligible word and hide all the keywords that contain this word. By leveraging a quick filtering feature, you'll save time on keyword research and get rid of keywords that do not concern your products or services.

#9: Track on Your Competitor Ads and Keywords Updates
A one-time competitor analysis that precedes your campaign launch is essential to tailor a winning PPC strategy. However, your competitors are likely to shift their strategies over time, and you should be aware of these changes. 
Of course, you can run an analysis from time to time, but a better approach to stay in touch with your competitors' PPC changes is to subscribe to their updates.
To set up notifications, go to Recent Searches, click Notify Me, and enter the recipient's email. You will receive emails as soon as your competitors run new ads or keywords.

The Recent Searches section in PromoNavi's Competitor Analysis tool
#10: Include Competitor Insights to Your PPC Reports
As you improve your PPC strategy and boost your PPC performance, your clients and you should be aware of the results, including how you succeed in overtaking the competitors. That is why the right decision is to include the competitor insights into your regular PPC reports. 
In PromoNavi's GDS Report, the competitor insights report is pre-built, so you don't need to figure out how to create reports and from where you should find the stats.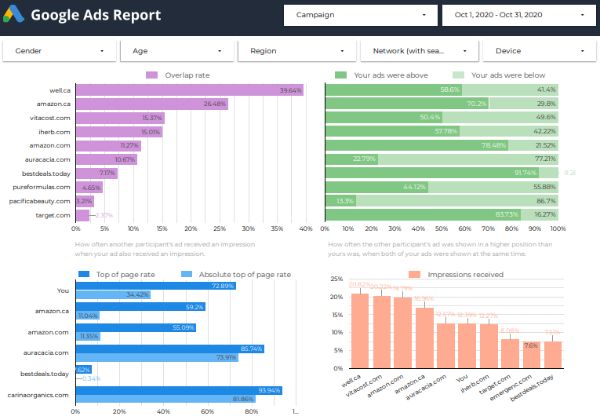 Also, you can set up scheduled PDF reports, and your clients will receive weekly and/or monthly PPC performance reports with key competitor insights.
Check-List: How to Get the Most of Your PPC Competitor Analysis
Competitor Analysis is essential to tailor a winning PPC strategy. It helps you see the whole picture of your niche and make effective decisions when setting up bidding, preparing a keyword list, and creating ad copies.  
To make a competitor analysis a part of your marketing approach, it would be best for you to automate it. PromoNavi's competitor analysis tool will come in handy for you here, saving working hours and providing you with profitable insights that you will not be able to get from default Google Ads reports. 
With the help of the tool, you can solve such tasks as:
1. Find your actual PPC competitors based on keyword overlapping
2. Understand your competitors' PPC scope
3. Refine your bidding and budgeting strategy based on the Auction Insights data
4. Download your competitors' text ads to uncover their UPSs
5. Find PPC keywords you're missing
6. Get ideas for visualization of ad creatives
7. Understand your competitors' keyword strategies
8. Quickly clean up a keyword list from the irrelevant competitor keywords
9. Track your competitor ads and keywords updates
10. Get PPC reports that include competitor insights