If you're looking forward to pursuing a career in web design, the timing could not be any better. As per the U.S Bureau of Labor Statistics, the employment of web design experts is estimated to increase by 8% from 2019-2029, faster than all other professions.
Ever since the pandemic started, more and more companies have opted to shift things online. This, in turn, increases the demand for web designers in various fields.
Why Choose Web Design
– 1. Continuously Increasing Demand
As a web designer, you can work for any firm and in any sector. The growth of e-commerce and the popularity of mobile searches are increasing the demand for more and more developers.
In addition, the job security of a web designer is highly secure. Research by Stack Overflow shows that 83% of web developers in the U.S are employed on a full-time basis while 10% work on a part-time basis, with over 73% of them being satisfied with their jobs.
– 2. It's a Gratifying Profession
Web designers have substantial earning potential, with an average developer earning a salary of up to $ 72,521. You can also negotiate with your clients for freelance jobs depending on the projects you're working on and get good pay. With the popularity of the web design profession, having some added skills could make you earn more than an average designer.
Also, depending on your interest as a web designer, you'll have a great pool of areas to choose from. These include back-end development, full-stack development, UX designing, and data analysis.
– 3. You Don't Need Lots of Qualifications
Unlike most careers, you don't need a degree or many certifications to qualify as a web designer. Having an associate degree in other related fields and one to two years of practice makes you a qualified web designer.
Having the basic knowledge of coding, you can quickly learn web designing by taking online courses to help you achieve your dream. With this, you can start designing websites from pre-made templates as a freelancer. And with time, you'll get more advanced.
– 4. Career flexibility
As a web designer, where to work is not always a worry. Being a freelancer means you can work from anywhere and with your schedule. You can choose to work from an office, home, or even when on vacation with your family, provided you can be productive.
Becoming a Web Designer
To stand out as a web designer and qualify for a good job, you should have the necessary technical skills and a couple more design or soft skills. Here's how you can become a full-fledged web designer.
– Learn technical/design skills – many expert web designers are self-taught. With the subject-specific online courses available, you can develop various vital skills in web designing. Such skills include; graphics design and optimization, SEO, web design theory, and programming languages such JavaScript, Java, Phyton, etc. You can also analyze examples of the best financial website designs to further understand how experts think, and implement some of their techniques into your work.
– Obtain certifications – earning certifications in several areas could help you showcase your knowledge to clients, make good pay, and learn more skills. Adobe certified expert, Google mobile-web specialist, and General Assembly are among the best certifications you can go for as a web designer.
– Work on your portfolio – volunteering to work for small organizations and start-ups could be a simple way of building a good portfolio. Such volunteer work will help you gain different experiences. Update all those experiences and skills in your portfolio, also include positive feedback from your clients.
Other factors you should consider to succeed as a web developer are; making user-friendly designs, specializing in a specific web design niche, and constantly marketing your services.
Web Designing Takeaways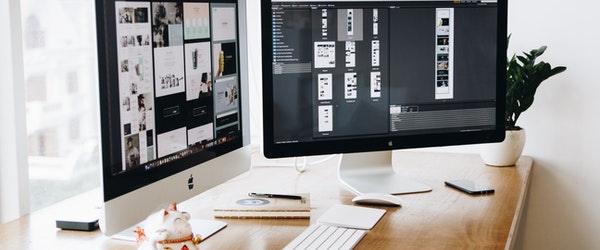 Now that you know what it takes to be a web designer, what follows is to continually sharpen your skills and become a better web designer with time. Here are some of the web designing takeaways to keep in mind:
– Dealing with clients can be challenging – web designing isn't always as straightforward as it seems. Working with some clients is going to be very stressful. Keeping your cool and managing your time well will go a long way in ensuring you are productive and with less burnt-out.
– Always keep learning – Web design is a rapidly evolving field, and you always want to keep updating your skills. Learning a new programming language or earning a new certification can help keep your portfolio fresh and attractive to prospective clients/employers.
– Know when to say no – Every client you will work with will have their own expectations. It's advisable to always gauge the complexity of the project before committing to it. Saying no is better than disappointing clients with generic excuses.
– Be a master of something – As stated earlier, web design is broad, and you can choose to either be a front-end, back-end, or full-stack developer. By mastering one area, you stand a better chance of shinning in the field, instead of being average on everything.
Take Action
As far as web design is concerned, you can choose to learn everything on yourself or sign up with a coding Bootcamp. The latter is a better option for someone looking to fast-track their way to the job market. There are several coding Bootcamps for web design and development.
Some provide more benefits than others. For instance, the eleven fifty coding Bootcamp accepts the GI Bill and offers veteran discounts. This ensures a great start to coding for veterans transitioning back to civilian life.