If you run an online business in 2021, you need to make sure you have a strong content marketing strategy if you want to attract as much website traffic as possible. Content marketing is the process of creating valuable and shareable content, like blog posts, quizzes, and videos, to attract your ideal customers and ultimately make more sales.
Sounds like a lot of work, right? It is, but it's worth it. In this article, we're going to share some tips and tricks to get you started.
Create content people will want to share and link to
If you create quality content that people will want to share, this can improve your SEO and boost your website traffic. This is because it can help you to build your backlink profile.
When another highly authoritative website links back to your content, Google takes this as a vote of confidence in the trustworthiness of your website and will improve your rankings on the search engine results pages (SERPs). And, of course, publishing content people will want to link to is the key to this.
Let's break down some of the most link-worthy types of content and how you can create them.
– Visual content: Think of things like video guides and infographics. If you create something colorful, engaging, and helpful to the viewer, site owners will want to share it and credit you as the original source.  
– Original research: Have a question about something related to your niche that other people haven't answered yet? Roll up your sleeves and do the research yourself! This could involve conducting the likes of surveys and case studies. Publish your findings and people could link to them when trying to back up points in their own content.
– Ultimate guides: Brainstorming time. What is it that you do in your business or niche better than everyone else? Why do people choose you over your competitors? Think about these topics and consider compiling your knowledge into an ultimate guide. If you create this helpful resource, people will want to link to it, as it will provide further reading or a source to cite in their own work.
Identify content gaps left by your competitors (and fill them)
It's time to do a bit of competitive research. Before you get started on creating content for your website, it's a good idea to take a look at the content that your competitors are publishing to see if there are any gaps you can fill.
To start, simply dig through the blogs and video pages of your competitors' websites and take notes! Are there any relevant topics (timely or evergreen) that companies similar to yours aren't discussing? These are subjects you can cover in your own content to help reach customers that your competitors might not be.
You should also consider conducting some competitor keyword analysis. Moz's Keyword Explorer can help you out there. Start by plugging your competitor into the tool, followed by your own domain. In essence, what this tool can help you do is find keywords that your competitors are doing a better job of ranking for. There's a lot you can learn here, and creating content based on the gaps you find is a great way to attract more website traffic.
Always make sure you're targeting the best keywords
Keywords are the words and phrases that people plug into search engines when looking for information about your products, services, or industry. By targeting these words in your content, you can help optimize your website for search engines and ultimately get more traffic.
There are lots of different online tools that can help you find the best keywords to use. Take a look at Google Keyword Planner, for instance. Start by putting together a list of topics that are relevant to your website. Plug one of those search terms into the Keyword Planner, and it will provide you with a list of keyword suggestions based on their average monthly search volumes and competitiveness. You want to choose keywords that aren't too competitive but have a high enough monthly search volume to get you a good boost in traffic.
Keep in mind that "keyword stuffing" won't help you. Actually, it could lead to your search engine rankings taking a hit. So don't just take the list of keywords and shove them all into a single page on your website — instead, weave them into your content naturally, creating articles based on these topics.
Create content that demonstrates your expertise and authority
Creating content that showcases your expertise is a great way to attract your target audience to your website. Focus on showing your E-A-T, which stands for expertise, authoritativeness, and trustworthiness. This term comes from Google Search's quality rater guidelines, and it's something the search engine has been paying a lot more attention to since 2018.
Search engines want to make sure they're sending their users in the direction of trustworthy and accurate information. So, if you create content that shows you are a knowledgeable source of high-quality information, Google will be more inclined to drive organic traffic to your website.
Let's examine some examples of websites that are already doing a fantastic job of publishing expert and authoritative content.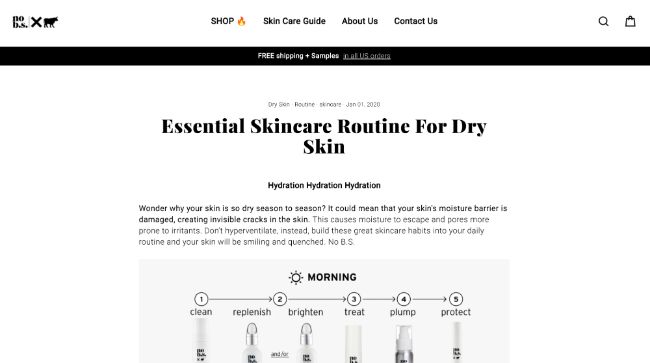 Take a look at how No B.S. Skincare showcases their authority with their essential skincare routine guides. They break down how you should be taking care of your skin based on your age and skin type (dry, acne-prone, oily, sensitive, combination, or normal). No B.S. sells all sorts of skincare products but, because the skincare market is so saturated, they need to work to establish their authority in the field and convince customers to make a purchase. And these guides show that they know exactly what they're talking about! Additionally, people searching the internet for specific skincare guides can stumble upon this website, making it great for increasing traffic and attracting new customers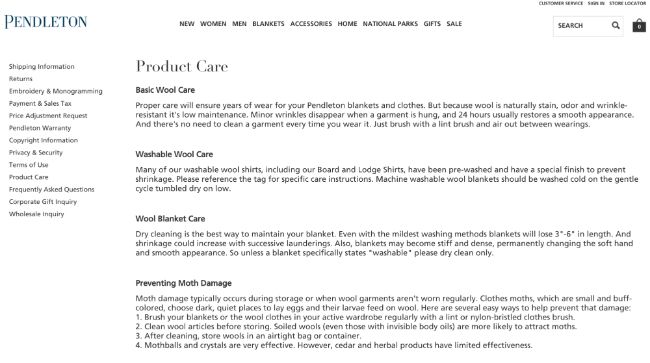 Similarly, Pendleton, a wool clothing and accessories retailer, shows off its expertise and authority in a basic wool care guide. Wool can be tricky to manage and take care of, as it's susceptible to moth damage and shrinking; this type of content shows that Pendleton cares about the lasting quality of their products, from their blankets to their clothing. They outline the basics of how to care for all of their products, which also establishes trust between customers and Pendleton.
Think about how you can show both search engines and website visitors that you're great at what you do. Could you create video tutorials, how-to articles, or ultimate guides that show off your knowledge and provide value for your customers? It's a great way to drive more traffic to your site.
Create content that answers your customers' FAQs
If you can create content that answers the questions your customers have, you can show that you understand your target audience. This will drive more traffic to your website and ultimately lead to more sales!
So, how do you find what questions your audience is asking? Start by combing through your reviews and social media comments. People might post inquiries there, and you can use them as inspiration. Then, touch base with your customer service team to see if there's anything that they frequently get asked — consider basing your content on these questions. Not only will it save your customer service team time in the long run, but your audience will appreciate having their needs anticipated.
It's also worth conducting some question keyword research. Use a tool like Answer The Public to get you started. Plug in topics and words related to your niche or business, and this tool will provide you with a series of questions that people are asking on the subjects. This is another great way to come up with content ideas!
Now, let's take a look at some of the different ways companies answer their customers' questions on their websites to attract more traffic and earn their audience's trust.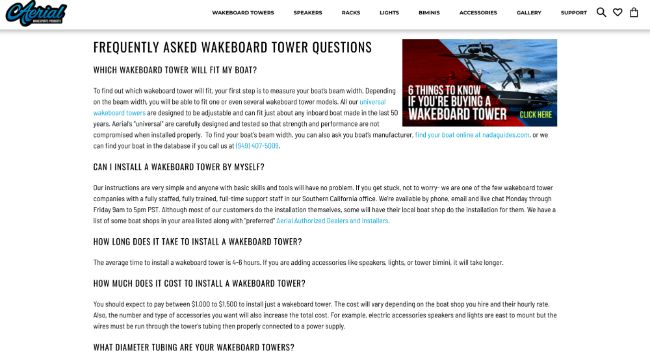 For example, take a look at how Aerial Wakeboarding, a water sports equipment retailer, uses a dedicated FAQ page to answer customer inquiries. They outline a series of questions about wakeboarding towers that someone interested in purchasing one might ask — how to set one up, how to install one, and more. These questions aren't all specific to their products, but they are all queries their target customers are likely to be typing into search engines, so creating a page like this could help to drive a lot of relevant traffic to their site.
If there are a lot of simple questions your customers are asking you, your customer service team, or search engines, an FAQ page could be enough to satisfy them.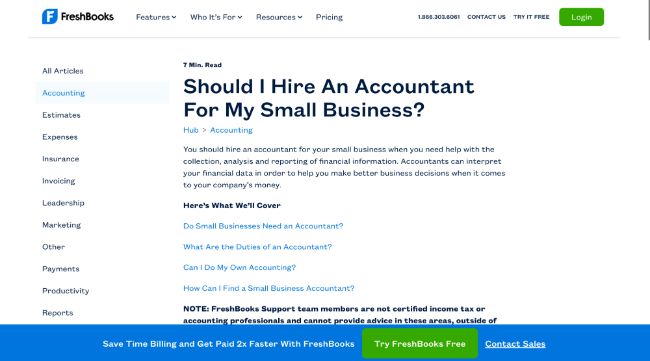 On the other hand, FreshBooks, an online accounting software provider, answers questions with long-form articles.
For example, they have a piece that answers the very common question of whether you should hire an accountant for your small business. It covers what an accountant does, when a freelancer or small business would need one, and when someone could do their own accounting. Their target audience consists largely of small business owners and freelancers; by creating content guiding them through whether or not they need to hire an accountant, they can draw more traffic to their website and ultimately get more conversions from people who decide they do need help.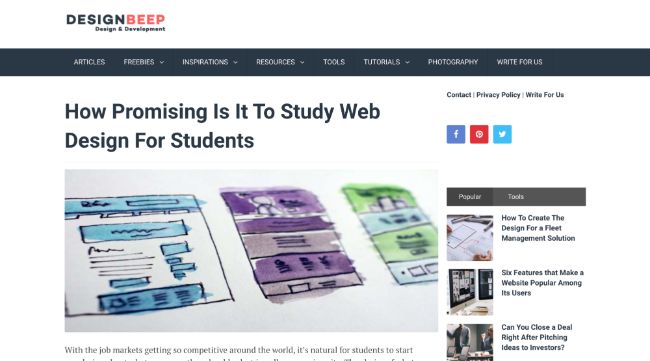 Finally, DesignBeep also answers common questions that are likely to drive more traffic to their website. The company is an expert in web design, so they've created a guide on whether studying web design will provide a promising career path. This is a very helpful article and, if someone who reads it ends up studying web design, they might come back to DesignBeep in the future for additional help.
Create both timely and evergreen content
Both evergreen and timely content have their place on your website; evergreen content, like the type of tree it's named after, is fresh at all times of the year. On the other hand, you'll also want to publish timely content based on holidays, seasons, industry events, and the like. It's good to have a balance of both, as you can attract different types of customers with them.
Let's take a look at an example of how companies can use evergreen and timely content to attract traffic to their sites.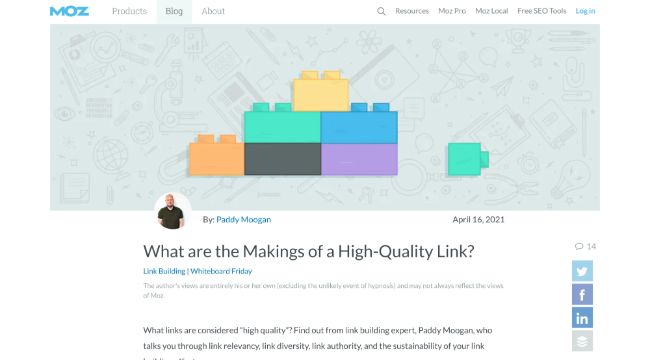 Because Moz is a digital marketing company, much of their content will stay the same, so they have a lot of evergreen content on their website.
Take a look at their piece, for instance, on the makings of a high-quality link. The article was published in April of 2021 and it might need to be updated periodically but, by and large, it will remain the same. This is a topic many people in their target market will search for more information about year-round, making it a great example of evergreen content that can drive traffic to their website all of the time. Ultimately, more eyes on their content means more sales for their products and services.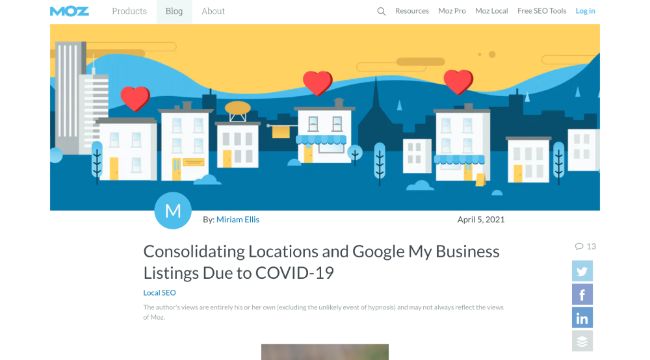 Now let's look at how they also incorporate timely content into their blog. For instance, they have a piece on how to consolidate Google My Business locations during COVID-19.
Many businesses were forced to downsize or adjust their operations during the pandemic, so their Google My Business listings will need to be updated and possibly even merged. Fortunately, this article can help the reader consolidate their listings without having too detrimental of an impact on their digital visibility. This is a great piece of timely content that will likely get visibility throughout the duration of the COVID-19 crisis. People who have this problem right now could come across Moz when looking for the answer, and then learn more about the business and potentially invest in their services or tools for the long haul.
Create content for different segments of your audience
Keep in mind that your audience isn't just one homogenous group. It's likely full of different ages, genders, and preferences you need to cater to. This means each piece of content you create won't appeal to every single member of your target audience, so you need to keep your different audience segments in mind and try to create different pieces of content for each one. This is key to understanding your audience and gaining more traffic!
One way you can learn more about your audience is through a survey. Consider sending a quiz out in an email newsletter to find out what types of content people prefer. You can also check things like your social media analytics in order to figure out what types of people like different kinds of content. You might find that older segments of your audience prefer blogs, for instance, or younger people prefer value-based content or behind-the-scenes videos.
Produce free tools or templates that provide value
Free tools and templates offer a great way to draw people to your website and convince them to spend money with you down the road. So, think about whether you could create a calculator, eBook, guide, or quiz that could help your ideal customers solve a problem. Things like quote calculators from insurance companies, for instance, not only attract people looking for insurance, but they provide value to the viewer by offering them an estimate. Similarly, jewelry retailers might create a virtual try-on tool, for instance, or financial planners might have budget calculators.
Let's take a look at some examples for inspiration.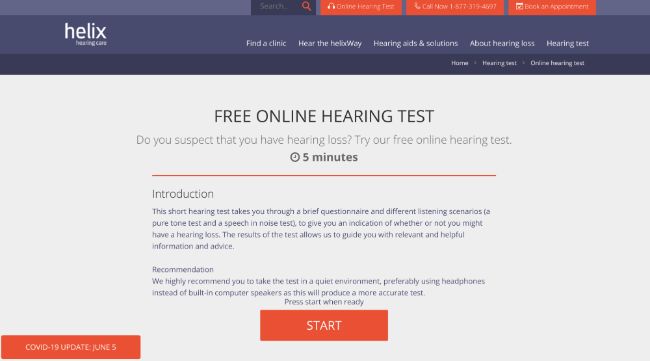 Helix Hearing Care offers a free online hearing test for people that suspect they have hearing loss. Because the company sells hearing aids, this is especially helpful for their target audience.
If the test suggests to a website visitor that they might need some help in the hearing department, Helix Hearing Care then recommends the test taker sees a doctor to confirm the results. This tool is a great way for them to convince people to use them as their chosen hearing aid brand.
Lastly, H&R Block, a tax preparation company, helps their target audience with their "Where's My Refund?" tool. People are frequently anxious about getting their tax refund after their returns are filed, and this tool sends information to the IRS to provide an estimate of when the money will hit their bank account. People who find this tool useful will be more likely to use H&R Block in the future, as this tool establishes a relationship with the user and shows they're a trusted resource for tax questions.
Summary
In this article, we outlined 8 different ways that you can boost your content marketing efforts to gain more traffic. Here's your checklist:
– Create shareable content
– Fill content gaps
– Show off your expertise
– Answer FAQs
– Create both timely and evergreen content
– Make content for different types of audience members
– Provide free tools and services
Using a variety of these strategies will help to drive a lot more high-quality traffic to your website and lead to more sales. It's time to get to work!
AUTHOR BIO: Aaron Haynes is CEO and co-founder of Loganix. The company is an SEO fulfillment partner for digital marketing agencies and professionals, which provides the services businesses need to improve their online visibility and grow. If you liked this article, check out the Loganix blog, where you'll find more SEO guides full of expert advice.