Everyone has wondered at least once today how to spy on someone else's Story without anyone finding out and also without ending up on a "Seen by" list. On the one hand, Instagram encourages openness and sharing, and all this to say, social media has nothing to do with anonymity. But on the other hand, there are many reasons why you sometimes want to be secretive. So why would it even be helpful to view Stories without getting caught if Insta doesn't allow it to do and does not provide any opportunity to watch Stories anonymously?
First of all, there's nothing we can do about our curiosity. It's our nature, and we have to put up with it. So if you've broken up with a guy or girl but want to at least occasionally spy on his/her life on Insta with using IG viewer services or sneaky ways, here's your first reason for viewing Stories anonymously — spying on exes!
Secondly, if you take the question seriously, why not look at the content and how a decent competitor runs Stories. Here too, you are unlikely to want to be seen.
Thirdly, you may spy on your future partners and find out a little more about them. Stories can often tell you more about people than doing it in real life (a little more time is needed here). For example, you may realize that they are not your type of person and you can't develop business with them.
Okay, now take a closer look at the 4 most effective ways of viewing Stories without the author's knowledge on any device using IG viewer tools, using the phone features, and another Story viewing trick.
How to browse Stories secretly on a PC
To enjoy Stories Insta on PC without anyone knowing, it is a better and comfortable resort to using additional services called IG viewers like Gramvio, StoriesIG, StoriesDown, Instalkr, Private photo viewer, etc. All they work via a browser without the need for installation. Usually, such IG viewers don't require any payments for viewing; thus, they are free to use.
Here is a brief guide about how to use them (all they have a similar working algorithm):
– open a web-based IG viewer and insert a username into an empty box;
– press a View button (they may differ in names) and wait for seconds for a tool to find the pointed public account.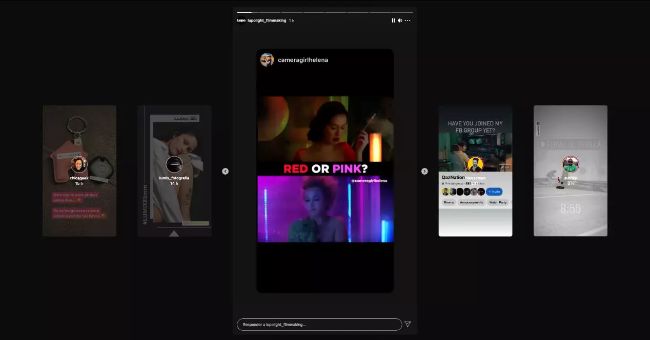 How to browse Stories secretly on a mobile
– Apps
To spy on Stories via your mobile phone, you may also take advantage of the method described above (many online browsing services are multi-devices, i.e., compatible both with a computer and phone).
But for app enthusiasts, there are some options too. For ios, you may consider Story Reposter, and for android — Story Saver. Although the apps are designed for different operating systems, Stories browsing is pretty the same. But, of course, you should install the app, and it will therefore take up storage space on your phone.
Firstly, open an App or Play Store to find the app and install it. Secondly, logging into your Insta profile pointed out necessary data. And, finally, find a search bar to paste a nickname whose content you desire to spy on.
NB: you will not be able to view Stories of accounts that have blocked you.
– Airplane mode feature
It is one of the old lifehack tips that might come in handy if you don't want to use any third-party tools. This function blocks the internet, and you are offline when browsing Stories, which means you won't appear in the "Seen by" list.
To view content this way successfully, you should renew your IG news feed, switch on Airplane mode on your phone settings and return to Insta for anonymous Stories viewing.
The last method — Fake account creation
It's not the most effective way because first, IG controls the emergence of fake accounts and can block you, and second, creating a fake account is quite a meticulous work compared to the methods mentioned above. But with all the disadvantages, there is also an advantage to this method. If you take the creation of an account seriously and make a profile less suspicious, you'll be able to browse a public user's Story anonymously without any problems (if he or she hasn't blocked you, of course) and usage of any additional tools.
NB: to access Stories of a private account via a fake account, you should send a "request," and only if the private user accepts the request will you be able to enjoy Stories.
Recap
As you can see, it is possible to view Stories unnoticed and in more than one way: using phone features, external apps, and IG viewer online services or fake account creation. BUT please, be careful with frequent browsing of Stories not to turn it into harassment and harm a user.