Eltima Software's Elmedia player is designed for Mac users where users can effortlessly play various audio and video files that are too with subtitles. You can take screenshots, download files from pages. You can also view videos online from Dailymotion and YouTube without interruption of advertisements. Along with that, you can also stream files to Chromecast airplay, and with this player, be ready to take your experience of viewing to a whole another level.
You can go for this player since this player edits and plays videos and provides a polished experience for streaming for your Mac. You can Get good flash player for Mac with 4K format video and stream in Apple TV 4K and Chromecast Ultra. It has beyond 2 million users all around the world. You can also stream audio on your mobile device as it also acts as a receiver for audio airplay.
Elmedia player supports almost all type of extension and it can also easily play an SWF file on your mac also it supports other various extension like MP4,WAV Etc.

Features
– 1) Formatting subtitles:
You can choose to synchronize subtitles with the video if the subtitles are not in line with the video playing. Until the video is completely synchronized, you can choose to increase or decrease the delay. There's an option to manage or adjust the subtitles' appearance, as their scale, font, text, and the colour of the subtitle background. Any altercations will automatically make subtitles and provide you with selecting subtitles in your own desired language. Using the embedded opensubtitles.org search function, you can also choose to find subtitles.
– 2) Ability to video playback on Multiple Monitors
You can choose to set up multiple monitors and play your video using Elmedia Player. To do that, you have to select the monitor that you want to play the video on. Like subtitles, you can edit most of the things on a video, like adjusting the sharpness, brightness and reducing any free noise in the background of the video.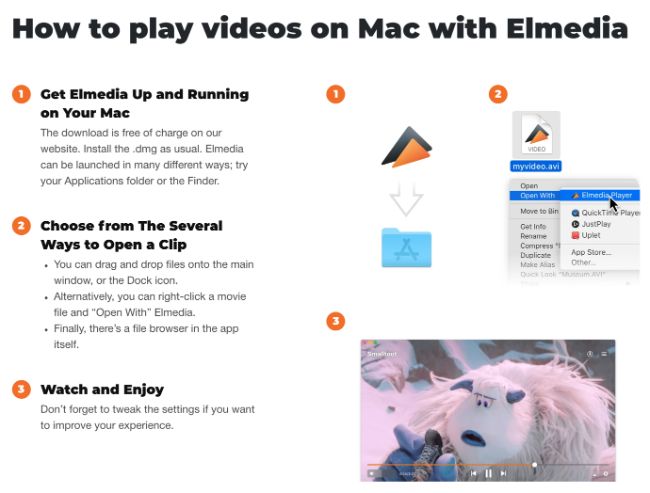 – 3) Freedom for Editing
If you like a frame and want to capture it, you can use frame-perfect screenshots to take a snapshot of any particular frame or create a series of screenshots that are evenly timed on the current video. Not only that, but you can also make fragments of video and then play in a loop. Elmedia does not mess up with the other applications because of its advanced sound management settings, which is why you can choose to keep playing them in the background even while you're watching video games or making any edits to your clips. Not only that, you can add different audio tracks on top of your video clip.
Recent fixes
The recent fix was released on 7 December 2020, like downloading few videos from YouTube, downloading few playlists from YouTube, downloading playlists where there are more than 100 videos from YouTube, and opening few online videos using Open Online Video.
Conclusion
Elmedia is the upgraded version of media player for Mac, a one-stop-shop with features like it helps you address any problems in the video like synchronizing audio and subtitles or editing the subtitles playing the video and enhancing your video watching experience. The greatest function offered by Elmedia is watching any videos without any ads on several platforms along with the Advance audio and video option feature.