Design plays a significant part in software development, regardless of the industry and target audience. After all, before even trying the array of features, that's how users get acquainted with a product. No matter the type of solution, the design of software goes far beyond creating pictures. Instead, it's all about showing customers the very essence of an application. Before we discuss a fleet management solution's development, let's dissect some of the notions for better understanding.
UX/UI
UI (User Interface) design, or user interface design, serves as a representation of graphic content, adaptability, aesthetics, and whole visual concept. In this area of ​​interface design, the design team takes care of fonts, colors, sizes, composition, universal components (tables, buttons, panels, menus, etc.), illustrations, icons, and everything related to the appearance of the application.
UX (user experience) design, or user experience design, shows users how the application works. At the stage of planning UX, the team analyzes data structures, business processes, and types of users. Following the analysis, the team creates algorithms for solving users' problems. Finally, the decision is made on how and at what stage to show certain data to users.
Can UI exist apart from UX?
Well, only in theory. If you happen to have a professional UI designer, then you will get a design that will please the eye of potential users and (most likely) win the hearts of investors. However, once you start going into detail, you will realize that the user experience part is desperately lacking.
With a UX designer on board, you will get a working interface that will be deprived of everything except functionality. In this regard, UX designers are much similar to programmers. In other words, the result will be purely technological. The conclusion is obvious: both the UI and UX designer should work on the interface. Otherwise, it risks becoming a failure.
Designing a custom fleet management solution
When planning the development, it is not unusual that T&L businesses have a really basic idea of creating proper UX/UI designs. That's quite understandable because they don't employ a designer on staff more often than not. But let's presume they do. So what are the steps to come up with a proper design?
First, the designer should have a complete understanding of the product and its concept. As for the UI, it's a matter of taste. However, any proper design should provide a convenient way to check fleet maintenance, fuel consumption, routing, driver safety, customer satisfaction, etc.
When thinking about UX, it's worth answering these questions:
– What is the page/tab I'm on?
– How do I come back to the previous page?
– How do these pages correlate with each other?
– Is it easy to find a feature I need on the spot?
Surely, the best way is to hire a professional to get things done. Each designer has a favorite approach, methods, and tools for working on the visual side of a product. However, there's another way if you're tight on budget to employ a designer. If you need a proper front-end or UI/UX, you may use Akveo's template to get a visually-appealing foundation in no time.
Developed specifically for the logistics industry, the fleet management dashboard provides a professional design for fleet management solution of any kind. The best thing about the template is that you don't have to create designs from square one.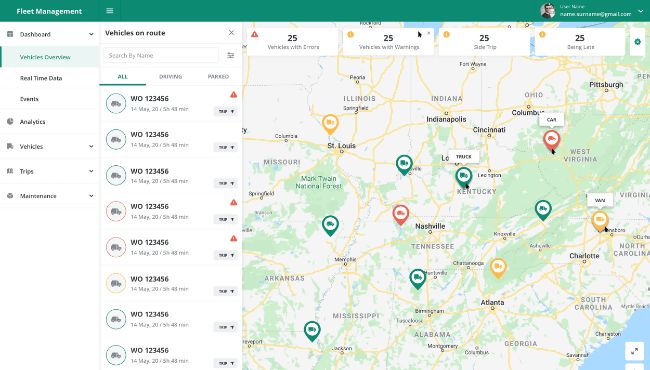 Here at Akveo, our mission is to provide improved usability and appealing visuals for fleet management solutions of any complexity. This way, if you're looking for a striking front-end, our dashboard is a perfect choice.
To Sum Up
In regard to the points above, the designer is a vital part of any development team. These are not just pretentious words: this is a vital necessity. None other than the designer continually communicates with colleagues, clarifies questions, and quickly responds to requests from developers. Finally, that's a designer who translates your product's vision into beautiful designs.
A proper design can make a difference so that your solution stands out from the competition. The question is, do you have such a professional on the team? In case you don't, that shouldn't be an obstacle. Download the template for free, save money on design development, and accelerate your time to market.