Are you tired of purchasing several sync solutions to sync your Mac with Android and all other devices? No need to worry further, SyncMate is here! Though all the apple products are great for business and personal use, they don't provide much flexibility like android devices. It is a bit hard to transfer or sync files between devices in Mac but with SyncMate it's so simple.
SyncMate supports multiple devices and contains many features. With a simple drag and drop, you can transfer files from one device to another. SyncMate allows you to not only transfer files but also sync any data between android and Mac. With SyncMate users can sync almost everything and anything. You just need to download SyncMate in your Mac and all supported devices will be synced within one app.
All the devices SyncMate supports
1. Android Device
2. iOS Device
3. Another Mac
4. Mounted Devices
5. Dropbox
6. iCloud
7. Google Account
8. MTP Device
9. Outlook Account
10. Office 365 Home
11. Office 365 Business
As we know there is no direct way in Mac to transfer data between devices. SyncMate is the app you need to transfer your data.With iOS and Macs, you can sync several devices at once. Amazing! Isn't it?
Flexible Mac Synchronization
With SyncMate for flexible Mac data Synchronization, you get two editions.
SyncMate Free Edition
1. Address Book Sync
2. Calendars Sync
3. Syncing in Background
SyncMate Expert Edition
This edition is for those users who want to sync all the data across devices and accounts. All the options are given below.
1. Folder Sync
2. iTunes and Music
3. Photos Sync
4. Mount Disk Option
5. AutoSync
6. SMS Management
7. Call History
8. Data Backup
9. Safari Bookmarks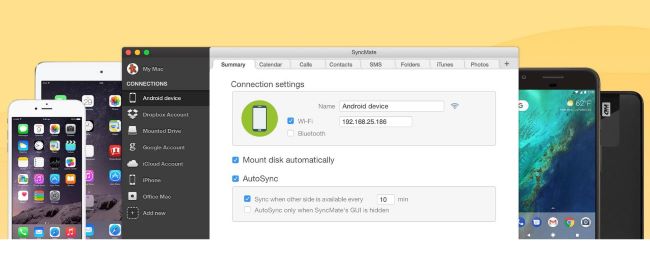 How to transfer data using SyncMate?
1. For Free Edition download SyncMate on your Mac and install it. For advanced features upgrade SyncMate from the free edition to Expert Edition.
2. Select the 'Mount Disk' option. Here you will find the file transfer feature (Only available in Expert Edition).
3. Once the app is open on Mac, click the "Add New" option in the left-side panel. Then select your Android device from the list of devices and connect your Mac with the Android. 
4. You can connect your Mac and Android device using the USB cable. After the device is connected visit the 'Summary' tab on your Mac and select the 'Mount Disk Automatically' option.
5. Go to 'Finder' and search for your Android device in the list of macOS disks.
6. You can select the files and folders you wish to transfer and move across devices.
Conclusion
Using SyncMate is so simple and time saving compared to other apps. One of the advantages of having SyncMate is it keeps your data safe. It doesn't share your data with any third-party apps.You can easily do Mac Android file transfer using SyncMate. You can rely on SyncMate. With so many positive points, there is no denying that this is the best available app for data transfer and synchronization. If you are still struggling with data transfer get SyncMate now and enjoy hassle-free transfer.