Despite what some people might think, the Divi theme isn't new. It actually debuted in 2013 as the flagship product of the Elegant Themes team. But it has undergone so many updates that it looks and functions like a brand new product.
Elegant Themes keeps refining their star product. They also offer Divi Builder, a page builder plugin that works in tandem with the Divi theme to build every type of website you can imagine. The entire package brings with it an extensive library of templates, a powerful drag and drop content editor, and additional themes and plugins, to mention but a few.
However, some people are hesitant to embrace the theme and its plugins, especially those that have worked with a theme that already meets their needs.
But let's today discuss some of the outstanding features of the Divi theme and the corresponding Divi Builder plugin.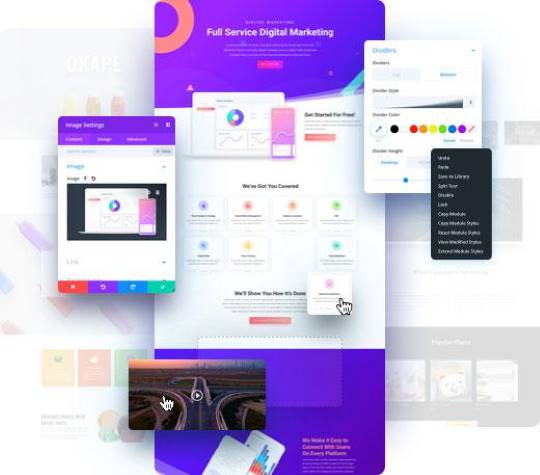 1) Full Website Templates
People that prefer to build their websites from scratch will, no doubt, enjoy the Divi Builder Tool. But most people need help building their websites which is why their choice of a theme is based on the quality of the templates it offers.
As was noted above, Divi's collection of templates is quite extensive, designed to accommodate most project types. You will appreciate the layout packs which include the landing page, homepage, About section, and every other component that a new website needs to thrive.
They cover almost all types of website niches, so whether you're looking for some kind of online shop, a fitness website or a business website, they've got you covered. Of course, there are tens of other niches covered.
2) Awesome Page Builder Plugin
As was also noted above, the Divi Builder tool is perfect for people that want to build websites from scratch. The refinements it has undergone over the years enable you to create custom theme templates and custom page designs. You can access a selection of content modules, create reusable sections, utilize a wide range of viewports to preview your content on various devices, etc.
It is a powerful drag-and-drop content editor that provides precise control over the appearance of your site.
It is also fully compatible with Gutenberg!
It compares very well with some of the other WordPress page builder tools such as Elementor, but also remember that Divi is both a theme and a page builder plugin, so in some aspects, especially when it comes to value, it is even better than Elementor.
If you'd like to see a full comparison of these two page builders, you can have a look at this article from CollectiveRay that compares Divi with Elementor.
3) Divi Lead Tools
This particular aspect of Divi removes the guesswork that is typically involved with trying to determine how people will respond to your website's individual components by allowing you to split test your designs and content.
This, in turn, gives you the opportunity to optimize your site, giving your visitors the best possible experience.
4) Reusable Content
The Divi multipurpose theme eliminates the repetitiveness associated with website design by allowing you to create reusable assets that can be saved and applied to various sections of your site. You can also create dynamic assets that you can mold and update with ease.
As a web designer, this is an excellent feature, because you can spend the time creating a specific function (let's say a complex contact form) once, and then be able to reuse it on multiple projects.
5) Extra
Divi had already been launched when Elegant Themes released the Extra theme. It was designed to accommodate the needs of blogs, magazines, and any other websites that depend on the richness of their content to attract visitors.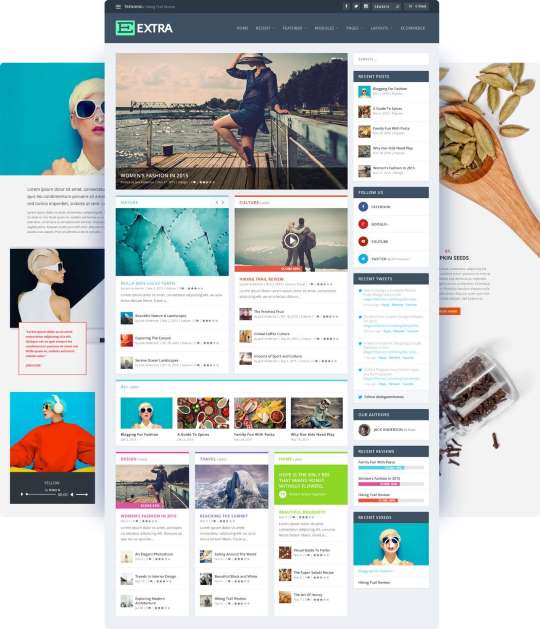 It allows you to access and create efficient homepage layouts, tabbed areas, mini-article sliders, and widgets that can provide content previews. Extra is impressive on its own but it becomes even more attractive once you realize that it includes the Divi Builder tool that gives you more refined control over the customization features.
With Divi, you can create unique designs for individual articles, not to mention crafting online content resources that can match the quality of a professional online magazine or media website.
The beauty of it all, is that you get ALL of these when you buy any one of the products from Elegant Themes.
So when you buy Divi using divi discount code, you get the Divi theme, the page builder plugin, the Extra theme and even the Monarch plugin!
6) Responsive with Device Specific Options
For all its features, Divi is as responsive as it gets you might think. In fact, you can use all your templates, designs, and assets from one device and straight to another and the theme will adjust the views accordingly to display correctly on any device.
Rather than starting from scratch and creating a different version of a site for various devices, you can simply tweak the different content blocks and adjust how they appear on different devices to ensure you have all the power in your hands as a designer.
7) Customization
Anyone that has experimented with Divi before knows that it was initially limited in some areas. For instance, you couldn't customize certain sections such as the header and footer. But the transformations this product has undergone over the years have eliminated these weaknesses.
You can now design and customize your headers, footers, and even the templates to suit the needs of everything from a blog post to a 404 error page.
This is all part of the new functions of the Divi theme builder.
8) Support
Experienced Divi users will tell you that, for the longest time, Elegant Themes relied on private discussion forums to provide customer support.
People had to post questions and then wait for answers. Naturally, this led to extensive delays in some cases, which is why Elegant Themes has done away with this support mechanism.
Customers can now use a messenger service to open a support ticket. This allows them to receive dedicated and expedited responses. In other words, you don't have to keep checking in on forum discussions to find out whether or not your question has been answered. Long time customers will appreciate the quick response times.
9) Documentation
If you have questions about the Divi theme and its builder plugin, every feature and function that matters to you has been thoroughly documented on the Elegant Themes website. You will receive guidance on any aspects of the theme that are troubling you along with additional tips.
If that isn't enough, Elegant Themes has a thriving community that is always ready and willing to offer assistance and share ideas. They even have social media groups through which users connect and collaborate.
If Divi seems daunting because of all the features it brings to the table, you don't have to face it alone. Elegant Themes has plenty of experienced customers that have mastered it. They will answer any questions you might have.
It is worth noting that the theme and its plugin have a steep learning curve. But that is to be expected. The product places a wide variety of features at your fingertips. You have to grow accustomed to a new way of building and customizing online platforms.
It shouldn't come as a shock to realize that it will take time for you to familiarize yourself with all the functions. Ultimately, the effort it takes to overcome this obstacle is worth it to enjoy everything Divi has to offer.
Keep in mind that Elegant Themes is always making updates. As such, the learning never stops. But every new addition or alteration is meant to improve your experience.