Instagram influencer marketing is increasingly becoming the most popular form used by paid social media influencers due to its growing popularity among the young generation and its ability to provide huge brand visibility by famous celebrities.
Research available from Activate reported that over 88.9% of all global influencers were using Instagram influencer marketing more than the previous year. A survey done by Nielsen Survey found out that only 33% of people trusted advertisements, while 90% of people trusted peer recommendations. A large portion of the $5.67 billion spent by brands across the world on influencer marketing in 2018 was paid out to Instagram influencer marketing strategies. That figure is forecasted to grow to $8 by 2020.
There has never been a better time to become an Instagram influencer marketer, and in this article, I will show you the steps required in learning Instagram influencer marketing.
Step 1: Choose a Niche You're Passionate About
Instagram influence marketing requires time and dedication before you can begin to see any tangible results. It entails that you should have a sizeable content library in order to grow an audience that will attract brands to work with you. All this is only possible if you choose a niche that you're passionate about and suits your personality.
Just don't forget to pick a targeted niche topic as opposed to a general niche.
Example: Not only do you love blogging about exotic places, but you're also budget-conscious.
So, instead of just blogging about exotic places to visit, you would focus on 'Exotic places to visit on a low budget. Better still, you would even narrow down further to specific geographical regions; 'Exotic place to visit on a low budget in Africa'.
Step 2: Create a Professional Bio Profile
After choosing your niche, your next step is to create an attractive Instagram bio profile which catches people's attention. One of the strategies you should use is by inserting keyword optimized tags.
Example: If you're a travel blogger, you should consider inserting tags such as 'travel blogger' in your bio profile so that your profile shows up for such searches. A good example is the below Instagram profile of travel blogger, Helene Sula.

Steps 3: Share Your Stories
Sharing of photos is good, but it isn't enough to push engagements with your followers.
Create captions that go along with your photos. Tell your followers the story behind the photos so that you can connect with them on an emotional level. You'll gain their trust and eventually, you will see your engagement stats begin to rise.
Step 4: Your Instafeed Must be Visually-Appealing
Have you ever taken the time to go through the Instafeeds of famous Instagram influencers?
One thing you will notice about them is that their Instafeeds are visually appealing. They use tools like lightroom or VSCO to edit their photos which are often taken in high-resolution with plenty of light around them.
Step 5: Choose the Right Hashtags
Among the best Instagram Influencer marketing strategies is choosing the right keywords. This is because hashtags enable your content to be found by other Instagram users.
It is usually recommended that you avoid hashtags with high search volumes for those suggesting those particular hashtags have high competition, which if you use, will greatly reduce your chances of your post being discovered. Choosing a hashtag with an average decent volume is your best bet.
Strategy to Avoid In Instagram Influencer Marketing
Do Not Buy Followers
Many wannabe Instagram influencers marketers, lured into the industry with the promise of a quick buck are usually under the impression that buying followers is the way to go. My advice to them, don't dare.
The repercussions of being found out that you have paid Instagram followers are grave. You end up losing your credibility in the industry, thus affecting all current, and future collaborations with brands.
If you want to become a paid Instagram influencer, then getting your followers using organic means and following the 5 simple steps of learning Instagram influencer marketing outlined above should be your best bet.
Instagram Important Update In 2019
Instagram recently announced this year that users in seven countries; Australia, Brazil, Canada, Ireland, Italy, Japan, and New Zealand will no longer be able to see the number of likes that other users' pictures have received or the number of times other people's videos have been viewed. However, users will still be able to see the number of likes and views their own posts have received.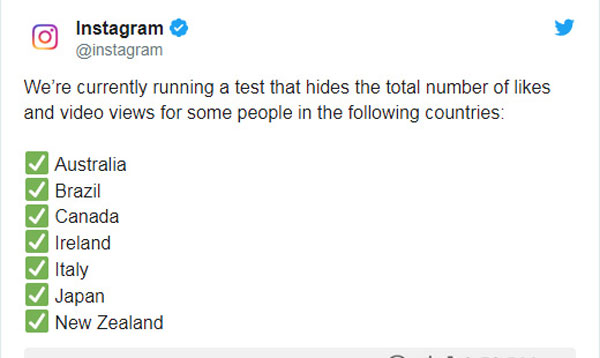 Instagram told TIME magazine that the reason behind the change was that they wanted followers to focus on the photos and videos they share as opposed to how many likes they were going to get.
Wrapping up
Obviously, it's pretty difficult to become an overnight Instagram Influencer.
However, by following my above-outlined steps, you will be setting yourself up for a chance in becoming an Instagram Influencer in your niche within the shortest time possible.
Are there some Instagram influencer marketing steps or tips that I might have left out?
Go ahead and share them with me in the comments section below.
About the Author: Abuzar Khan is a web developer, SEO expert, and the founder of SEO Basics. He has over 8 years of web development and SEO experience, working across various businesses.