"Simplicity is the ultimate sophistication." It's hard not to agree with Leonardo da Vinci's state when talking about the modern website building process. Launching a powerful, feature-rich site has become easier and faster.
There are tons of web design resources and tools aiming to help webmasters simplify and jumpstart their projects. Many of them are free web design tools. Alongside them, premium resources are available to any taste and budget. But if you are building websites for a living, both freebies and paid resources are worth your attention.
Why opt for web design freebies and premium tools
It doesn't matter how skilled you are. Web design resources serve as an ultimate helper for everyone building a site. They can serve as a source of:
– Inspiration. Created by professionals and experienced webmasters, many resources contain useful website design tips.
– Innovative solutions. The web design area is intensively developing. The number of paid and free web design tools is constantly increasing. It's important to keep up with the times.
– Premium and free web design templates. With quality ready-made products, webmasters can run more websites, portfolios, landing pages within a shorter period of time. They are a cost-effective and time-efficient solution for both developers and customers.
Why recreate the wheel if you have access to tons of helpful and effective ready-to-use tools. Armed with ready-made PSD website templates, top-notch WordPress themes, and various add-ons, you will:
1. Increase your working capacity.
2. Improve your skills and knowledge.
3. Enlarge a base of work base.
4. Promote yourself to customers.
Web design freebies and paid tools allow developers to elicit their potential to the full. Come to the point. Let's take a closer look at widely used web design resources.
Premium Web Design Resources
This collection of popular premium resources offers a wide spectrum of the library website design, pixel-perfect graphics, best-selling PSD website templates, etc. The line on prices is diverse. But most products fit any taste and budget.
ONE Web Development Membership


The ONE Web Development Membership will come in handy for any developer. Only for $229 per year, you will get access to tons of top-rated digital products. Professionals can take a life-time plan and save hundreds of dollars thanks to unlimited lifetime access. The subscription includes:
– 10300+ premium ™ items;
– Multiple products for eCommerce;
– 1-year competent support via Tickets, Chat, Facebook community;
– High-quality extensions;
– Plugins for all occasions.
Having bought ONE Membership once, you have no limits to install products included in the plan. The more online projects you have, the more downloads you can do. You must admit that this plan is very comfortable for developers with many projects.
Webflow


Webflow is a no-code website constructor. It allows webmasters to launch and design creative, powerful and responsive websites. This paid tool is intended to help you host and build online projects from scratch. With web design tips and intuitive features, the resource looks juicy and handy for many masters. Webflow features:
– Full compatibility with major languages (Java, PHP, .NET, etc.);
– General design tools;
– A vast collection of typography elements;
– A wide range of animations and background images.
You can benefit from the Webflow's hosting service since it's cheaper than rivals offer. Though you need a little time to adapt to this tool at first, it is constantly improving.
Novi Visual Editor


Novi has turned from a boring and complicated resource to an easy and handy page builder. It boasts a developer-friendly Novi Visual Editor. Enriched with the updated drag-and-drop technology, the editor has a totally intuitive interface. With Novi Visual editor developers can:
– Do real-time changes;
– Create multi page websites with ease;
– Craft lead-generation pages in a blink;
– Sell your templates powered by Visual editor.
Novi Visual editor provides website builders with entire freedom of choice. It allows them to edit easily content and the source code. With web design tips built in a context menu, you can work intuitively and fast.
Canva Pro


Canva Pro is an easy solution for big deals. This premium drag-and-drop tool helps to create professional-looking graphics. Whatever presentation, header, post or card you want to craft, the sky's the limit for you. Canva Pro has limitless features for the advanced web design process:
– Millions of stock images, vectors, illustrations;
– The ability to upload your pictures;
– A comprehensive set of photo editing tools;
– Thousands of icons and shapes for nothing;
– Access to a great choice of fonts.
If you hesitate to use Canva Pro or not, you can opt for a trial version for free. You will have 30 days to assure yourself that you need this web design tool.
Visme


Visme is a design tool for building stunning and engaging visual content of any type. Alongside hundreds of ready-made templates, the tool gives access to many fascinating presentations and Infographic. It's at your pleasure whether to use content blocks to create custom visual products from scratch. The tool allows you to tap into:
– Millions of icons/ fonts/ images;
– 500+ templates;
– Unlimited color schemes;
– 50+ charts, charts, widgets, etc.;
– A single-click installation.
The design takes a lot of time while building a site from scratch. Using this pro tool facilitates the process of website building and helps to churn out your projects.
Lintense


Lintense is an all-in-one solution to building an efficient landing page. This premium template suits to diverse business needs. Its responsive design will flow seamlessly on any device. Only for $19, you will get a complete package of:
– 7 impeccable ready-made templates;
– Robust performance and functionality;
– Compatibility with Novi builder;
– Extensive SEO optimization;
– Regular updates.
The right landing page is catchy, informative, and smartly structured. Lintense will help you reach this goal with ease.
Free Web Design Tools
Paid tools are great, but some free web design templates and tools are not behind in quality. They also offer many helpful possibilities for creating a solid project to stand out on the web. Developers of any level of skills have already found these tools useful. What about you?
Crocoblock Freebies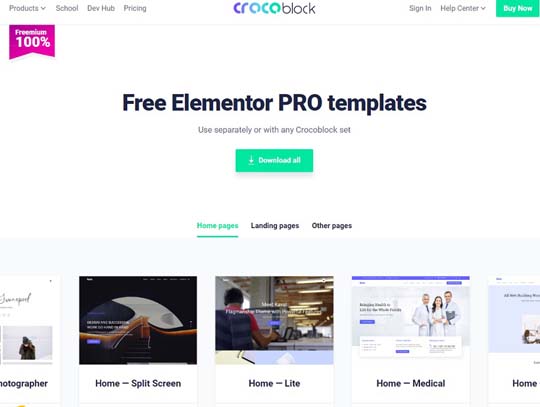 Any web developer needs to have quick access to Crocoblock's stuff of free templates and tools. There are tons of feature-rich home pages, landing pages, and other important pages (Team, Services, Portfolio, etc.) for a full-fledged website. This useful asset will come in handy to versatile business areas:
– Medicine;
– Photography;
– Startup;
– Mobile and others.
Crocoblock's templates provide you with useful assets such as fonts, icons, backgrounds and more. Besides, they come with Elementor page builder. It gives you an opportunity to craft a page of any complexity.
The Crocoblock's free toolkit includes must-have tools for building effective contact forms.
Free Web Templates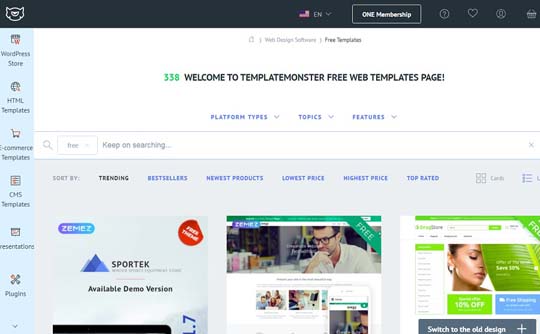 Unlock your web design potentials with a sizeable platform of free templates. You will find a wide assortment of Photoshop website templates, WordPress themes, eCommerce solutions and more. Once you proceed to the page with freebies, you can sort them by the platform type, topic, and features. Most of the free items include:
– Completely responsive design;
– Handy Bootstrap framework;
– Long-term qualified support;
– SEO-friendly design;
– eCommerce functionality.
Using free templates, developers achieve items made by reliable vendors. That said, for nothing, you can get access to clean coded and smartly-designed products.
Freepik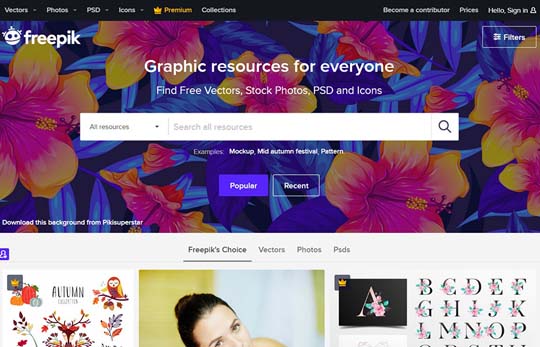 If your career in web design, Freepik is right for you. This is a limitless stock of images, vectors, PSD website templates, and various graphics for the website designing process. Alongside the rich collection of free illustrations, the freebie contains a blog with web design tips and more. For users' convenience, the resource includes:
– The handy search box on the home page;
– Dropdown menu with categories: icons, vectors, photos, PSD;
– Advanced search with many filters;
– Social media buttons in the footer.
Featuring an intuitive interface, Freepik will serve the right hand for many web designers. They will be able to give a boost to their process of website building.
Thomsoon


With Thomson, website builders can enrich an interface and make navigation more intuitive. The platform includes 55+ elements for an efficient UI toolkit. With this comprehensive package of simple yet useful elements, your online project will look simple, understandable, and user-friendly. The freebie comes with:
– Basic UI elements such as navigation, slider, widget, statistics;
– Minimalist and clean design;
– Photoshop vector elements;
– Wireframe software inside.
Thomson guarantees simplicity. When working with this freebie, any developer will underline its easy and handy interface and sufficient toolkit.
Draftium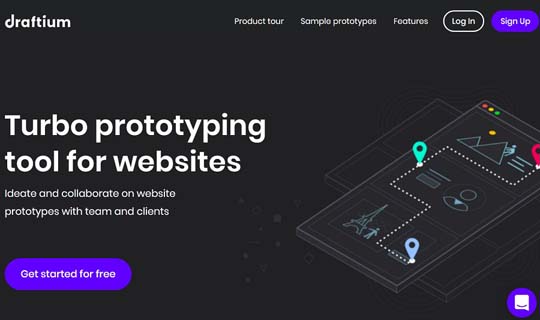 If you're looking for a fast and easy way to create website prototypes, Draftium is the right choice. The tool allows many website builders to create a website wireframe quicker. Having pre-made modular blocks, it's possible to modify and add content in a drag and drop manner. Furthermore, it offers:
– To share the project link with all members and comment on the process;
– To visualize a website idea in less than 30 min and collect feedback in one place;
– 250 ready-to-use blocks;
– One-click editing of typography settings.
Draftium is adaptable to any device automatically. This freebie allows users to leave feedback, comment on, and approve in 1 place.
Paaatterns


Paaatterns is a free collection of catchy patterns for all possible vector formats. The tool works for Sketch, Illustrator, Figma, and XD. The files are available in png and svg. If you lack creative web design ideas, this freebie can provide you with a solid visual style for a short period of time. The tool includes:
– Handcrafted patterns;
– Vector shapes;
– Color layer styles;
– Variety of symbols.
Any commercial or personal project can benefit from this helpful, rich web design service. Paaatterns is intended to simplify your workflow and minimize your work time.
Wrapping up
In search of a better web design resource, consider this list of premium and free resources. If you utilize other reliable tools to make the web design process easier and more pleasant, share them in the comments below. Why do you like or dislike a resource? Make your experience useful for others. Thanks..