WordPress has long been the king of web design, but a new CMS built by four German designers looks set to offer an entirely new challenge for its crown.
Sitejet doesn't just provide novices and experts the chance to make beautiful websites in a shorter timeframe than its rival. It also comes equipped with a client messaging service and a project management tool that help make it the first end-to-end CMS system.
We've come up with seven reasons why we think it's a viable alternative to WordPress, below:
1. Customisable Code
Both WordPress and Sitejet allow you to upload custom (S)CSS into their systems so that you can tailor a site exactly to your tastes.
Where Sitejet differs, however, is that it also allows you to easily upload custom HTML and Javascript. Adding your own code is done via the click of a button on the front end of the site, so you can see the visual changes your code makes instantly.
2. Visual Editing
Speaking of visual changes, Sitejet's what-you-see-is-what-you-get interface makes it's the perfect CMS for novice designers.
It works with a simple drag-and-drop building block format, where you click on an element and then place it where you'd like it to appear on the site.
If you're working on a desktop, you can easily see how your edits have altered a site's appearance on a mobile or tablet by previewing the live site and adjusting the screen's viewport.
3. Pre-Built Templates
Just like WordPress, Sitejet comes equipped with dozens of pre-built templates for a wide range of industries.
You can edit these templates or, if you're short on time, simply use Sitejet's built-in colour scheme feature, which will automatically alter the skin of the website to match the hues of an uploaded logo.
Sitejet's automation skills don't stop there either. Its software can even generate a tailored website based solely off client briefing notes entered into its system.
4. Fully Responsive Designs
Every element of Sitejet's web design software is optimised for use across all devices. This allows you to place images, text and headers into a site without having to worry about how they might look on smaller devices.
5. No Plugins
There are over 50,000 plugins available for WordPress. Depending on how much time you've got to build a website, this can be either a blessing or a curse.
Sitejet takes a completely different approach. It has no plugins whatsoever but features many of WordPress' most popular plugins as inbuilt features.
The upside of this is that whenever one of Sitejet's automatic updates takes place, you never have to worry about a site breaking. Unfortunately, the same can't be said for WordPress.
6. A Customer Portal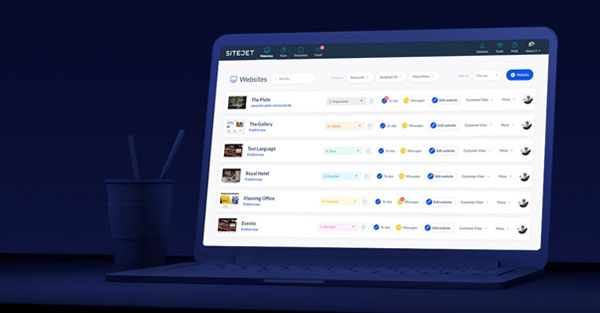 WordPress is undoubtedly one of the best web design tools in the world. To their credit, Sitejet's founders have recognised this, which is why they've ensured that their software comes with some additional features that help tip the scales back in their favour.
One example of this is Sitejet's customer portal. The portal allows you to communicate with clients and send files in much the same way as you would a normal collaboration software tool. The big difference, of course, is that this feature is integrated into the software, so you can quickly switch between design work and chatting with a client.
On top of this, the portal also features a unique feedback tool, which clients can use to leave written comment on top of the visual skin of a website. As a designer, this makes it easy to see what and where a client wants changing.
The final trick up the Portal's sleeve is its client privileges toggle. This toggle allows you to select which individual elements of the site a client can view and edit themselves.
7. Easy Project Management
Full-time web designers often tackle more than one project at a time. In WordPress, this involves either signing in and out of different accounts or attempting to manage every project using a multisite network.
Neither options are ideal, which is why Sitejet founders came up with their own integrated project management hub.
The hub works in much the same way as popular web-based list-making applications such as Trello and Asana. You can see every project in one go, assign tasks to yourself or team members and even keep track of every change that's been carried out.
Having all the information and assets about each site you're working on in one place ensures you're more likely to finish projects on time.