Are you looking for a web design company to use? Perhaps you are unhappy with the current company you are using. Perhaps you just started your business and have realized it's time to hire a company. Keep reading as the NYC web design experts explain what to look for in a web design company.
Look at reviews online
The first step is to look online at reviews. Find out what others are saying about them so that you know what to expect. You can look up their Facebook page, you can go onto the Yelp page and you can go onto Google in order to find great reviews. This will help you to know if past clients have been happy with the web design companies work or not.
Look at previous work
One of the best things that you can do is to look at previous work. This will give you an overall look at how the company is. Most companies when they are designing a company's website will also put their logo or website at the very bottom. This is an easy clue that you can see to ensure that the company did, in fact, create that website. You can always contact the website to ask them how they enjoyed working with the company.
Find out about their pricing structure
Most businesses have a specific budget that they want to stay within. The thing about a website is that it typically is the very first thing a person sees when they find out about your business. That means you want to put your best foot forward. It is not something that you want to look cheap or not put together. With that said, more expensive doesn't always mean you will make a good impression. Make sure that you keep price into each other but with that said, you also don't want to go with a specific business just because they are less expensive than another or more expensive so you think it will be way better.
Learn about who will be doing the work
It's important to learn more about the company and who will be doing the work. Do they have one person for writing the copy on the website, one person for creating images, and one person to put the entire website together including the coding? Does one person do it all? Do multiple people work on each section? It's nice to know who will be working on your website and the process that will take place take place in order to create your dream website.
Find out how long it will take
How long will it take to put your entire website? This is important to ask right away so that you understand and you both are on the same page. Are you needing it to be ready by a specific time? If so, let them know this and ensure it will be done. If you are flexible, you can also let them know that. This is also an important thing to look for when you are looking at reviews online. Do they complete the work when they say they will? There is nothing more frustrating than having your website still done weeks after it should have been completed. This also could greatly hurt your sales.
Learn how they will get it done
If you are a hands-on business owner like many are, it's nice to know how the entire process works. It's already a big deal that you are passing off this task. Since you are, you also can find out the entire process. Ask each business before you make the final decision about what the process looks like. Do you pay before or after? What happens if you are not happy with the result? How often do you see the progress being made along the way?
Find out why they are a good fit for you
The final step is to see which web design company is a good fit for you. This is important and is a critical decision. You don't want to waste your hard-earned money on the wrong company that does not see your vision. If you still feel unsure after you have done these steps just take a quick step back and try and think about which company your gut felt more comfortable with. Which company was not pushy and felt more genuine. This is a company that will put more of its heart and wants you to succeed.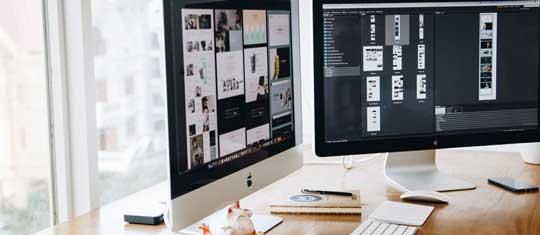 If you are able to find a good company that you are happy with once you have your website designed, they may be a great marketing agency to continue with throughout the rest of your website needs, updates, and even additional marketing assignments. If you think that is a possibility, you may want to let them know that you may want to use them in the future for additional things like SEO in order for your business to continue to grow. This also may motivate them to give you the best possible result they can.
As you can see, there are a lot of ways you can be looking for a great web design company. These ways above are perfect so so that you find a web design company that will get you a great web design as well as a company that will see your overall vision and will get you the results you are looking for. We hope you are on your way to a great web design company that you are happy with.