CNC machining is a manufacturing process that needs to follow tight specifications. Complicated or unconventional designs will quickly increase production costs. Use 3D Hubs' DfM tool to save money and receive a higher quality end product.
What Makes a Great CNC Part?
CNC designers need to keep the limitations of the process in mind. First, understand that this is a subtractive process; the finished product will not be any bigger than the original block of material.
A CNC machine uses a circular dowel to cut parts from above. The geometry of the dowel is transferred to the object, so sharp corners aren't really a possibility.
Next, consider the angle at which the parts will be cut. Multi-axis machines can cut from several angles, but some areas will still be inaccessible. More advanced CNC systems have different holding capabilities and can be used to make complicated shapes.
There are several CNC machining service guidelines to follow. Walls should be no less than 0.8 mm thick, and holes must have a diameter of at least 1 mm. In general, the shape of CNC machining parts should respect the durability of the desired material.
Lastly, CNC part manufacturers can also consider buying second-hand machines from Revelation Machinery for used machinery that's reputable and knows what they are doing. By making sure that the machines work perfectly fine, CNC part designers and manufacturers
could also ensure a solid finished product.
3D Hubs' Design for Manufacturing Feedback Tool
3D Hubs offers a revolutionary tool that makes the CNC design process quick and easy. Start by uploading a design to get a CNC quote. The software will immediately analyze the file for its manufacturing compatibility.
CNC machining costs increase with the complexity of the object. The more material that needs to be removed, the more expensive the final product will be. This is why techniques like engraving are preferred to embossing; these small changes can result in more cost-effective designs.
The Design for Manufacturing (DfM) tool reviews CAD designs and notes any potentially expensive features. Thin walls, sharp corners, and difficult-to-remove volumes will all be flagged before the design is approved. Every aspect of the design will be digitally inspected, and designers can review the detailed reasons for each flag.
Engineers should use the DfM tool throughout their design process. Upload a partially complete design to the software, and request a CNC quote. Use the software feedback to look for necessary or suggested adjustments. Make the changes, and upload the design again; the cost of production will decrease significantly.
Get a Risk-Free CNC Quote Today
Getting a CNC quote from 3D Hubs' feedback software is easy and completely risk-free. Upload any CAD file to the software for instant review. There's no commitment, and production won't start until the process has been completed.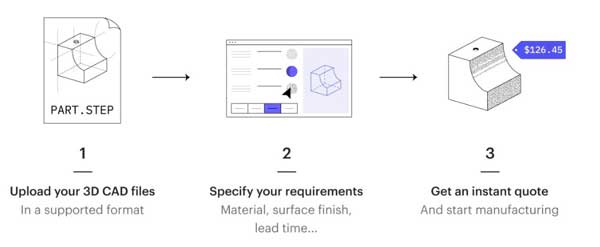 3D Hubs secures all files uploaded to their service. Submit prototype designs without worrying about intellectual property rights; even when they're on 3D Hubs' servers, the blueprint still belongs to the designer.
3D Hubs also offers instant quotes and online CNC machining service for 3D printing and injection molding. Use the DfM tool to select the best possible production method for any CAD design. With quick lead times and exceptional production value, 3D Hubs' online service is the best way to manufacture any design.