The web designs are constantly evolving to ensure the user is attracted to the website and gets the best user experience. This evolution gives has improved versions of HTML, CSS, and Bootstrap. As the designs are becoming simpler and user friendly, the User Experience is also given as much importance.
Payscale indicates an average of $73,405 salary for UX designers as of May 2019, which can reach more than $100,000 with experience and expertise.
Good Read: Salary Trends for UX Professionals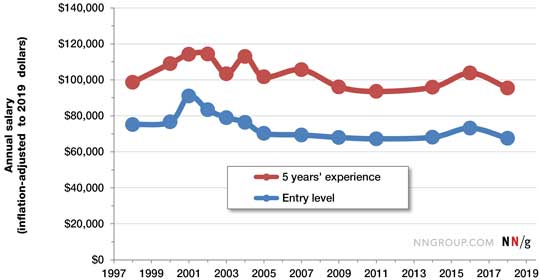 So how to start a career as a UX designer?
1. Understand the difference:
This is the first thing one needs to do before even thinking about UX as a career.
People often confuse User Experience(UX) with User Interface(UI), and so most of them use UI/UX together. Sometimes people even mistake Graphic Designing as UX designing. Therefore, knowing the difference between all three & deciding where they are headed is crucial.
Good Read: The Difference between UX and UI Design – A Layman's Guide
2. Run a reality check:
This is the most important phase while choosing UX as a career option. One needs to run a reality check before quitting their job or starting their education as a designer.
Questions like 'Are they creative enough?', 'Is this what will make them happy?', 'Is it practical given the experience in some other field?', etc. can make one self-aware of what & why they are running after.
UX is undoubtedly a dream stream to pursue, but running a reality check especially while switching the whole career is vital.
3. Start Practicing:
Once the decision is made and all the possibilities are checked, studying & practicing will make all the difference.
Starting to hone & develop skills with online resources is essential. Understanding how many hours it takes just to conceptualize something will make one's thinking practical.
Testing out necessary UX tools like Adobe XD, Adobe Illustrator, Photoshop, InVision, etc. can go a long way in defining one's career.
Either way, practicing will make one an efficient UX designer
4. Start Showing:
It's not the "tell" that counts.
Once the practicing phase is done & dusted, starting to build a portfolio and demonstrating the examples & mockups will make the other people understand where one's mind is at.
Showing in such a way that one's employer won't be able to oppose the 'career change' decision will make just a stream & salary shift, and not the culture shift.
5. Join Communities:
Communities are a great way of becoming better at anything, let alone UX designing.
Illustrating the mockups in online communities, helping the newcomers, getting help from the experts, etc. are some of the ways for any individual to become a better UX professional.
Additionally, the perk of being in such a community is that recruiters & business owners are often looking to recruit from there.
In short, networking oneself can take them to where they aspire to be.
6. Apply:
Once the needed knowledge is gathered, the main tools played with, and some sort of social value built up, starting to apply for the job is the final step to take for any aspiring individual.
Building a resume around the above mentioned three sections and uploading it to Job Sites like Indeed and professional network like LinkedIn will undoubtedly grab a job in the UX arena because as discussed at the start, the demand is more and the supply is less.
Final Words:
UX designing is without a question a job to pursue. Statistics are proof of that. However, just pursuing for the sake of money will lead to nowhere. If one has the creative abilities & talent to become a UX designer, following the mentioned six steps will surely help in the career change.