Search Engine Optimization, or SEO, is the process by which certain online metrics are measured to rank a website. Almost every search engine uses some form of SEO to find the most relevant results that pertain to a search's query. A query is the stored information used to look up the results. For example, if someone wanted to search "best music videos of 2019," this information is added to the query and used to scan for results all over the web and return the most relevant results. Keep in mind that this process is all accomplished in a few milliseconds.
SEO is becoming more important to companies these days. The best SEO companies in the country will analyze the metrics used in SEO to figure out how their business can rank high on the web. A high ranking will mean that more people will notice the site. With the increasing popularity of SEO, there are a plethora of available articles on the Internet discussing how to become better at SEO. More related articles will discuss the exact parameters to pay attention to in order to rank high.
A good SEO article will talk about keywords. Keywords are one of the most important aspects of SEO. Whenever something is typed into a search engine, the software will try to finish the statement with other popular results that begin with the same letters or words. The results that appear are known as keywords. It is important for a business to pay attention to these words and include them somewhere on their site. These are the words that are most commonly searched. Therefore, if these words are included on the site, there is a higher chance of people visiting the site. SEO ranks sites higher if they have more keywords, and this can bring in more traffic. Which leads to the next point.
Businesses must pay attention to their online traffic, which is the rate at which people visit their site. This will help the business keep track of how much progress is made. If the site is not receiving much traffic, that means that it is not getting much attention and changes need to be made. Monitoring online traffic is a good practice to benchmark progress, as well as view what is making the site more successful.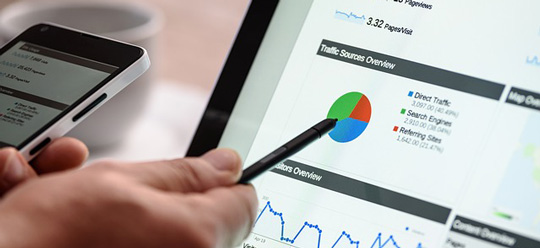 It is important to make sure that the site is SEO friendly. SEO looks at many different components to rank a site. One of these components includes the name of the website. If the URL is convoluted and not well searched, then the SEO will give it a low ranking. Sites that have simpler spellings with common words in them will rank higher.
It is important that the loading time for the site is not too long. SEO looks at how much time someone spends on the site, including when they leave. The site will be ranked favorably if people stay on the site for long periods of time, and poorly otherwise. If the site takes too long to load, then people will certainly leave within seconds, and this is bad for ranking.
The site should look organized as well. A site that is cluttered and hard to navigate will drive people away. SEO will see this and push the site further down the rankings. A professional site will appeal more and therefore capture more attention.
A company's site is its selling point, so it is imperative that the site looks its best. Keep in mind that these tips alone are not enough to improve rankings substantially, It will take a great deal of planning and practice to figure out what will make the site take off.
There are SEO specialists who develop specific protocols for ranking high through SEO. They will be able to assess the importance of each metric. Not only SEO parameters carry the same amount of weight. Furthermore, different search engines use different types of SEO algorithms. A specialist will have more insight into the specific algorithm.
Many sites offer open source SEO tools and apps which can track important data analytics such as traffic flow, retention rate, bounce rate, and so on. These are the cheapest methods for analyzing a site's ranking. They are also a good method for practicing SEO.