Creating a website seems to be a fascinating idea, at least, at first thought. However, when you start looking for the right way to put it together, you discover that the things are actually more complicated than you expected.
That's when page builders come into play. Lately, there are lots of them. One of the most popular and powerful ones is Elementor drag-n-drop builder. It is free to use and provides opportunity to build well-designed web pages even if you have no experience.
However, a website is not only about content. It also needs a header and a footer, a menu, single and archive pages, etc. It is not a matter of a single page builder or one additional plugin. And this is the very reason why CrocoBlock subscription service is out there to help you through all the way.
What is CrocoBlock Service?
CrocoBlock is an all-in-one subscription service for creating outstanding websites from scratch. We took Elementor page builder, enhanced it with multiple powerful addons, created dozens of customly designed skins and made sure all the components compliment each other.
The subscription service includes 30 ready-made skins on different topics, like blogging, business, car repair, and many others.These skins can be applied for practically any WordPress theme, and are easily switched whenever there is a need. Every skin includes topical pages built with Elementor.
It is also significant that the sections included in the skins are available for usage as separate elements for building a website. There is a vast library with more that 500 pre-styled sections, So in the case you want to bring some specific section from one skin to another, or to build your own page from scratch with ready-made sections, it'll just take you several clicks.
Meet the Jet Plugins Family
CrocoBlock subscription also includes the full pack of Jet plugins for Elementor, already loved by many users on Envato. There's no need to purchase them separately and look for the needed functionality. All the Jet power you may need is already there.
JetElements Addon for Elementor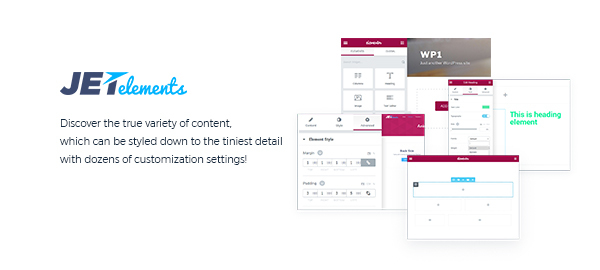 JetElements is the most popular addon for Elementor. It provides over 30 different widgets for adding and styling content. This plugin is invaluable when it comes to creating sliders, post carousels, banners, portfolio and image layouts. It also provides functionality for adding parallax effect for the sections. Its widgets are easy to use and have extended style settings.
JetMenu Addon for Elementor

JetMenu is the right plugin when you need to create a mega menu with loads of content in it, and want it to look impressive. It provides widgets for creating vertical and horizontal mega menus with extensive style settings. And the most important thing about it is that JetMenu allows creating a mega menu with Elementor, so you'll be able to structure it and place any content you want inside the items using the widgets you have at your disposal.
JetThemeCore Addon for Elementor
JetThemeCore plugin for Elementor is the real muscle behind CrocoBlock's functionality. It is the tool that allows creating header, footer, single post and archive templates and applying them for different pages, or the whole site. It also adds Magic Button modular functionality for quick access to the pre-styled sections and pages.
JetBlocks Addon for Elementor
Speaking of headers and footers, when creating them you'll definitely need specific widgets for adding content, such as login and sign in forms, hamburger menu, logo, breadcrumbs, etc. JetBlocks is the plugin that provides such widgets for Elementor and makes the tasks extra easy. Another great feature about it is that JetBlocks allows making sections sticky, so you'll be able to create a sticky header for any theme, anytime.
JetBlog Addon for Elementor

And what about dynamic content? If you're looking for a way to showcase blog posts, custom post types or even WooCommerce products, JetBlog widget can be really helpful. It provides Smart List and Smart Tiles widgets for adding dynamic content. It means that its content will be changing automatically when new posts are published. It also provides an easy way to query posts and display custom fields.
JetWooBuilder Addon for Elementor

As for WooCommerce functionality, JetWooBuilder is the ultimate solution among Elementor addons for creating an online store. It can do anything from helping you build custom WooCommerce product page templates to adding single products and product taxonomy layouts to the pages built with Elementor.
All of the Jet plugins are included into the subscription, and it's more than enough for creating a website. But that's not all! There are even more powerful plugins that make working on your site even more easy and convenient.
For one, JetTabs plugin allows to place the templates built with Elementor inside the tabs and accordion blocks. JetReview plugin provides special widget for adding reviews to the pages built with Elementor.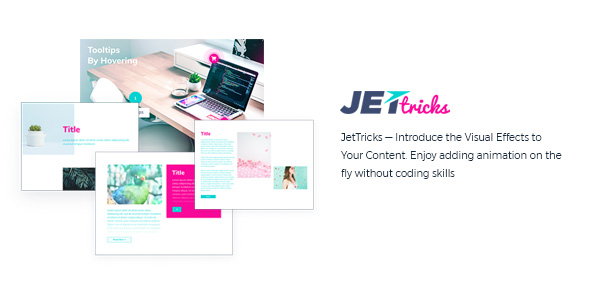 JetTricks plugin has a wide range of visual effects to make the website's appearance more vibrant and alive with animated tooltips, parallax effects for widgets, section particles, and many other features to enjoy.
What theme is best to use with CrocoBlock
CrocoBlock subscription is a full pack that is enough for creating a high-end website. Other than skins and plugins for Elementor page builder, it includes a clean Kava theme, that is made for Elementor and has really impressive design and powerful performance.

Kava is WooCommerce-ready, supports RTL and has immaculate typography.
But what's best about it, is that Kava WordPress theme is completely free! So you can download it and try it out with Elementor even without purchasing a CrocoBlock subscription.
In addition, it's not even necessary to use Kava theme with CrocoBlock products. In case you have already installed another WordPress theme and are perfectly content with it, you can use CrocoBlock and keep it, and everything will work smoothly.
A few words about CrocoBlock licensing
One of the most enjoyable things about CrocoBlock is its simple licensing. There are only three license types, that cover different use cases.
A Single Yearly license will perfectly fit those who need CrocoBlock only for one website. This license type includes all the products as well as professional support for one year. The only limit is that the products can be used only for one website. And after the license expires you won't get new plugins from Jet bundle and new skins. This license is the best option if you're a beginner, want to build a website for your hobby, or in case you want to try CrocoBlock out before upgrading to a more advanced license.
There are also an Unlimited Yearly and Unlimited Lifetime licenses. Both will suit you if you're working on different websites for your clients and are looking for a way to make your work easier and faster. However, the Lifetime license plan includes lifetime support as well as lifetime access to the whole CrocoBlock subscription package, which is constantly updated with new skins as well as new Jet plugins.
Speaking of CrocoBlock subscription, it is needed to say that this service is unique. It provides everything for those who work with Elementor page builder, and it is the best option for people who don't have coding skills, yet, need to create a website and make it stand out. Sometimes the theme on the given topic is not enough, and CrocoBlock is the right way to approach the task of creating a website and feel confident about it all the way.