When is it useful to apply Photoshop actions?
Photographers face the issue of the ideal photo editing every day. Each style of photography needs the specific approach and effects. It can take so much your working time to pick and then create an exclusive photo image to each work.
Photoshop action is a perfect solution for editing many images in one day. It will become the ultimate productivity tool for saving your time.
They will complete such general tasks like color changing, and any giving finishing touches.
The great benefit of Photoshop action is that they are easy to use. It is easy to install, easy to play, and are self-explanatory. It doesn't matter how complex the action is. The applying process still will be easy.
The Photoshop actions can become a great learning tool. The user will understand how the Photoshop work by inspecting your actions, if we are talking about the amateur photographer. Photographers can dissect the actions and go into each step of any action, turning action off and on. You will become a Photoshop expert. They also will help photographers with the huge experience to improve their skills.
It's a great opportunity for experiments. So you can try many effects in few minutes. It will help you to find the most appealing result for the specific child portrait and never waste the whole night for it!
You can change and compare the result until you are satisfied with it.
When you want to achieve the matte effect or add the HDR effect, you can rely on an action to do it for you. Each time you think about the Photoshop action but don't dare to use them, others use them! Thousands of professional photographers all over the world, make the right decision and apply the ready effect instead of creating the new ones. Your time is priceless! And you shouldn't avoid more tools, which can simplify and speed up your workflow.
Let's sum up all advantages of using Photoshop actions in your work:
– They are easy to use.
– They are the best time saver for photographers and designers
– You can use them as a teaching tool
– You will find a perfect variant for your work in the shortest terms
– Great opportunity to experiment and find the perfect appearance for your child portrait
Pick your desires before picking the perfect actions for child portraits. Each time you work on photo improving you must start with the determining your desires and goals! What result do you want to get? Which style and color grade will be perfect for this portrait?
For the child portraits, it's of the high importance to save the soft and tender look of the child. Give the deep sense to the work, make it special. The actions you will pick depends on the result you want to get! But some actions will be safe choices for any child portraits!
1. Start with skin perfection
For some general portrait improvement, you need to start with the skin retouching. Even so tender and perfect skin need help to look magnificent. Any of child portrait must get through this improvement. It's a key action you need to start with. Make the child portrait look perfect without any shortcoming in one click.
2. Play with colors and lighting effects
If you want to emphasize the tenderness and softness of the child portrait. You can turn your attention to some action which will change the color grade of your image or add lightning effects. You can pick light toning, gradient or sunlight effect. In sober fact, the range of such the effect is so wide. They can frustrate you first! But we insist on the importance of those. With such photo effect, you will add the heart-warming vibes into your design and improve the general overlook.
3. Think about artistic approaches
Nowadays it's hard to surprise the client with the right color balance, perfect skin tone, and some color changing. You must throw them for a look. They must fall in love with your work from the first glance. In case, you are looking for some creative and outstanding solutions for your child portrait, you can turn your attention to the more inconvenient photo effect.
You can make accents with selective color area photo effect, or make your portrait image more sophisticated with some oil paint effects. Some clients adore when their kid is surrounded by some rose petals or when the portrait is transforming into some cartoon-looking work. Determine the client's preferences and complete the child portrait with some sophisticated photo effects below.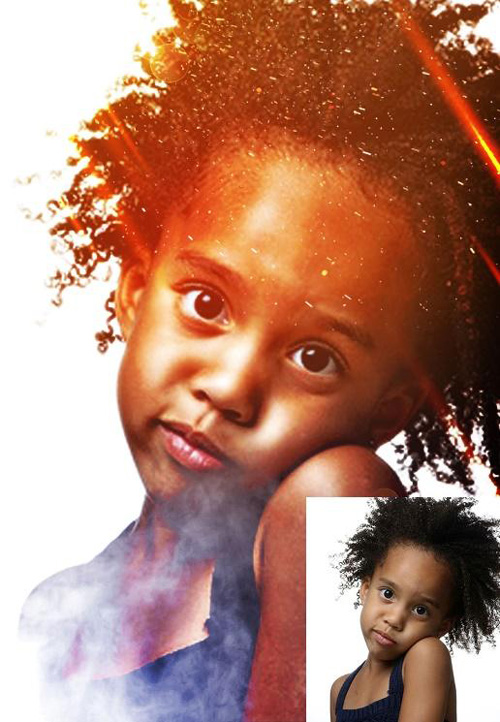 4. Make it look like a painted masterpiece!
The trendy and outstanding solution is transforming your perfect portrait shoot into the oil painting masterpiece. Your work will deserve the attention after such improvement! It will look like each detail was painted in the most careful way! It's a refined solution for photographers with true taste.
5. Don't neglect the black and white effects!
Some photographers try to keep away from Black-and-white photo effect for child portraits! However, if you are looking for the deep sense and dramatic look, which will melt any heart, the black and white Photoshop action, is your perfect choice! Only such the most daring photographers will use them, but the result is worthy! Furthermore, the perfect black and white effect will add classical and retro vibes into your modern child portrait.
6. Fabulous HDR as the final touch
The HDR effect is a trendy way to make the image more realistic, sharp and outstanding! And it can improve even child portraits with them! Such photo effects enhance works by adjusting the toning, saturation, and contrast of your portrait photos.
7. Do you hate the boring painting effect?
Decide in favor or watercolor actions
(https://styleactions.com/product/watercolor-v2-photoshop-action). Such the effect will add a very different painting appearance. Daring photographers should use the watercolor actions! They will get the magnificent result.
8. Get your inspiration from the movies
Opt the cinematic Photoshop action and add the appearance of the best movies of all time (https://styleactions.com/free-actions/cinema-effect-psd-action). Parents adore imagining their kid like a movie star. Let's bring their dreams to come true if only for a moment.
No matter what approach you will prefer, remember the main rule – each parent thinks his child is adorable and unique, and your primary task is to make his best-in-the-world portrait. Find the way to enhance the beauty of each child. Creating the perfect child portrait is a meticulous work. But using the appropriate Photoshop action can simplify this task and make it much more pleasant.