We live in a time where physically shopping for almost anything isn't the only option. Shopping online via your phone, laptop, desktop, or even a tablet is becoming second nature and first choice for many. Especially when it comes to consumer goods like tech gadgets, home décor, and clothing. And in the spirit of wedding season and the love that's in the air, creating custom wedding invitations and personal stationery online is becoming yet another convenience especially for busy brides.

Shopping online is simple… for most of us at least and who knew that creating custom stationery online would be easy, too? Thankfully with companies like Basic Invite, designing fun and unique invites has in fact never been easier! In five easy steps you too can have gorgeous custom creations for all of those major life moments.
Step One: Shop Around
Shop from hundreds of designs with everything from birthday invitations and thank you notes to rehearsal party invitations and wedding suites.
Step Two: Find Your Style
Once you've spent some time sifting through products and comparing different looks, you'll start to notice a pattern of what styles you like. Choose from modern, vintage, calligraphy, typography, floral, watercolor, and so many more style categories. All equally as stunning!
Step Three: Customize Your Design
This is where things get interesting! Play designer by mixing and matching fonts, colors, and layouts until you create the dream invitation you've been searching for. At Basic Invite the options are essentially endless. With more thank 180 custom colors, 100 font choices, multiple paper types and card cuts, and accessories for days.
Step Four: Order Samples
You don't have to make a decision just yet which will bring peace of mind to those of you still weary of the world of online shopping. Choose a few of your favorite options and order samples before you buy. Seeing your paper products in person and taking inventory of the quality, colors, and print in person will help you land on the ULTIMATE DESIGN!
Step Five: Seal & Send
Simply place your order, stuff your envelopes, seal them up, and send! It's as easy as that and all of it can be done from your home.
Express yourself through the art of online design and show your style and new-found skills with your rehearsal dinner invitations or stationery.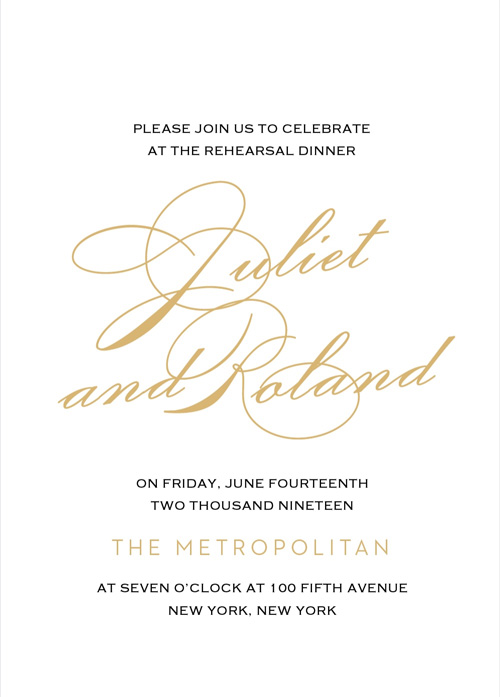 ***
***