Today, logo makers such as Designhill have made designing and selecting logos easier and affordable. Anyone can design a professional looking logo within minutes with the user-friendly interface and step by step guide by this logo maker. As Designhill leverages artificial intelligence, the result is a huge collection of logo designs based on your choices and preferences available for you to obtain and use in minutes.
Designhill's logo maker is an artificially intelligent online logo maker tool. It used AI to perform the designing functions leaving you with the simplest of tasks of providing a brief by answering the questions in their forms.
You may ask why it is essential to use an AI-based logo maker.
The answer to this impertinent question is that many businesses, entrepreneurs and bloggers are looking for affordable logo makers. Also, not everyone possesses the knowledge, experience and finesse of a graphic designer. Therefore, logo maker tools such as Designhill make the job easier and affordable with an array of logo design options to choose from.
Getting started with Designhill Logo Maker
The Designhill's logo maker tool uses easy-to-follow steps that help anyone – even without any prior knowledge of designing – create meaningful and impeccable logo designs.
Here is a guide that explains how with each steps you get one step closer to your perfect logo design:
Enter your details
Once you are at the Designhill's logo maker, select the service you are looking for, company name and industry. After you have filled in these details, click on Get Started Now. For this demonstration, we will be creating a logo for an e-commerce website dealing in pet products.
Choose your budget
As you are redirected to the next screen, a pop-up will appear asking you to select your budget. The higher the budget is, the more intricate the design will be. Here, we have selected $0.
Pick your preferred designs
At this step you will be asked to pick 5 or more designs you find the most appealing. This step is crucial as it provides AI-powered tool with a better understanding of your choices. Based on your selections and preferences, tool maker creates designs for you. We selected five designs here.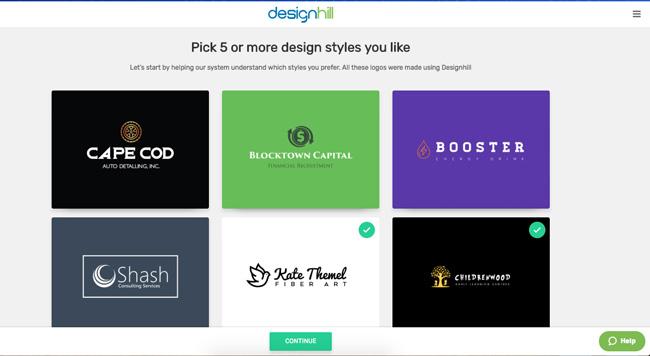 Select color shades
As you move to the next step, the logo maker asks you to select three colors you want to be used in your logo. This does not imply that all three colors would be used in the logo design and you can even change the colors once you have finalized your design.
Also keep in mind that when you choose a color, for example, blue, the logo maker would include all shades of blue ranging from cyan, indigo, navy etc. In case you are not sure about which colors to choose, you can opt for the "Let The AI Tool Choose My Colour" option. We have selected Blue, Purple and Orange in this case.
Company Name, Slogan and Industry
In this step, you will be asked to enter the company name or brand name, your slogan and the relevant industry. In case your industry is not listed or you wish to create a generic design you can choose the "Other" option. The slogan field is optional and you can leave out adding slogan if you do not wish for it to be displayed in your logo design.
We have added the company name "Pets World" with the slogan "Caring for your Furry Friend". The industry we chose was "Animal & Pet".
Symbols
Symbols act as the visual cues and identifiers in your logo making them appealing and recognizable. They are also great in conveying the purpose of the business or brand. In this step, you will be asked to choose up to 5 symbols. Keep in mind that this does not imply that all 5 symbols would be used in the logo but make sure you select symbols that are relevant to your business. You can also change these symbols later before you finalize your design. For each keyword, you will be provided with a huge number of symbols. Since we are creating a logo for a Pet Care Website, we have chosen a paw, two styles of dog symbol and a cat.
Log in or Sign up
As we approach the final steps, in case you have not yet logged in or signed up, you will be prompted to do so.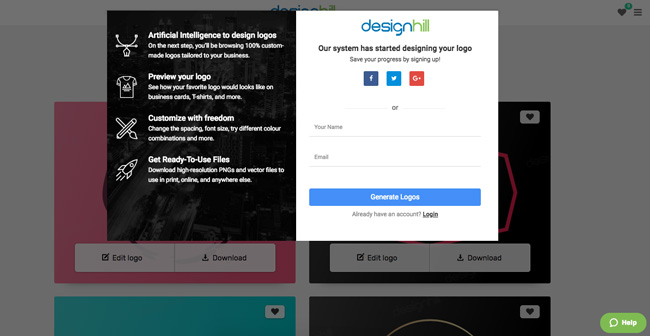 Choosing your design
At this step, the Designhill's logo maker displays a plethora of potential logo designs for you to choose from. You can keep on viewing more and more designs by clicking on "Load More Logos" button until you find the logo you like. You can even edit the selected logo further by clicking on "Edit Logo" or if you are happy with the design you can click on "Download".
Edit your Logo
In case you wish to change the color, font or symbol for your selected logo, select on "Edit Logo". Here you can make the desired changes by selecting on the relevant tab at the top of the page.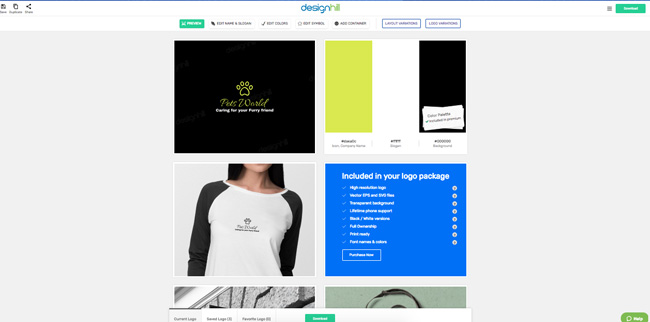 You can also get an idea of how your logo will appear on various print media on this screen.
Download and purchase your Design
Once you are satisfied with your design, click on the green "Download" button at the bottom of the page. This will take you to the final page with the three pricing packages. Keep in mind that the Basic Package only provides with a basic-resolution file. In order to download high-resolution files which can be used on social media, website, prints etc, you should select the Premium Package.
The Enterprise Package is for creating logo design contests and getting the logo designed by professional designers.
A logo design is an identifier for your business and needs to be chosen with utmost care. It must be relevant and recognizable as it can prove to be the starting step in your venture's branding journey. Investing in a good logo can ensure that you get a good head start in building your brand.
With Designhill, you would have not only complete control in terms of choice, but it is affordable and can provide a beautifully designed logo that looks professional within minutes. And if you choose to get your logo designed professionally using the logo design contest, you get to choose from at least 30 different designs within 7 days and that too with a money-back-guarantee policy.
So what are you waiting for? Get your logo design started here.