Entrepreneurship in the 21st century
For the past several centuries and for years after the turn of the millennium, the definition of business could be summed up as providing goods and services to satisfy human needs and desires. However, the internet has changed all this and even before we knew, the virtual world has taken over our lives. There is no doubt the internet has emerged the king and turned the whole world into one big buyers' market.
Even giant brick-and-mortar global retailers such as Walmart are scrambling to strengthen their online presence lest they are marginalized by 21st century phenomena such as Amazon.  
As an entrepreneur, establishing an online presence is the most important thing for you. An online presence is the sum of all the identities you have created and the interactions those identities have established, and participated in, online. Your online presence, when built successfully, can spread brand awareness and gain you fans, followers, leads, customers and anything else you could ever want for your business.
Is your website in place?
Having a website in place is perhaps the prerequisite for an entrepreneur in the 21st century. You may be a restaurateur, small shopkeeper, or owner of a plumbing service. Your website is your primary tool to establish your online presence and relate to your customers. But it doesn't end there – your website should be not only intuitive but also reflect the values of your brand and your USP on a visual and linguistic level too.
Let's say you are selling a financial service. For instance, you are a trader in options and Contracts for Difference (CFDs) and you have decided to create some content for your customers and potential customers to explain exactly what is a CFD trade. If the page showing the trading platform is dull and unimpressive, your audience will not be attracted to invest in CFDs. You need to pep up your webpage and make it accessible and not intimidating to newbies. The IG page linked above uses clean fonts and whitespace to present this information.
There are also bullet points in the form of checkmarks next to the main USPs of the brand, as well as a video explanation for those who prefer video –  after all, according to Hubspot, 53% of consumers say they'd like to see more video when considering a product or service. A good balance of content and graphics will sustain the interest of your customers.
However, when the target demographic changes, or even the industry, the website too would have to change to suit the target customer. Take the example of the "things we make" page of fruit drink and smoothie maker Innocent. The page aims to showcase the various products they have available. The page is on-brand, fresh and playful in its look and feel, with friendly colors, simple shapes and easy to read fonts.
Although it's not a text-heavy page – although another brand could have chosen to list every single product rather than product categories here – the brand has chosen an attention-grabbing red for their newsletter sign-up box, to encourage people to consider signing up. A subtle, smart detail on the footer also sends out a powerful message: A series of nation flags visually points out how many countries the brand is active in, with the repetition of the flag shape a powerful draw to the eye. There's no need to write, "We work in these markets", this aspect of the footer directly communicates it with an image.
The internet is emerging as an amazing equalizer, enabling entrepreneurs to market their goods all over a wider geography and transforming their business from local to global without spending the marketing dollars. More often than not, consumers search for buying ideas before romping around streets. An easy-to-manage website advertising your goods and services allows you to reach out to buyers world over, but as we saw above, the look and feel of it has to match your product and target demographic.
 
The new tools of engagement for an entrepreneur: Social Media
Social media is a tool used to transmit information to a wider audience. Knowing how to stimulate conversation among your customers and delivering a strong and clear message will provide you with a powerful punch to increase your business and position your company. A revolution is in progress and tools such as Facebook, Twitter, YouTube, blogs, microblogs, and websites have evolved to create new social media opportunities for entrepreneurs.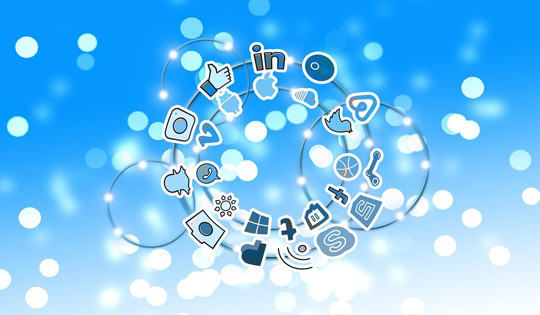 Entrepreneurs can communicate directly with consumers through social media.  This encourages interaction and helps foster customer loyalty and relationships with which big-box companies cannot compete. To thrive and succeed as an entrepreneur you need to harness these tools skillfully. Entrepreneurs also need to be wary of the fact that technology is constantly changing and they need to stay on top of the trends. Statistics show that e-commerce sales in the US increased from 5.8% in 2013 to 9% in 2017, and are expected to reach 12.4% by 2020. Online is emerging a very crucial component of a business and entrepreneurs cannot afford to miss this online revolution.