Let's be honest – everyone loves free stuff. Whenever we hear the word 'free' our ears perk-up. I think in the hosting industry, it should be a much-appreciated idea.
If you are looking to build a website or blog but are not in a position to spend any dollar on it, you are at the right place. I have created a compilation of few free web hosts.
There are countless free web hosting companies in the market but all are not meant for you. Therefore, I will list only top 5 that provide quality services without any ads.
000webhost

What it offers:
10 GB bandwidth
1000 MB disc space
Auto Installer
Free domain name
PHP and MySQL support
Free website builder
99% uptime
5 e-mail accounts
cPanel admin
About the company
000webhost is one of the renowned free web hosts in the industry serving more than 14 million people across the globe. The company started its journey in the year 2017 from its headquarters located in the United States.
Since the foundation, the company has continuously been offering free hosting without showing ads. And for that reason, the company has earned a lot of respect; especially from small and mid-sized business owners who consider it the perfect hosting platform.
Its features like PHP & MySQL database support, Cpanel, one-click auto installer, etc. help it stand out above the competition.
Whether you are using WordPress, Joomla or any other popular content management platform you can install it within 5 minutes using their one-click auto installer.
Undoubtedly, it is going to be a big surprise for you that 000webhost uses SSD storage on its server. Let me tell you, this storage is considered 4 times better than previous HDD drive in terms of writing and reading ability.
Besides this, 000webhost offers 24/7 forum support which is undoubtedly a big deal for a free hosting company.
Byet.Host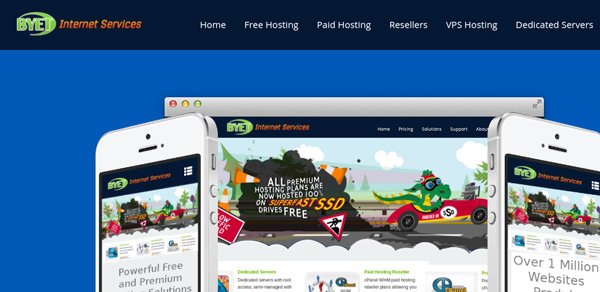 What it offers:
1 GB free disc space
Control Panel
PHP and MySQL database support
Ad-free experience
SSL certificate
Free technical support
Add-on, parked, and sub-domains
Clustered services
About the company
Byet.Host is another popular free web hosting company (providing VPS, shared and dedicated hosting) that operates from Ohio, United States.
It is almost 10-year-old company that provides e-mail hosting and domain registration as well. To date, the company has over a million clients; this count is growing rapidly.
It can be a little surprising for you that this little company uses clustered GRID network linking hundreds of nodes.
In addition to this, Byet.Host uses different redundancy protection systems, including storage area network (SAN), backup, load balancing hardware for added reliablity.
Freehostia

What it offers:
6GB of bandwidth
250MB disk space
No Ads
Elefante Panel
MySQL databases and PHP compatibility
Domain hosting
3POP/IMAP accounts
About the company
Freehostia is almost a decade old company. Although it primarily focuses on paid hosting services yet it also ranks among the top free web hosting companies, thanks to its free plan named 'Chocolate Flavor'.
All of their plans have been given captivating names such as Chocolate Flavor, Lovebeat, Wildhoney, Supernatural, etc.
With their free plan, you get Elefante panel which allows you to easily run a wide range of scripts from PHP to WordPress.
The best part is any time you feel that your website exceeds free hosting requirements you can upgrade to their premium plan with a just single click.
AwardSpace.com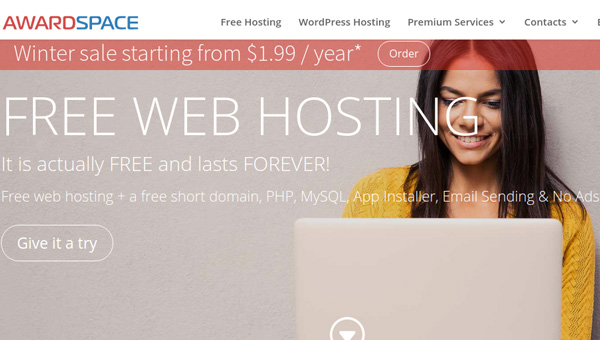 What it offers:
Storage Upto 1 GB
Totally Ads free
1 Host domain and 3 Sub-domains
1 Free email account
Website builder
Web based file manager
5GB monthly traffic
1 MySQL database
24/7 customer support
99.9% network uptime
About the company
AwardSpace.com is a German-based hosting company that came out of its parent companies – Zetta and Hosting Solutions Ltd and AttractSoft.
Along with free hosting, it also provides shared hosting and virtual private server.
Speaking of its free hosting, it offers some amazing features making it more trustful for startups and small business owners. Its free plan comes with custom Cpanel for easy account administration.
As mentioned in the features, AwardSpace is completely Ad free. It means you are not forced to run annoying ads on your site to use their web hosting services.
Besides this, AwardSpace lets you create a quick website via their vibrant free website builder. Moreover, here you can find a wide range of responsive templates and themes and create a beautiful site for your business.
Coming to their customer support, the company provides only ticket support in their free hosting plan. In addition to this, you can go through their FAQs section to find the answer to your query.
FreeHosting.com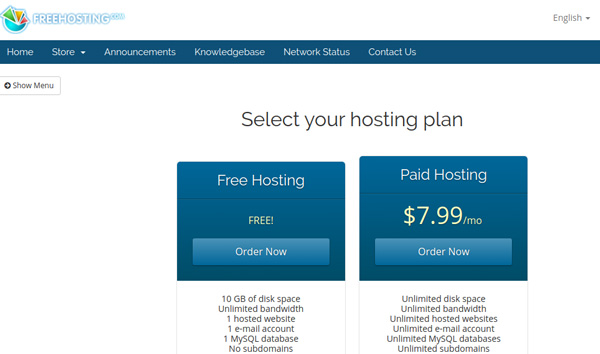 What if offers:
Ad Free Hosting
cPanel access
10 GB disk
250GB bandwidth
No Subdomains
1 FTP account
1 Email account
1 MySQL database
About the company
FreeHosting.com is a popular free web hosting company that offers 10 GB of disk space for absolutely free.
Like 000webhost.com, it also comes with a handy onsite builder that lets you build any kind of blog or website without the knowledge of any programming languages.
At any moment, you can upgrade hosting to its paid plan that offers various unlimited features such as unlimited bandwidth, sub-domains, email account, etc.
Conclusion
Free hosting providers an economical way for small business owners and bloggers to run a site without spending money. Each of the free web hosting companies I mentioned above provide a different set of features. However, when we compare features, we find 000webhost beats most of the competitors.
If you plan on running a simple personal blog or website most probably 000webhost.com will suit you best.
But, again the choice is all yours.