Procrastination is usually considered to be a waste of time. Too much of it can lead to an undesirable outcome – you know the drill.
You put something off for too long. Then, you suddenly find yourself scrambling to meet a deadline. You either miss the deadline or, if you meet it, your hurrying has caused you to submit substandard work. The result? A dissatisfied client, and a blot on your reputation as a freelancer.
It doesn't have to be that way. It's possible to spend supposedly idle time doing something productive.
Procrastination as a Productivity Booster? Be Theme Has a Way
The suggestion is as follows: with minimal effort, you can become more productive. You can also potentially increase your income. Sounds appealing? On the other hand, the opportunity to achieve this by procrastinating sounds like a scam.
It isn't. It's the real deal.
Productive Procrastination is a brainchild of Be Theme. Be Theme is the biggest WordPress theme of all and a Themeforest best seller.
It involves browsing Be Theme's library of pre-built websites. All 270+ of them, complete with a 1-click installer. Doing so during your idle time is fun and interesting. You'll soon discover how much time you can save on your next website-building project.
"Time wasted" has suddenly become productive.
Scroll Your Way through Be Theme's 270+ Pre-built Websites
What you'll discover during the "idle" time you spend scrolling through the 270+ pre-built websites, is they cover more than 30 familiar niches and website types. This exercise is not only fun and informative, but you'd be hard pressed to scroll all the way through without finding a few website concepts you can use, and the ease in which you'll be able to find a template that offers a perfect match for any client you're apt to encounter.
What to expect:
A Sampling of 60+ Templates for Creative Industries to Select From
These 6 pre-built websites are among the more than 60 you can work with if you have a client that represents a creative agency, or someone who simply wishes to showcase and promote their own work. Although no two are the same, they share the following characteristics.
– They feature interactive galleries to showcase products and/or creative efforts.
– Their large, attractive images are guaranteed to attract attention.
– Navigation is easy and intuitive, irrespective of the websites complexity.
– They make it easy for you to emphasize your client's brand.
You should have no trouble at all finding just the right template for any of the following niches:
– Photographers, Video Makers, and Visual Artists
– Marketing and Ad Agencies
– Bloggers
– Architects, Designers and
– Beauty Salons
30+ Pre-Built Websites for One-Pagers
A client's requirements for a one-page website can often be quite unique, putting you to a test. That won't be the case when you have these 30+ templates to select from:
As each of these templates is completely customizable, the options open to you for total client satisfaction are, for all practical purposes, unlimited.
They include:
– Responsive websites for the benefit of mobile users
– Attractive and thought-provoking concepts to get your projects off to a fast start
– Examples of how to make the most effective use of whitespace
– The ability to structure your content any way you need to
– The ability to build a website, even a complex one, and have it up and running in under 4 hours.
9+ Pre-built Websites for Online Shops
You'll like these 4 eCommerce concepts:
They offer:
– Engaging photo gallery ideas
– Easy to work with order forms
– Clever ways to spotlight products
– High-quality imagery
– Intuitive menus, plus
– Shopify integration
More than 20 Health and Wellness Pre-Built Websites
And, 12+ Pre-Built Websites for the Fitness and Nutrition Niches
16+ for Events and Nightlife
9+ Useful and Intriguing Concepts for Restaurants, Bars, and Cafes
10+ for IT Services and Products
and, 7+ Pre-Built Websites for Two Niches that Can be Difficult to Address – Financing and Bookkeeping
Set aside a little time to scroll through Be Theme's 270+ pre-built websites. Discover for yourself what Productive Procrastination is all about.
Watch Fun Video Tutorials on YouTube
There is another way to take advantage of otherwise "wasted" time for fun and profit. You can spend it watching interesting and informative video tutorials. You'll find them quite helpful – you can learn new software, new skills, and some productivity tips.
Be Theme's impressive library of tutorials includes guided tours,

a mini-tutorial about their 1-click installer,

and even a tutorial on how to import one of their 270+ pre-built websites

Read Creative and Useful Infographics
Or, you can scroll through a selection of infographics! It is another great way to spend your time. Especially, when you are overwhelmed by an urge to procrastinate. Infographics can serve as learning tools and powerful sources of information. They often provide clever design concepts to spice up your websites.
As is the case in this example: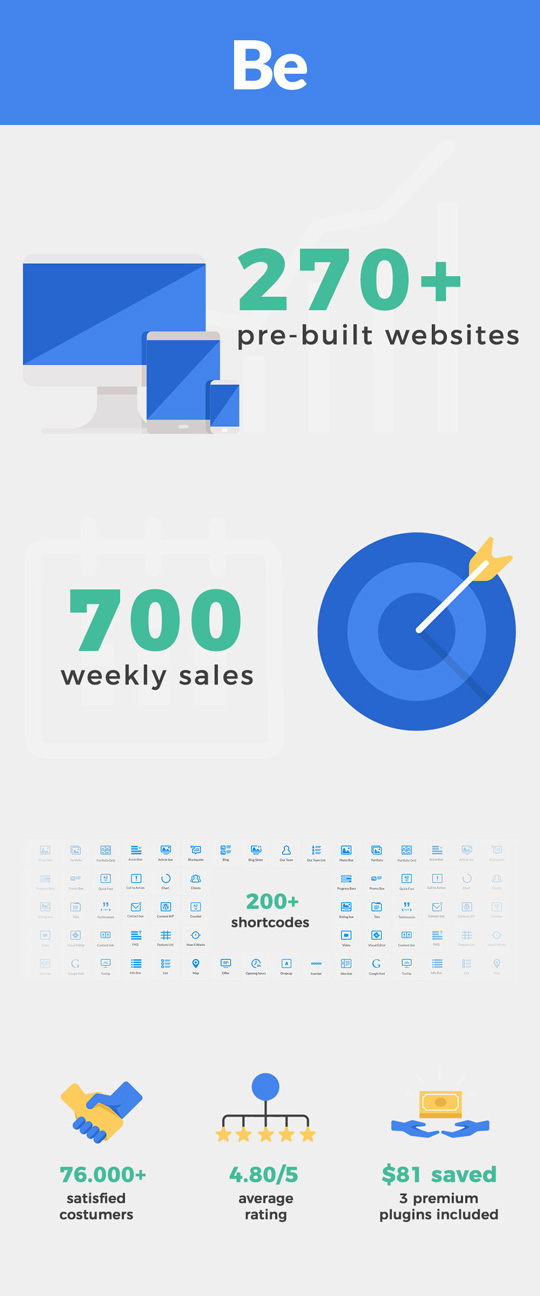 Conclusion
Procrastination is a bad habit. But, unlike most bad habits, it has a silver lining. It can be fun and a source of inspiration, and it can improve your productivity.
– Grab a cup of coffee, and start working your way through Be Theme's collection of 270+ pre-built websites.
– Watch some informative and/or instructive videos. They will help you broaden your knowledge and learn new skills.
– Discover how you can use infographics to present information more concisely. Moreover, at the same time, learn how to spice up your websites.
You don't have to feel guilty; just call it "research" time.