If your company's business model includes sharing data with customers and clients, over the web, you will want that data to be up-to-date, interactive, responsive, and beautifully presented through the use of tastefully designed tables and charts.
Just having the ability to do this is not always enough. Important data usually carries something with it – a deadline. For those who present or analyze data, and for those who rely upon the results, timing is everything.
What you want, is a tool that can create well structured, interactive, and responsive content with ease, and do so quickly, so the data can be in the right hands at the right time.
The tool you need can be a WordPress data plugin that is capable of producing results in keeping with your company's branding, which involves providing clients and customers with prompt, reliable results.
wpData Tables – The Number One Charts and Tables Plugin


wpDataTables is a WordPress plugin that is not only easy to use, but it is a plugin you can take out of the box and put to use in no time at all.
Its main features:
– Responsiveness – your charts and graphs will be depicted clearly and accurately on any device;
– Large Data Handling – literally millions of rows of data can be accommodated in real time, when operations are managed by a MySQL server;
– Easy Editing – both from the front end and from the backend
– Advanced Filtering and Searching – users can work with charts, graphs, and statistics, interactively;
– Highlighting – this feature is similar to what is called Conditional Formatting in Excel;
– Pull Data from Any Source – from Excel to My SQL; and the data can even be delivered in real time;
– Wizard – Wizards help accomplish things; this Wizard helps you build charts and graphs.
Create Editable Tables for Your Company Website
With wpData's Table Constructor, you can auto-generate SQL queries on existing tables, import existing spreadsheet files, or create SQL tables directly from the dashboard. Even complicated MySQL queries can be easily handled, and the results submitted to a remote MySQL server.
The advanced filtering table provides and even more powerful way to analyze data. Filters can be drop down, range inputs, or a single input.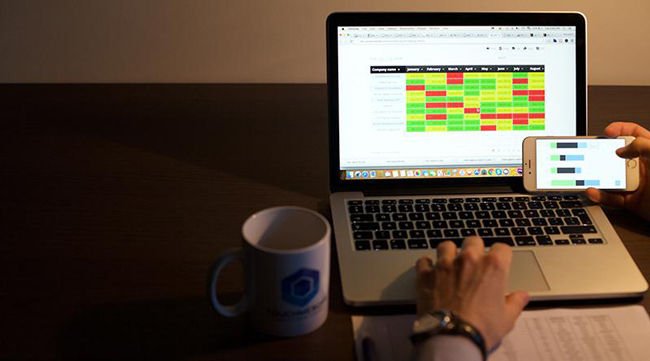 The wpDataTables plugin can accept data in virtually any format you choose, including data from Google spreadsheets, Excel or .csv files, MySQL queries, JSON, and on and on.
Responsive tables are provided to help you shape data in any format, so it can be correctly presented on any device's display.
Creating Charts Quickly
Two main skills are involved here – Google Charts and High Charts. wpDataTables can quickly and easily "bend" information into place, and create awesome visualization charts without in any way compromising the quality of the data. The intuitive dashboard even lets you choose elegant color schemes that best fit your brand.
Create Tables with Large Amounts of Data
wpDataTables is smart. By using a MySQL engine, supplemented with some help from an Ajax request, wpDataTables is capable of managing large quantities of data at a time.
Users Can Print and Save the Tables
Since the tables you create will be WordPress tables, users will have no trouble printing them out, or saving them to a .pdf, Excel, or .csv file. This gives users a better opportunity, and more time, to analyze and interpret your company's data.
wpDataTables is Used by More Than 7000 Companies – Worldwide
Although wpDataTables is in wide use by many companies for financial reporting and analysis, it is used for a wide range of applications to satisfy many different needs. Huge sums of data, such as those used by financial operations, scientific studies, and agricultural statistics can be managed quite nicely when this plugin is put into play.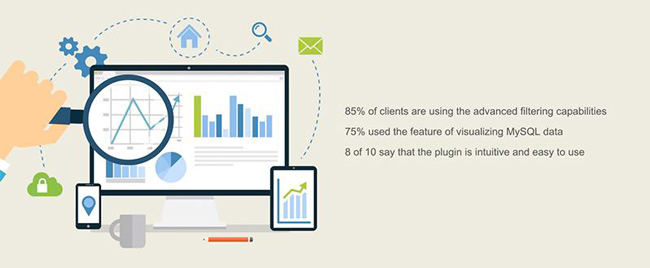 Marketing specialists find in to be an extremely useful tool, as do those in such diverse sectors and occupations as advertising, sports betting, and education. If you ever have a need to transform a mass of incomprehensible data into something meaningful, this is the tool for you.
A Data Manager with Great Features and Good Customer Support
The wpData plugin is super easy and intuitive to use. You might think that a tool that can make sense of a mass of nearly incomprehensible data would be difficult to work with, but that is not the case at all. After all, its features include –
Advanced responsiveness support
The ability to work with very large tables
Tabular content can be edited inline or in a generated form
Advanced filters to narrow down results
Highlighting cells, rows, or columns, based on their content
The ability to use tables as data sources to create charts
In addition, with wpDataTables, you can pull data from any source, use the Query Generator if you don't know SQL, and create charts, tables, or both with a wizard.
More than 85% of wpDataTables users take advantage of its advanced filter capabilities. 75% of them have used the MySQL visualizing feature, and 33% report using the front-end editing feature for MySQL tables.
Over 80% have reported finding this plugin remarkably intuitive and easy to use. Clients have called wpDataTables' functionality perfect for handling the tasks at hand. In addition, this plugin can be customized to fit a client's particular need and customer support response is second to none.
Latest wpDataTables Updates
These updates are based on user feedback, and have been recently been incorporated:
– Conditional Formatting – When you are confronted with large amounts of data, it can be difficult to locate or estimate the number of cells with the values of interest. This update enables you to highlight different value ranges in different colors, which can save you hours of searching.
– Sum/Totals Row – With this update, it's easy to calculate the totals for a column on the fly. All you need to do is tick a checkbox to get the result. If you filter or redraw the table, the sums are recalculated.
Also, wpDataTables 1.7 beta is due to launch very soon, and it includes a feature that could be very useful, an "excel-like" editor and viewer, that shows the table data in an editable spreadsheet.