We continue to showcase talented artists from all around the world, and this week's featured artist is Sandra Rauch. Berlin born and based, Sandra describes herself as a Tec Artist, drawing heavily on innovations in technology to push the boundaries of art.
Résumé
Having studied Communication Design at the Kunsthochschule Berlin, Sandra went on to focus on art painting and graphics. Upon completion of her diploma, she spent seven years working alongside Professor Rolf Kerbach as his assistant at the Hochschule für Bildende Künste (College of Fine Arts) in Dresden. Since 2008, however, she has been living back in Berlin and has been working as a freelance artist – her studio is located in the Prenzlauer Berg district of Berlin; consult her personal website for full address and contact details. Furthermore, in October last year, she also published a book titled Love Magic Superman, which provides more in-depth insight into her work and techniques. Both the book and several high-quality, signed prints of her work can be found at Lumas.com.
Techniques & Works
Sandra Rauch's city roots are very much tangible through her art, with much of her work inspired by urban landscapes. Her approach is notably fearless, using an eclectic mixture of both traditional and digital techniques to capture the vibrancy and energy of the world's metropolises. Typically, Sandra takes photos of well-known city locations which she then goes on to edit and transform through methods such as painting, digital manipulation and typography.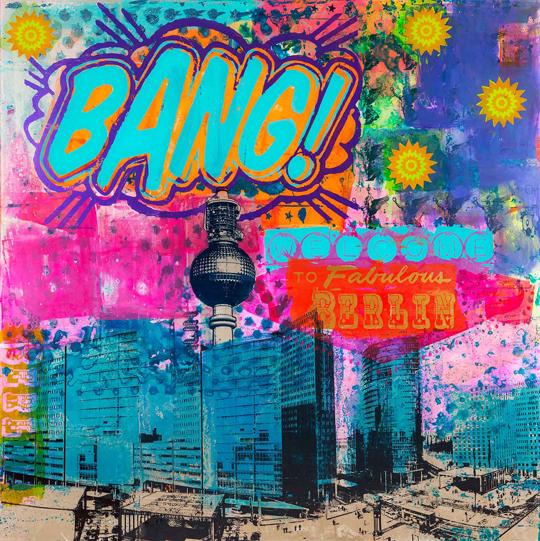 It is not only the streets of Berlin that have influenced her work – Sandra has also spent considerable time working in Hong Kong, New York and, most recently, Tokyo. Despite the very different characters of each location, common to every print is that distinctive city buzz; acrylics from her Berlin collection take inspiration from the city's plentiful graffiti, its diverse fashion scene and its inhabitants, whilst her Hong Kong and New York series feature titles such as Hong Kong Fever, New York Bang and Times Square Feeling. Indeed, Rauch has an undeniable talent for taking something familiar – famous landmarks such as the Berlin TV Tower, or New York's Fifth Avenue – and portraying it from an entirely new perspective. No matter what city, Sandra's work is discernible through its bold use of color – reminiscent of both pop art and graffiti – and its fusion of traditional art with multimedia techniques.