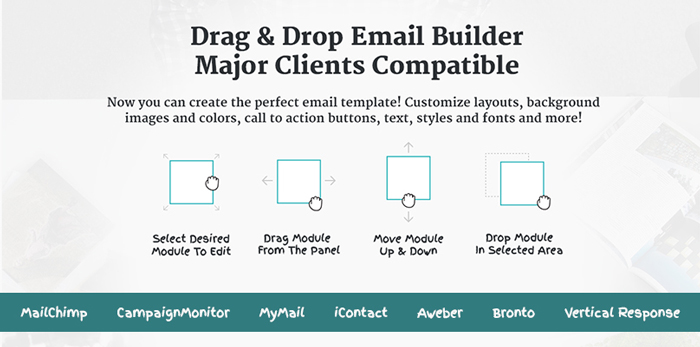 Building awesome Mailchimp email templates has never been easier
The guys from BigBangThemes have managed to come up with an amazing solution to the problem thousands of internet marketers have been having. Now building custom email templates is extremely easy to do with their Drag&Drop builder.
With literally hundreds of different modules to choose from with each of the templates BigBangThemes have created, and loads of premade layouts that are bound to inspire you in designing something really great looking, this will definitely prove to be the best tool to use for your email marketing campaigns.
Regardless of the email service you're using, this email builder has you covered. You can export mailchimp templates, campaign monitor templates, MyMail templates, and the html's that the builder is exporting are compatible with over 22 other service providers.
The guys from BigBangThemes also offer free email building templates as well. The free drag&drop builder templates are available for completely free usage, but do offer some limitations in terms of module variety.
Kahuna – Giant Multipurpose Email + Builder Access
$22 – View Kahuna    Free – Try Free Builder
Kahuna is easily the most complete email template available on the web. With over 800 completely different modules, it would be a huge uphill task to find a niche you can't use Kahuna with.
Whereas most email templates available online are limited to 40-50 modules, Kahuna clearly makes a bold statement and rewrites the rules of multipurpose email templates.
The free drag&drop email builder using the kahuna template comes with a very fluent layout and with all the amazing tools the full version provides, but fewer available modules.
Miaghi – Giant Multipurpose Email + Builder Access
$22 – View Miaghi    Free – Try Free Builder
Miaghi is an amazing email template that comes with over 20 predefined layouts which will target most micro-niches available, as well as provide a very strong basis for any email you'd like to build with over 400 different modules.
Building an email has never been easier due to the BigBangThemes email builder, and Miaghi is a perfect template to use. Minimalist, but with amazing style, it's going to provide your company with the edge and will help you surpass your competitors.
Like to buy but still have a couple of questions? You can contact the guys from the BigBangThemes support team here.