This incredibly fun set makes it ridiculously easy to put together your own vintage comic projects with just a few clicks of your mouse. Using layer styles, patterns and overlays in Photoshop, you can build out a fantastic look for your artwork. Use these styles to theme a website, create flyers for a fair or any comic book convention materials.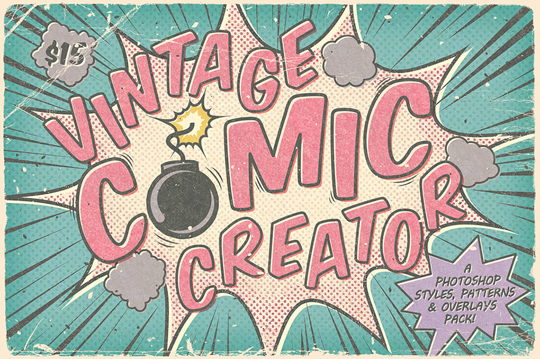 Retro Comic Book Tool Kit
Features:
– So simple to use! Add your text and images to one of the PSD overlays and apply a style with just one click.
– 30 style varieties use real ink and halftone textures for you to apply to text, bitmap and vector images.
– Each PSD includes 3 layers of texture, which can be turned on or off dependent upon your needs.
– The textured overlays include 2 different designs, each measuring 2320×1544.