The Mobile App Development industry is evolving with each passing year. While the year 2014 witnessed smartphone and smart tablets maturing into wearable gadgets and Internet of Things(IoT), new things would be seen in 2015. If you're a developer who's looking for new ways of developing remarkable apps, then this is a post which will make you familiar with top ten mobile app development trends. Hope a serious adherence to these trends would help you in developing high-end mobile apps for varied audiences.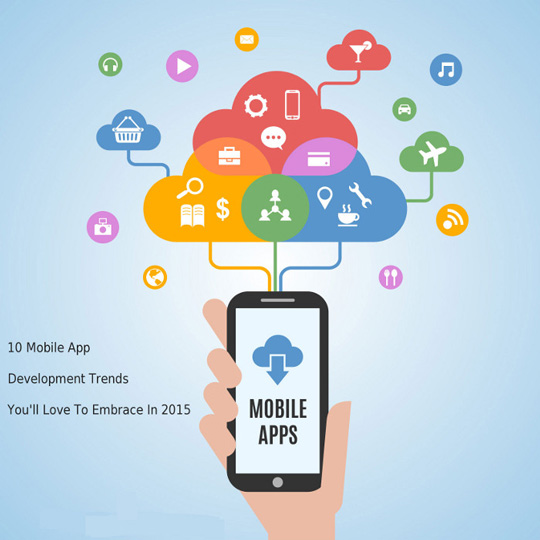 A greater use of Parallax Scrolling for creating visually appealing mobile apps
The year 2015 will notice parallax scrolling as the primary interactive element for a variety of mobile applications. As an app developer, you can include long scrolling in your apps so as to ensure that the app's design tells a story. In addition to this, maximum user engagement is also guaranteed with the use of parallax scrolling in mobile applications. If you need to display content on a single page or want to engage users for a longer time duration, parallax scrolling is the tool you can't afford to miss.
Cloud Driven mobile app development
Even the mobile app development industry will be greatly influenced by the cloud technology. You'll be able to focus on the integration and synchronization of your mobile apps on a wide range of hand-held devices. With the cloud technology, you'll be able to build applications that can be conveniently accessed on multiple devices with same features, data and functions.
The Utilities market will get matured
The utilities market that includes multimedia players, antivirus programs etc. will also be maturing in 2015. In simple words, all the computer utilities will witness a remarkable advancement in terms of their overall performance. It is the business model that's followed by these utilities which has lead into a visible maturity of this domain.
Enterprise apps would overpower the consumer apps
Although the battle between enterprise apps and consumer apps doesn't show any signs of fading away, the year 2015 will have the enterprise apps making more money as compared to the consumer apps. It is being predicted that around 43% of developers would be choosing to work on enterprise apps as compared to the 19% developers who'll choose to develop consumer apps. The main reason behind this variation is that a lot of consumers aren't willing to invest on development of mobile or any other digital application.
Large screens will continue to rule the smartphone world
With the large screen fever still on, app developers would be expected to build apps that can run smoothly on a variety of devices with large screens. As per a recent market research, it has been found that the sales of smartphones with smaller taller than 5 inches will continue to witness a hike of 209% in 2015 and the years ahead. So, it can very well be said that the large screens phenomenon would actually change the way people would be interacting with their gadgets.
App Store Optimization would continue to remain the 'King'
Today, a huge population of marketers have thoroughly understood the significance of organic users as compared to the users/customers that are acquired via numerous paid channels. Hence, the year 2015 will have the marketers focusing on organic users and App Store Optimization(ASO) for ensuring 100% success of their mobile applications.
Native apps will witness a downfall
In 2015, the mobile industry would see the rise of innovative mobile platforms. This would result into a rapid decline of the native applications. With app designers getting familiar with the atrocities of native apps, the native app development market will cease to exist. Especially in the world of business, cross-platform mobile apps would be replacing the traditional native apps.
The Rise of Mobile Gaming
While the year 2014 saw the mobile games moving from single player to multiplayer, 2015 will see the rise of cloud-driven mobile games. Since mobile games would require regular updates, managing them via a cloud architecture would be regarded as an excellent strategy. Moreover, the rise of multiplayer games would also introduce social media integration within different mobile games, allowing users to share their scores etc. with their friends, family and colleagues.
Biometric security system would become a must-have for smartphones
2015 will witness a commendable rise in biometric security systems within smartphones and smart tablets. Hence, as an app developer you'll be expected to build apps keeping in mind the use of thumb impressions and retina scanners that would be utilized for gaining access to a particular app. For instance, a huge count of financial institutions have started employing biometric security measures like facial recognition in their mobile apps to ascertain complete security of the end user.
A big 'Yes' to mobile payments
While 2014 saw a rapid rise in mobile payments, the scenario will remain the same this year as well. With the release of Apply Pay, even the other biggies like Samsung would continue to delve into processes that are associated with making mobile payments a lot more flexible and simple. Apps such as Android's Android Play and Wal-Mart's CurrentC would introduce complete ease and security in making payments via a mobile device.
Conclusion
Since mobile devices would continue to be an ubiquitous platform, a clear strategy for app development would turn instrumental in the creation of laudable mobile apps. Hope the trends explained above would encourage you to dive into the world of mobile app development with a whole new zeal.