"Starting April 21, we will be expanding our use of mobile-friendliness as a ranking signal. This change will affect mobile searches in all languages worldwide and will have a significant impact in our search results". If you have not read this announcement from Google at Google Webmaster Central blog yet, this post is for you. Those who know but yet to take an action should also go through it.
Those who already have a mobile responsive store may also take a look at this post and feel happy about their decisions taken earlier.
This 'Mobile-friendly' algorithm update by Google perhaps is one of the biggest news after Penguin, Panda and Hummingbird updates since 2013.Read this article from Moz to know Google Algorithm Change History so far.
Now, after a long tug of war on whether to make mobile-friendliness a strict ranking signal, the intention of Google is very much clear. If you are an online merchant and your ecommerce store does not pass the mobile-friendly test, it may severely rank you down in the mobile search results i.e. search from Smartphones and Tablets.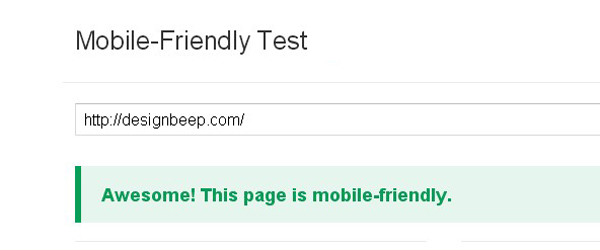 Just imagine the impact on your customers who use to browse Google to come to your online store and shop. Who knows you may suddenly lose around 50% of your daily mobile traffic from Google, meaning 50% of your business!Isn't it a major revenue loss indeed?
First things first – before we talk about the update in detail and mourn over it, let us find some quick turnarounds. If the mobile-friendly test comes out negative to you, you can't wait but resolve the issue as soon as possible with the help of shopping cart experts.They could be from your existing design agency or new ecommerce vendors.
Actions at the Eleventh Hour
If your design agency has not taken care of the device-friendly appearance or responsive nature of your site well in advance, it is a sheer bad luck for you. However, it is better late than never. Consult with your designer about the time and effort required to convert your store into a mobile-friendly one today and make some quick arrangements.
You may also ask an online store builder if they can restore your shop with responsive design template of your choice and avoid major dips in existing rankings. It should not take you more than a day to migrate to a new responsive layout that supports mobile commerce. Anyway, you can't afford to lose many days in doing R&D and then start gathering the action points. The time is limited and your store needs an immediate attention.
Once the basic store setup is ready with new mobile-friendly theme, keep on adding products to it until it takes a shape. Of course, the migration process is easier than you think. If time is a constraint and you don't want the last-minute rush to be a risk factor, take help of your current design agency or ecommerce vendors like Prestashop. Remember, you need a smooth sailing throughout the store restoration processes and at the same time don't want to miss out on any great feature or design aspects in a hurry.A good ecommerce consultant can assist you in doing it right at the right time.
Now let us analyze why you should really bother about this mobile-friendly algorithm update.To begin with let me tell you that it is not a first ever indication that Google gives with regards to creating a mobile-friendly site. There are already a lot of articles with expert suggestions on this topic written earlier. Many store owners have also acted on it and transformed their store into a device-friendly one. This time, the only difference is that Google has established the ranking factor officially and the impact will be more than ever. Keep your fingers crossed!
A Snapshot of What this Mobile-friendly Update Means to You
Your organic search traffic count through mobile devices may partially or completely disappear with an immediate effect. The loss of traffic could be 50% to 80% or even higher.
This algorithm update holds true for Google searches across the world, page by page. This means the post algorithm update effects will roll out in all countries at the same time, not just US to begin with.
The mobile ranking will come in effect the next time Googlebot crawls your pages. This is in contrary to some previous updates by Google which used to be processed on a monthly basis or in batches in a month or for an unlimited time period.
There will be no change in the Google search results conducted on a desktop or a laptop. The ranking signal is only applicable to mobile based searches.
The Google search results will show a 'Mobile-friendly' string attached to the websites that are device-friendly.For rest,it will not. This means mobile browsers will tend to click on those sites that support mobile-friendly page views and provide a smooth shopping experience.
Mobile-responsive sites will tend to dominate the 1st page of Google search results. This is a continuous effort by Google to help users with a better mobile experience. However, only time will say if the mobile-friendly sites will win the battleground altogether.
If a user searches for a particular product sold by only your brand, there will be no impact of this algorithm change. Your website (whether it is mobile-friendly or not) will maintain its rankings for brand-specific keywords. Generally Google does not interfere with the search intent of users for ecommerce brands. However, searches for generic keywords like casual dresses, men shoes, and kids' toys will obviously show a major impact.
If you feel perplexed after reading out all these consequences and not sure about the extent of damage your non-mobile-friendly website will incur, let me address them through the FAQs below.
Will my site lose all its rankings until I make it mobile-friendly?
No, 'Mobile-friendly' is just an algorithm update by Google in order to improve the mobile search experience, it is not a penalty. There is a difference between the two both in terms of severity and impact. In the worst case scenario,your site will be demoted in the ranking meter until it passes the mobile-friendly test, but the rankings will not be washed away totally.
Will my ecommerce site suffer to a large extent?
It depends. If most of your customers are of 'mobile visitor' type the damage is higher for non-branded search terms. Otherwise, customers who know your store by your brand name will still find you in top of the search results. So, there is nothing to panic for and you can always recover in due time.
How do I know the extent of damage?
It is simple. Just login to your Google analytics account and see if there is any steep fluctuation in the number of daily visits since April 21. The graph itself will notify you in case there is a sudden drop. For detailed analysis you may check the Organic search traffic trend and conduct some manual rank checking exercise.
Should I redesign my website or some minor fixes will work?
Your web developer or web designer will know this better. The fixes could be as small as updating robots.txt file to block certain files or as big as changing the design template to a mobile-responsive one.
You may consult an ecommerce software vendor to learn how they will help you install a new mobile-responsive design template for your store without hampering the ongoing businesses. In fact, redesigning makes sense if you want a better look and feel and some additional shopping cart features to be included. The new package would ensure that you are not missing out on the latest advancements in ecommerce domain. Sounds good!
The bottom line is that you cannot think big with your traditional desktop-friendly store anymore. In this age of mobile shopping or mobile commerce, you can't help but care about the preferences of online shoppers and Google algorithms. Doing not so even at this eleventh hour can devalue your site to Google searches on mobile and tablet,and also your online visitors forever. The loss is all yours.