One of the best places to find responsive themes is Gridgum. Gridgum is a marketplace that aims to provide the best responsive themes and templates out there. All of the themes available for purchase are not only responsive, but also visually appealing. Moreover, you also get points to redeem off your next purchase.
In order to provide the best responsive themes, Gridgum is aiming to attract the best developers with what they call The Mammoth June $2000 giveaway. The best themes submitted and approved by June 30thwill have the chance to be among the winners.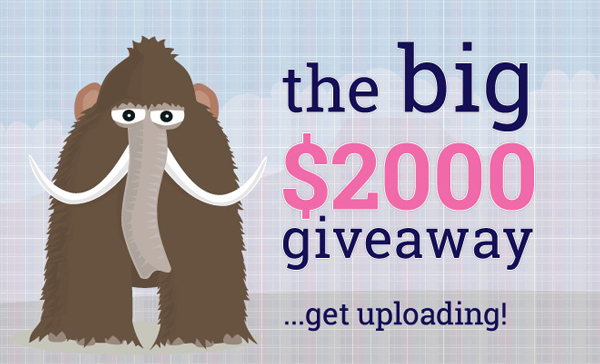 The prizes will be as it follows:
The first 10 themes submitted and approved will be awarded $100 each, provided that their developers are submitting a theme to the Gridgum marketplace for the first time. If you already published your work on Gridgum, don't worry; you are still eligible for the other prizes.
$250 will go to the best Responsive Admin or Dashboard Theme and another $250 to the best WordPress Theme. The grand prize of $500 will be awarded to the overall best theme, with the condition that this theme be exclusive on the Gridgum market.
For the first three prizes, both exclusive and non-exclusive themes are eligible.
In order to participate in this Mammoth Giveaway, all you have to do is log in, if you are one of the developers who already published their work on Gridgum, or signup if it's the first time for you on this marketplace. As soon as your theme is approved, you'll be eligible for one of the prizes.
There are also some giveaway terms you will have to follow:
1. Your theme must follow the submission guidelines(http://gridgum.com/submission-guidelines/) ;
2. Your theme must be of high quality and eye-catching;
3. You are only eligible if your item is approved;
4. Your theme must be responsive and must be uploaded by June 30th 2014;
5. Items that qualify for more than one prize will only be awarded the prize of highest value;
6. Payouts will be made through Paypal 30 days after the closing of the contest;
7. The item must be kept online on Gridgum for at least 6 months after it has been accepted.
For other information on terms, read more here
The end of June is approaching so hurry up and submit your theme for Gridgum's Mammoth Giveaway and you will have the chance to get picked and be one of the winners. Don't forget that, if you're new to the marketplace you could win $100. So the sooner you register and upload your theme, the better. Click here to submit your theme to the Gridgum marketplace today.