In today's post we have gathered best form plugins for WordPress.Form plugin is essential for many reasons like contacting the admin,submission,membership,run surveys, acquiring feedback etc.
Form plugins add great functionality to your wordpress blog and help you engage your visitors directly.Especially if you have a huge blog it is important to gather some imformation about them.so always take the advantage of using web form in your blogs if needed.
Here is the list of 8 form and form plugins and web form builders for your wordpress blog.
You may also take a look at our past wordpress plugin collections;
X Forms – WordPress Form Creator Plugin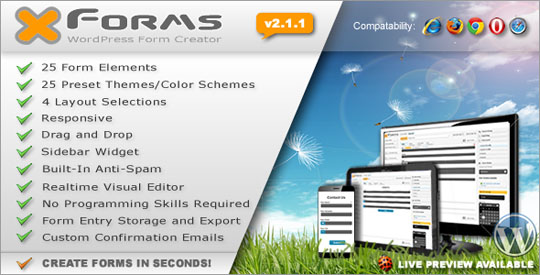 The admin interface/panel is very easy to use. You can find all you need on one single screen, no jumping around to different pages to get things done.ll forms and their settings are immediately accessible by a single click. There is no loading time once the page is open, if you click something you get it instantly…in other words, no fancy animated loading icons to frustrate you during your form setup.
Features
Single Line Text Field
Multi-Line Text Area
Dropdown Select
Single Radio Button
Single Checkbox
File Uploader
Auto Complete
FormCraft
Conditional laws allow you to show, or hide fields based on values of other fields.And it's not restricted to checkboxes and dropdowns – it also works with datepicker, text fields, file upload, and special rating fields.
Features
Over 23 fields, in all
Retina-optimized images for fields
Responsive forms
AJAX-powered form interface. Send forms without re-loading the page
Form validation
Auto-save form data for the end-user
Conditional laws to show or hide fields
File uploader with support for multiple files
Embed maps, videos and other widgets
WordPress Contact Form Builder
You can create beautiful forms in seconds with WordPress Form Builder Plugin and take full control of your forms with our effortless drag and drop form builder.Your form design will match your wordPress theme instantly.
Features
Submissions Archive
Export And Filter Your Data In Seconds
Receive Uploads From Your Visitors
Anti-Spam Protection And Maximum Security
Form Cloning For Faster Edition
Create Any Type Of Form
Quform – WordPress Form Builder
Quform is an advanced WordPress plugin that allows you to quickly and easily build multiple forms with total control. If it's a complex quote or booking form or just a simple contact form, Quform will allow you to do this without touching any code. In a few clicks you will have a fully functional form
Features
Create a form without knowing any HTML or PHP!
Drag and drop form elements
Fully translatable
Easy to use user interface
View submitted form entries inside the WordPress admin
Send submitted form data via email
JavaScript calendar (datepicker) with 24 themes and 62 languages
Export submitted form data to Excel / OpenOffice
Conditional logic to show/hide fields
Simple Contact Slider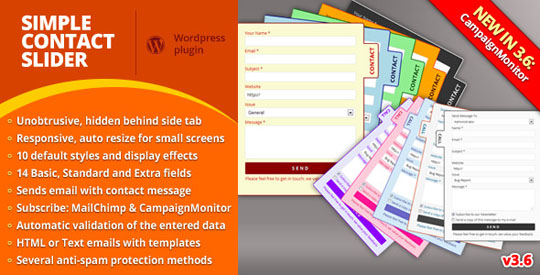 Simple Contact Slider is a very easy to use plugin for adding classic contact form into any and all pages of your WordPress powered website. Contact form is responsive, hidden behind the tab on the left or right side of the screen, and it is sliding into the screen when user clicks on tab. Depending on the screen size, width of the form will get smaller, and if needed, vertical scrollbars will appear. Form has validation built in for fields that are required, and it can have from 3 to 14 fields displayed.
Features
Integration with MailChimp for newsletter subscribe feature.
Integration with CampaignMonitor for newsletter subscribe feature.
Slider is responsive and works well with small screens.
Includes 10 default schemes for slider tab and contact form.
Easy to use style builder to create new color styles.
Change screen location and vertical position for slider tab and form.
Ultimate Contact Page
A great all-in-one contact page for any business or organization.Ultimate Contact Page makes it easy to add a professional contact page to any WordPress website
Features
AJAX contact form so customers can contact you
Formats your address to schema.org standards, so search engines including Google, Bing and Yahoo! can index your physical address in Google Maps
Features a Google Maps map to the page, with the ability for visitors to get directions to your location
Links to Facebook and Twitter pages
Displays opening hours in neat table (easily editable, too!), using schema.org standards
Contact Form Pop-up
Contact Form Pop-up is a WordPress Plugin script designed to add an AJAX contact form to your wordpress website.A small tab with 'Contact Us' (or whatever label you write) appears on every page in the bottom right (or left, your choice!) of the web visitors screen.When clicked, a contact form will slide up and allow the visitor to contact you with ease.
Features
Contact Form pops up/slides up when clicked
Admin settings screen to configure options
Can position bottom right or bottom left
Server & client side form validation
Message sent to your email
Social networking links
Configurable border color
Configurable label text
WordPress Ajax Contact Form with Attachments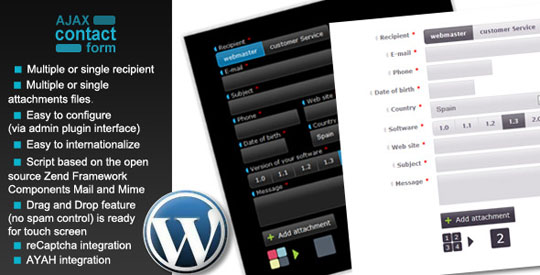 The w2 Ajax Contact Form for WordPress is a complete solution to create ajax contact form in WordPress. Designed to be a flexible plugin, this item offer classics and originals features fully configurables via Admin Plugin Interface. You can easily create (Full HTML edition) your own forms HTML templates (add or remove fields) and your own themes CSS.
Features
Multiple or single attachments files (you can easily disable this feature).
Multiple or single recipient (simultaneously or not).
Easy to configure via Plugin Admin Interface.
Optimized for iDevices.
Easy to add (or remove) your own fields via source editor.
You can create your own HTML template files and automatically add them to your lists of template in the form editor.
You can create your own CSS theme and automatically add them to your lists of Theme in the form editor.
Auto-responder feature (configurable).