When WordPress was first released,it was a simple blogging platform.Over the years,it has become the best solution for content publishing site and management system.Today,wordpress can be used for almost all purposes like blogging,link directory,e-commerce system,photo gallery etc.You know,Wordpress is a very functional management system.One of the reason for this functionality is that plugin system works very well.So,with the help of many specific plugins you can turn your wordpress blog into a totally different platform.
In today's post,we have gathered premium membership plugins to turn your blog into a fully functional membership site.These plugins are either for a download system with premium content or a buying and sellig platform.
You may also take a look at our past plugin collections;
Subscribe to Download

Subscribe to Download for WordPress makes it super easy to add a cool freebie download system to your site, just like the popular resource site PremiumPixels and the new freebie section on tyler.tc. Subscribe to Download not only handles all of the emails and verification, it also has a list manager that can be exported with one click to any popular mail service.
Features:
Freebie download system automatically confirms emails and sends download links.
Works with any download link
Comes with support with Goo.gl to shorten the verification emails / download tokens.
Plugin Source
Link Remover – A Membership Extension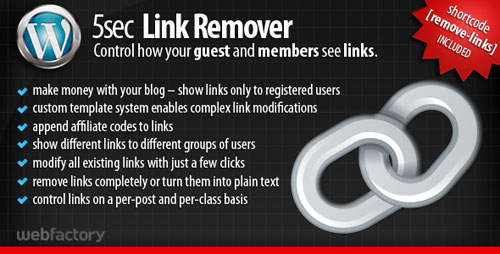 Link remover plugin shows links only to registered or paying users.
Features:
Show different links to different types of users
Define how various user groups see links and if they see them at all
Turn links into plain text
Plugin Source
Restrict Content Pro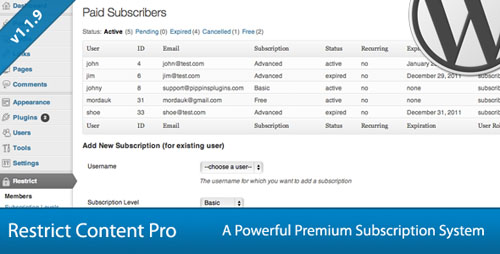 Restrict Content Pro is a complete subscription and premium content manager plugin for WordPress. Create an unlimited number of subscription levels, including free, trial and premium. Manage member's and their subscriptions, track payments, offer discounts with a complete discount code system, and provide premium, members only content to your subscribers.
Features:
Unlimited Subscription Packages
Integrated with PayPal Payments
Math Verification Captcha
Plugin Source
WP-Membership Plugin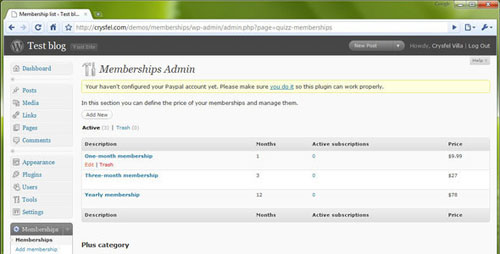 This is a WordPress plugin that helps you sell your content; you only need to install the plugin, create a category for your private content, setup the prices of your memberships and your Paypal account. Don't hesitate and purchase it today
Features:
You don't have to modify your template
Premium posts only seen by active members
Setup unlimited memberships
A dashboard that shows your sales by month
Plugin Source
PrivateContent – Multilevel Content Plugin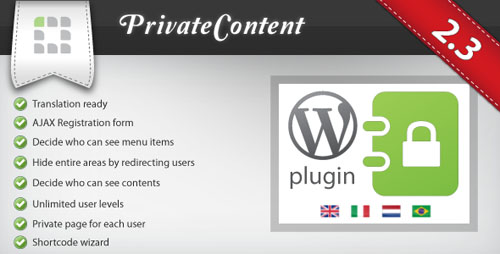 PrivateContent it's a simple and fast solution to power up your wordpress website by adding a multilevel login, private areas, user private pages and users management features. It's easy to use and doesn't require any scripting knowledge
Features:
Protect your private contents
Login form and logout box shortcodes
Plugin Source
WordPress Premium Content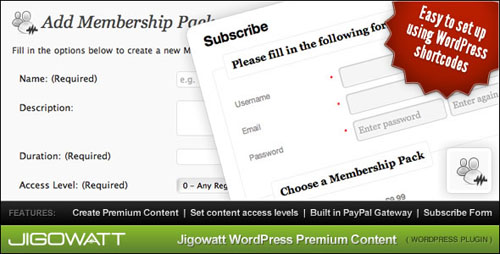 WordPress Premium Content plugin allows you to easily set up a web site with content which is only accessible to users registered with an active PayPal subscription. You can easily manage your subscribers, change subscription prices and set up custom membership renewal options (annual, bi-annual or just month by month).
Features:
Auto-renew subscriptions or just one-off payments
Give posts premium status and a content level
Hide entire posts via an easy to use write panel
Hide parts of posts using a [premium] shortcode
Plugin Source
WP Premium Members + Pre Advertisements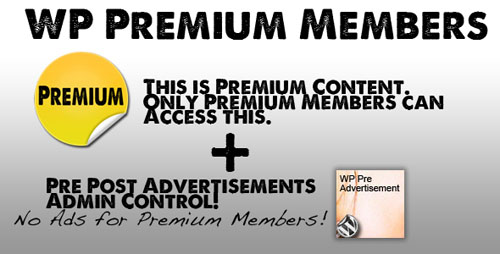 This plugin is more than just a normal Membership plugin. Beside displaying Premium content to your paying members only, this plugin also manages Pre Post Advertisements. This plugin is designed to work both as a standalone premium membership plugin
Features:
Only show Premium content to paying members
Manage pre post advertisements
Set permissions on who does and who doesn't see pre post advertisements
Automatically remove all advertisements from every post
Automatically add advertisements to all your posts
Manage your Premium members
Plugin Source
MagicMembers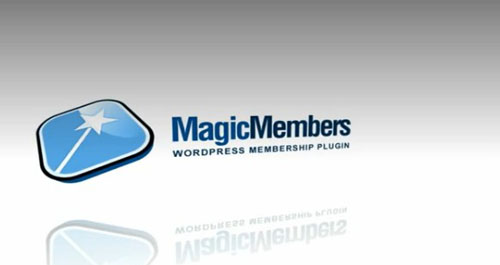 Magic Members is a premium WordPress Membership Plugin that turns your WordPress blog into a powerful, fully automated membership site.
Features:
Unlimited Membership Levels
Easy Integration with Existing or New WordPress Blogs
Payment Integration Modules
Control Subscription Length
Unlimited Coupon Creation
Plugin Source
WishList

WishList Member is a powerful, yet easy to use membership solution that can turn any WordPress blog into a full-blown membership site.
Features:
Unlimited Membership Levels
Integrates With Your WordPress Site
Sequential Content Delivery
Shopping Cart Integration
Plugin Source
s2Member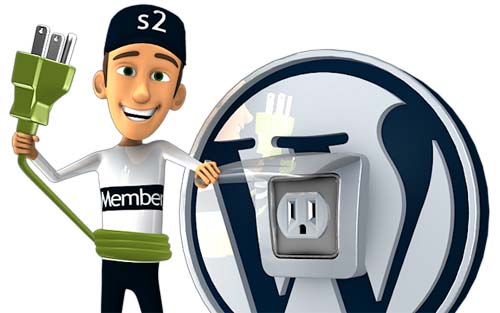 s2Member® is a plugin for professional WordPress® membership management, integrating seamlessly with User Roles & Capabilities for WordPress.
Features:
Easily configurable & highly extensible
Specific Post/Page "Buy Now" access,
Protect downloadable files and streaming audio/video
Plugin Source
MembershipWorks
MembershipWorks is a web-based membership software system with a variety of features including:
event calendar
member directory
online payments
donations,
shopping cart
forms member only content
Plugin Source