There is a famous quote "show, don't tell" and this is what most businesses need to keep in mind while promoting their products and services. And what better way to showcase your products and services that to present them in attractive promotional videos. If you regularly browse the Internet and the social networking sites you will notice that most businesses are making extensive use of videos for brand promotion. A video allows you to communicate your idea in a better way to the target audience. As they say "seeing is believing' videos add to the authenticity of your claims.

Overview
Creating a professional video for your business isn't expensive anymore thanks to a handful of online video software that allow you to create videos complete with text and graphics to meet your needs. One such video software that has been launched recently and is rapidly becoming popular with the small business community is MakeWebVideo. It is very easy to use and you don't need to be a geek to achieve an animated video to promote your brand. Some basic skills with the computer and Internet are enough for one to make use of this video software. It takes merely 30 minutes or so to achieve a professional looking video that adds to the value of your brand.
Getting Started
The most amazing thing about this video software is its user-friendliness. There is no complicated dashboard of range of options that can often confuse a person who isn't familiar with video creation and editing. MakeWebVideo has the simplest of interfaces that any online video creation tool can have All that you have to do is upload your text, footage, images and graphics onto the site and get a video made as per your requirements. Using this tool you will get a high definition video designed by some of the best video artist in the world.
Choice of Templates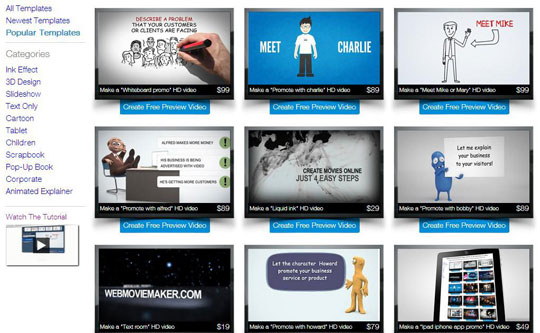 One of the biggest highlight of this tool is the wide choice of templates that you have. This will take care of different kinds of needs and make the process of achieving a video easy by offering the base structure. From a serious video to one with a touch of humor these templates suite every taste and need. The templates available on this tool include Ink Effect, 3D Design, Slideshow, Text Only, Cartoon, Tablet, Children, Scrapbook, Pop-Up Book, Corporate and Animated Explainer among others.
Three Steps To Amazing Videos
Time is valuable to any business professional and the developers of this tool have ensured that your time isn't wasted. You don't need to learn the nitty-gritties of any software or spend hours communicating with the video creator. They have devised a simple model where you can create a video in three easy steps –
#First Step – The online tool offers you a wide choice of templates to choose among. So in the first step all that you need to do is zero in on a template that matches your needs the best. From Ink Effects to Animated Explainer they offer you a wide array of choice.


#Second Step – In this step you will need to provide matter for your video. You will need to insert texts, footages, pictures and graphics that should be used in the video. Be careful in choosing all the different elements in the video and putting them in a well-defined sequence.
#Third Step – In the last step you can generate your video with a single mouse click. You will also get the embed code that allows you to embed the video anywhere you want or play it directly from their server.
Highlights of MakeWebVideo
Hosting Services – Along with video generation this tool also offers you hosting services. Thus you will not have to waste time in searching for a service provider to host your videos. Your videos will be hosted on a fast and secured server allowing you to share and embed the videos elsewhere.
Short Turnaround Time – All it takes is about 30 minutes for you to create an animated video for your brand. You will also have complete control over workflow is managed by you. Most of the process in this tool has been automated with the idea of reducing the manual labor involved in creating a video. The core idea behind the development of this tool has been to do away with manual labor in creating a video.
Work From Anywhere – You will be able to access your online workspace from anywhere in the world. You won't need to carry a workstation along with you to create videos as you aren't required to install any software on your local workstation. You merely work from the browser.
High Definition Videos – It is the age of high definition videos and with the help of this online tool you can generate full HD videos. The videos are generated using Adobe After Effects which is one of the most popular video editing tools and offers great quality output.
Multiple Formats – You can easily generate videos in multiple formats using this tool to meet your needs. These include HTML5 video formats that can be integrated into your website. Also you can download a video in MP4 and WEBM formats which can easily be shared on Facebook and YouTube.
3D Graphics – Creating a video in 3D is desired in today's day and age and with the help of this online tool you will be able to easily make use of 3D graphics and incorporate advanced special effects into your videos to make them appear attractive.
Compatibility – This online tool is compatible with all major browsers in the world allowing you to get started with it without any installation. It can be run from a workstation that runs on Windows, Linux or Macintosh.
Who Can Use It?
MakeWebVideo hasn't been designed keeping in mind particular section of the audience. Rather it can be used by any individual or business that is planning to create a video in a cost effective manner. One can get a professional animated video for as low as $19 USD making it a highly affordable tool for small and medium businesses along with newbie entrepreneur. One can also get a free preview video to get a sense of the final product. Apart from this the firm is also promising 100% money back guarantee if the client isn't happy with the final product. Thus this video software is being fast adopted by businesses that want to showcase their products, services and brand using explainer videos.
Final Words
Though there are a number of video creation tools that are available online, MakeWebVideo stands out amidst competition. Being user-friendly and cost effective this tool is a must try for any business that wants to create videos for branding and promotional purpose. It gives you ample opportunity to come with amazing videos that immediately grab the attention of the audience. If you aren't convinced you can take a look at the sample videos available in the site as they offer you a glimpse of what the tool is capable of. Use it and experience the difference it can make to your business.
It's worth mentioning that this video software was developed by Mersica Inc., the same company that created the graphic design software Fatpaint.