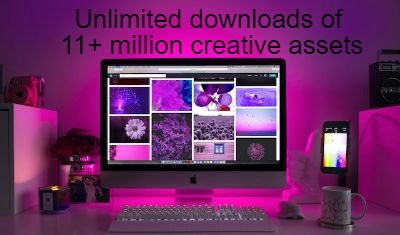 Due to the prevalence of too many pop-up and pop-under new windows opening up without user control, many Internet users now have pop-up blocking software and the latest web browsers also try to block these unwanted windows from opening too. With advancements in coding technologies, it is now possible to open up a pseudo-window inside an existing window, which is far less intrusive. There are created using jQuery Light Box Plug-ins.
jQuery Lightbox plugins are a perfect solution for image crowded websites.Especially you can find amazing jQuery lightbox plugins for wordpress based blogs.For wordpress based blogs,the plug-in is added to WordPress. And then activated. Once setup, clicking on an image or video will bring up a Light Box which displays that item.
As well as creating a gallery of images, video or a mixture of both can be implemented to websites. While showing only one thumbnail on a page, when the image or video is shown in the Light Box, it will be possible to look through the rest of the digital content in the gallery too.
The display of the item and what options are available such as caption display, adjustable size pop-up, full screen option, and navigation can be configured either through the Admin panel for the plug-in or through shortcodes added to the page itself. It is very simple to do.
In today's post we bring together free responsive jQuery Lightbox plugins.A responsive Light Box will adjust the display of the image or video depending on the screen resolution available on the device being used.
Here 16 fully responsive free jQuery lightbox plugins for your web design projects.
Visual Lightbox JS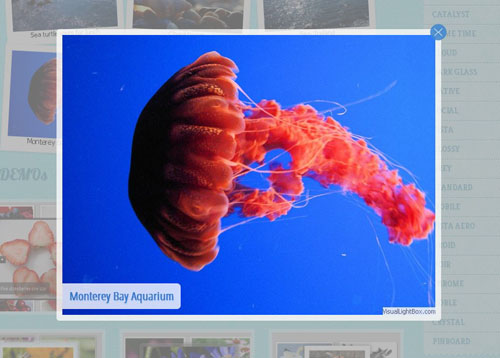 Visual LightBox JS is a free wizard program that helps you easily generate web photo galleries with a nice Lightbox-style overlay effect, in a few clicks without writing a single line of code. Just drag&drop your photos into Visual LightBox window, press "Publish" and your own web gallery with beautiful LightBox 2 effects will open in the browser instantly
Plugin Source
Magnific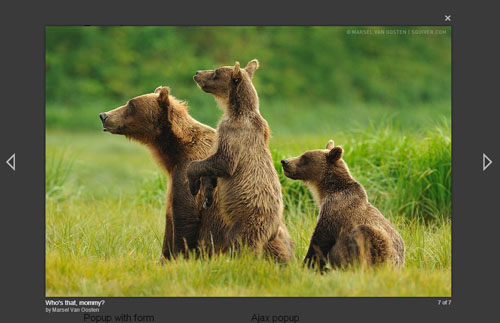 Magnific Popup is a free responsive jQuery lightbox plugin that is focused on performance and providing best experience for user with any device (Zepto.js compatible).
Plugin Source
fancyBox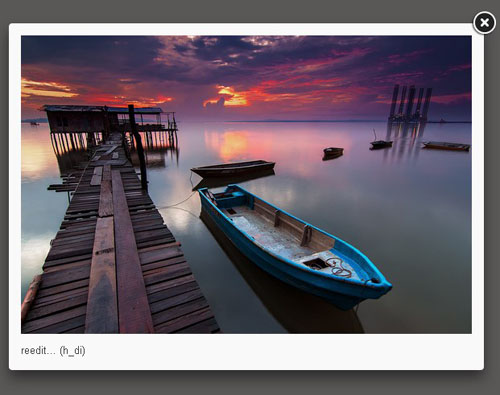 fancyBox is a tool that offers a nice and elegant way to add zooming functionality for images, html content and multi-media on your webpages. It is built on the top of the popular JavaScript framework jQuery and is both easy to implement and a snap to customize.
Plugin Source
Fresco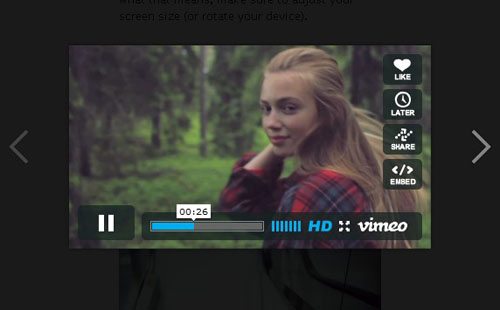 Fresco is a beautiful responsive lightbox. It can be used to create stunning overlays that work great at any screen size, in all browsers on every device.Fresco comes with fullscreen zoom, retina-ready skins, support for swipe events, Youtube and Vimeo integration for HTML5 video and a powerful Javascript API.
Plugin Source
Chocolat
A jQuery lightbox plugin, light, powerful and easy to use.Chocolat enable you to display one or several images staying on the same page. The choice is left to the user to group together a series of pictures as a link, or let them appear as thumbnails.The viewer may appears full-page or in the block page.
Plugin Source
Shadowbox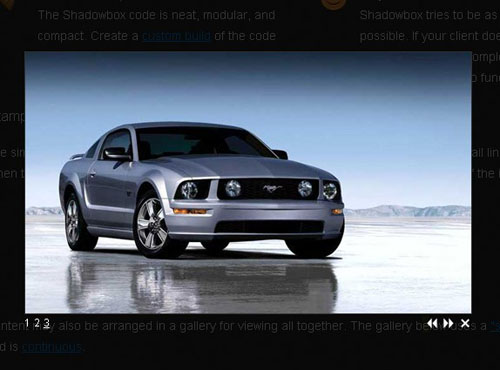 Shadowbox is a web-based media viewer application that supports all of the web's most popular media publishing formats. Shadowbox is written entirely in JavaScript and CSS and is highly customizable.
Plugin Source
rlightbox 2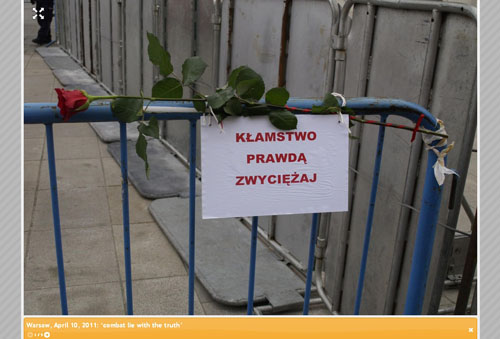 rlightbox is a jQuery UI mediabox that can display many types of content such as images, YouTube and Vimeo videos. It has many unique features like Panorama and Live Re-size. Like other jQuery UI widgets, it is ThemeRoller ready.
Plugin Source
Responsive Lightbox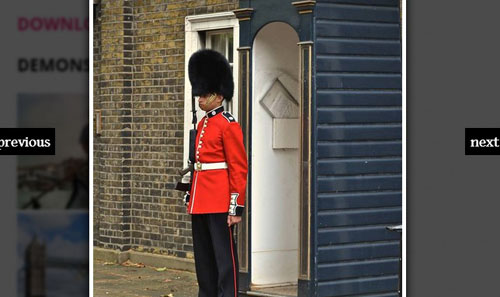 Responsive Lightbox shrinks the image to the width & height of the browser. Only handles images so it's nice and lightweight.
Plugin Source
YoxView
YoxView is a free Lightbox-type media and image viewer jQuery plugin.It's easy to use and feature-rich.
Plugin Source
Widgetkit Lightbox
The Widgetkit Lightbox allows you to view images, HTML and multi-media content on a dark dimmed overlay without having to leave the current page.
Plugin Source
Swipebox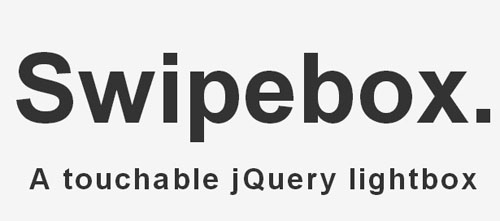 Swipebox is a jQuery "lightbox" plugin for desktop, mobile and tablet.
Plugin Source
ThumbFx – Lightbox
The Lightbox allows you to display images, html content and multi-media in a Mac-style "lightbox" that floats overtop of web page.
Plugin Source
Responsive Lightbox – tutorial
A step by step tutorial for implementing jquery Lightbox.
Plugin Source
Photobooth Strips With Lightbox – tutorial
A tutorial about how to create some neat scrollable photo booth strips and integrate Lightbox 2 and customize it in order to make it responsive and touch-device friendly.
Plugin Source
NyroModal v2
nyroModal is a highly customizable modal window plugin for jQuery.
Plugin Source