,    
Web designers and graphic artists spend great deal of time reviewing the work of others. From print magazines across a range of subject matters often unrelated to their own chosen speciality, to old fashioned typefaces from history's past, designers and graphic artists love to look at designs for inspiration.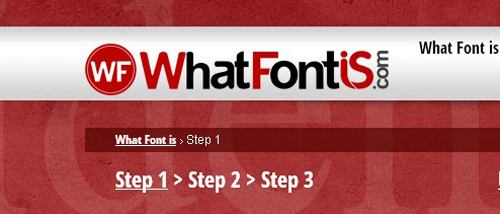 With each design for print media and adverts in newspapers from bygone eras & modern eras alike, there is often a font face or type face that is used for lettering that at once catches the eye and keeps the attention.
Fonts are as unique as people. A themed collection of individually-crafted letters, numbers and symbols that imbue a sense of character, style, time and place. Each font carefully selected, after much deliberation, to convey a tone & impression in just the right way, whilst fitting into the surrounding image, advertisement or presentation perfectly.
The people behind WhatFontIs.com have a love of the power of fonts.Basically they help you to find a font and help designers, artists and other professionals who wish to add a little pizazz to their work, they provide a very special service. Submit a graphical sample of an image with an attractive font and they will provide the best commercial or free design match available.
To perform this feat, the sample must have individualised lettering and the background must be as light as possible whilst being a solid colour. In this way, the scan can be processed and individual letters distinguishable from one another so that the closest font match can be found.
There is a valuable free service, but the very affordable premium service at under ten bucks a year allows for the selection of a preferred font source, the entry of a greater number of characters for a more accurate scanning sample, and an unlimited number of font identifications each day.
For busy designers, graphic artists and other professionals, the WhatFontIs.com service is a life-saver when a client just must have the same font they've seen in a publication, but no one knows what font was used. Now a creative team can appear smarter by discovering and replicating an identical font to satisfy their client's request.