We continue to collect and share best free resources released in 2012. This week,we are showcasing premiu-like yet free responsive wordpress themes. Probably,responsive web design technology has become one of the most trendy and essential concept in design industry. Responsive web design is basically the concept of building a website that allows the layout adapt itself according to the device people are using like smartphones,iPad etc. Today,there is a huge competition between wordpress theme providers and almost every company are adapting their themes for tablets and other mobile devices which is a must to stand out from the crowd.
Many businesses are going online, and it will be disastrous if you are left out. But joining the fast-moving train will require partnering with a digital marketing company that works with full service strategy.
Anyway,we hand-selected and tested the below wordpress themes and here are 35 premium-like wordpress themes to download for free.
You may also take a look at our past free collections;
Great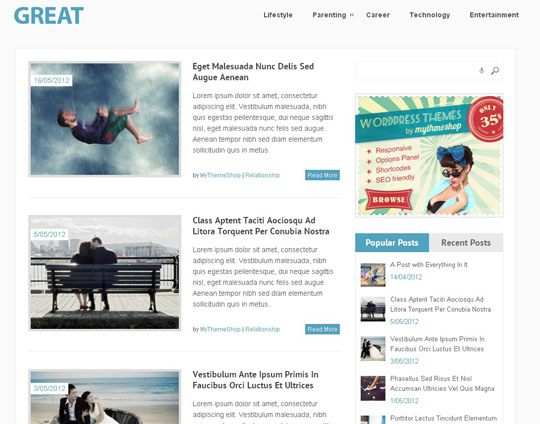 Great is a traditional, magazine-style WordPress theme. With a clean, minimalist design and all the usual MyThemeShop features, Great is optimized to help your blog stand out from the crowd and dominate the web.
Source | Demo
Gadgetry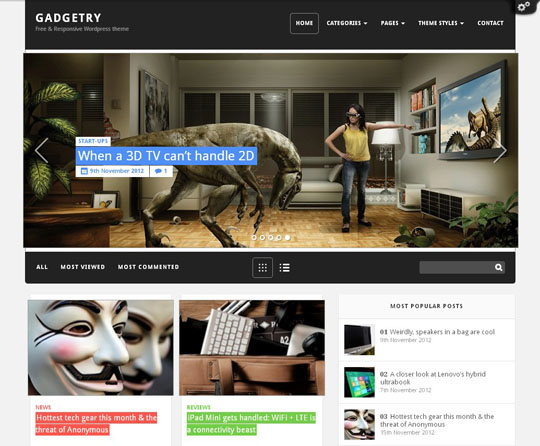 A Free WordPress theme with a clean and modern style, best suited for blogging or small magazine style websites.
Source | Demo
GreenChili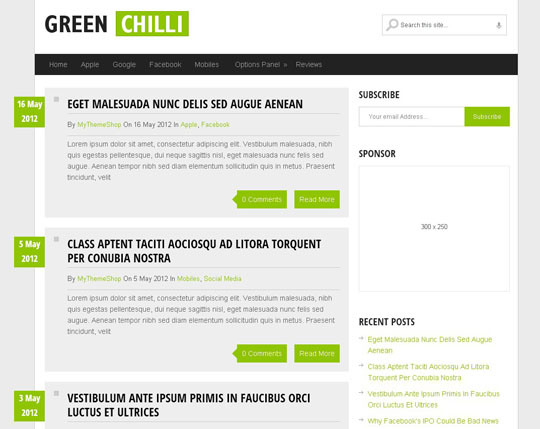 GreenChili is a clean, blog-style WordPress theme that combines traditional WordPress styling with MyThemeShop features, functionality and optimization. The fully customizable theme is responsive, optimized for both SEO and advertising, and maintains a clean yet sophisticated feel.
Source | Demo
HyperSpace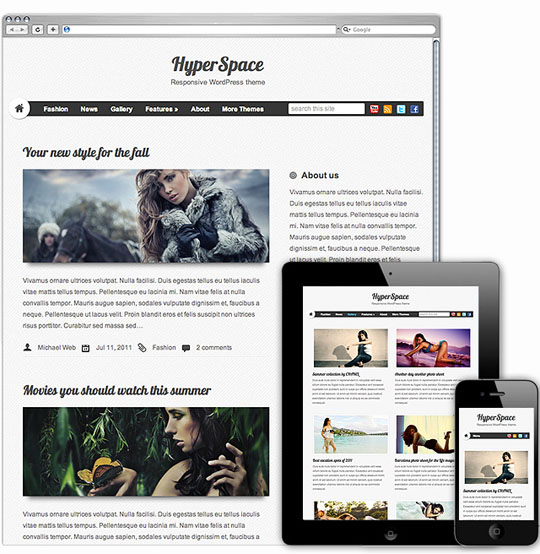 Clean blog oriented theme with smart gallery feature and exclusive UFO widgets. Give your blog a new shiny look today.
Source | Demo
Diary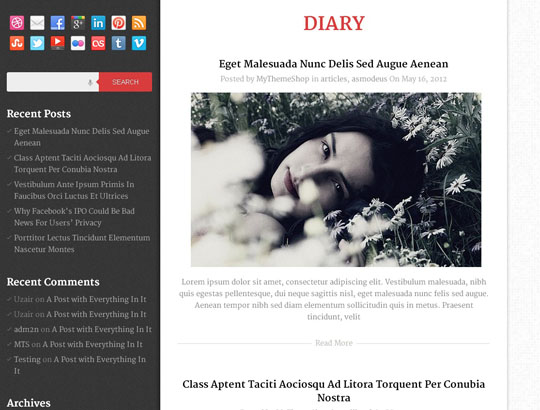 Diary is a free, pixel-perfect WordPress theme that is designed to be easy to update and keep your readers interested. With a left-aligned layout, a large post display that can accommodate large images, and a splash of color, this is one diary you will love to write in.
Source | Demo
Max Magazine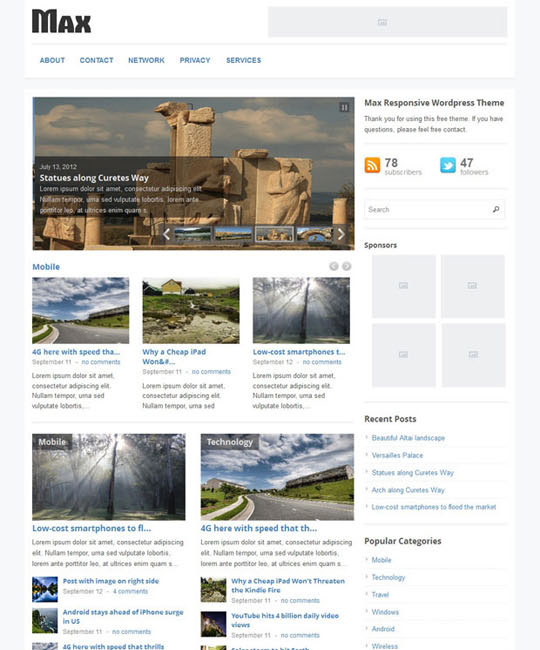 Max Magazine is a super-awesome responsive wordpress theme best suited for newspaper or magazine websites. The theme is packed with an easy-to-use options panel which makes it very easy to customize the layout. It also holds a beautiful jQuery slider, carousel posts, and up to 4 featured categories on homepage.
Source | Demo
Just Blue
JustBlue is a free theme released by MyThemeShop. A standard blog style theme, JustBlue brings premium functionality for free, with the ability to customize settings using the options panel, and the included custom widgets, and it's a responsive theme.
Source | Demo
Bloggie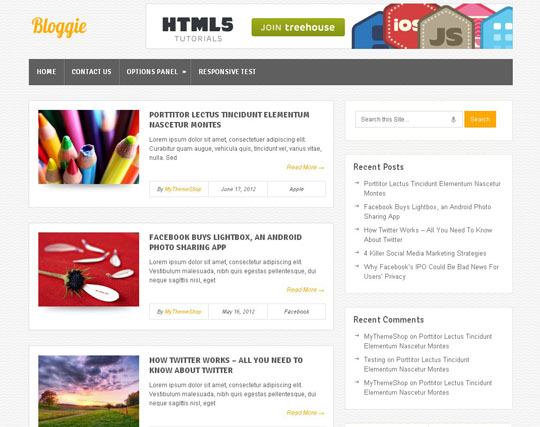 Bloggie is a free WordPress theme in the standard blog structure. The theme is designed specifically to get users to read your posts, and to turn one visitor into multiple pageviews using the sidebar widgets and the related posts option.
Source | Demo
Designfolio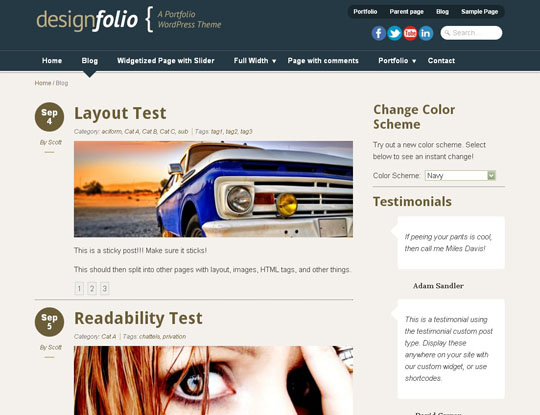 Designfolio includes a responsive slider and portfolio, and it scales perfectly to fit any size screen on a computer or mobile device.
Source | Demo
Groovy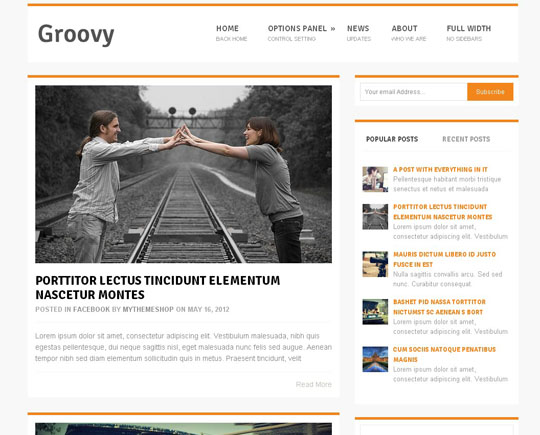 Groovy is a beautiful, magazine style WordPress theme. Hand-crafted, hand-coded and lightning fast, Groovy is built for bloggers who want a clean, elegant magazine WordPress theme for their blog to maximize pageviews, ad revenues, and create the best user experience possible.
Source | Demo
Workality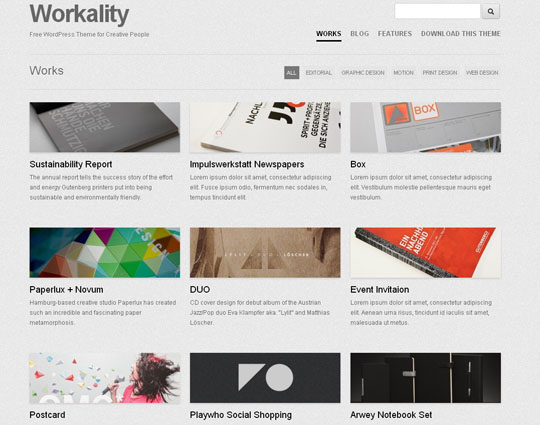 Workality is a fully responsive portfolio theme,perfect for creative people and agencies.
Source | Demo
AccentBox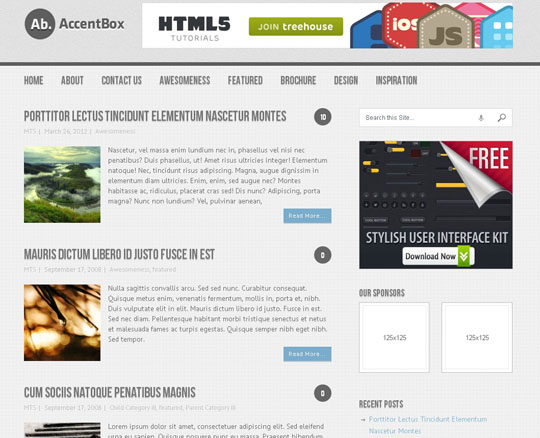 Accentbox is a free theme, its features and design can put any premium theme to shame. With its elegant design and powerful features, Accentbox will top the downloading charts. This HTML5 theme is made fully responsive to make sure your blog look awesome in any case.
Source | Demo
Interstellar – free version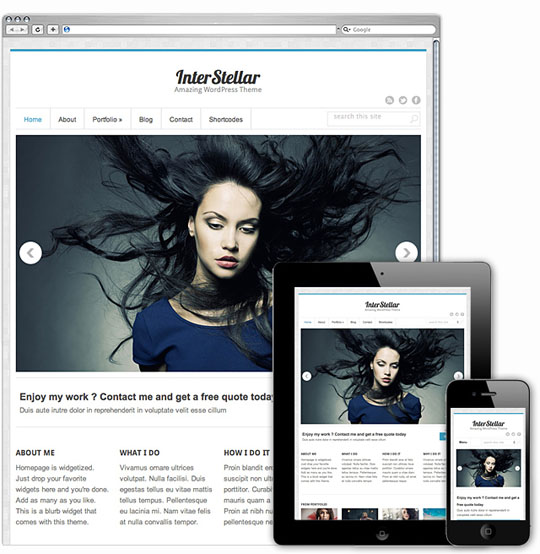 Clean, responsive theme with multiple portfolio page layouts, homepage slider, widgetized homepage, theme options and much more.
Source | Demo
Mystile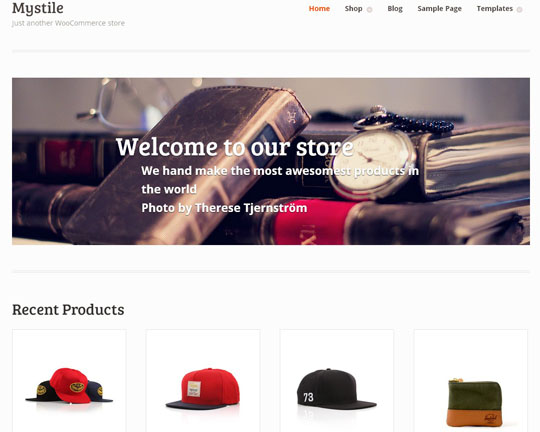 Mystile is a clean, lightweight WooCommerce theme, designed as a canvas which you can use as-is, or easily create a unique design to match your products. The theme is responsive as standard, and comes bundled with plenty of options and alternate colour schemes.
Source | Demo
Artificer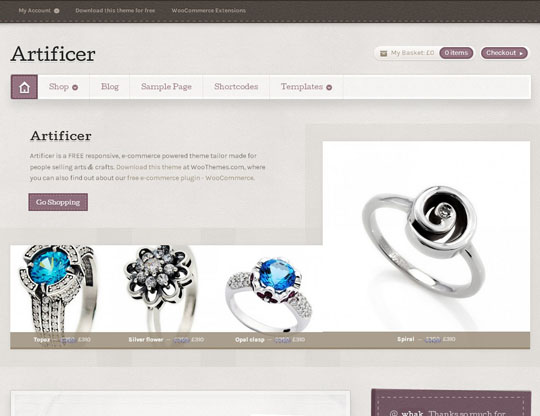 Artificer is a FREE responsive, e-commerce powered theme tailor made for people selling arts & crafts.
Source | Demo
Meeta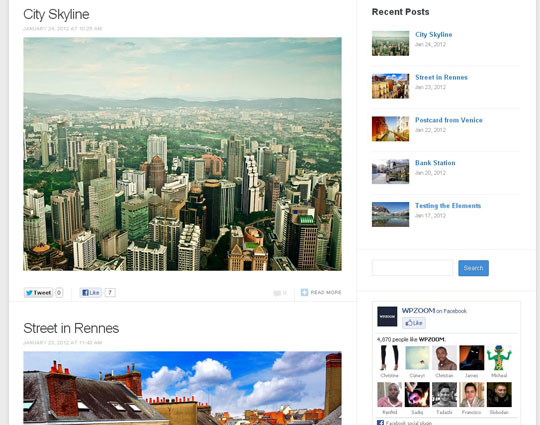 Meeta is a simple blogging theme, but packed with many premium features, like: unique widgets, custom templates.
Source | Demo
iTheme2
iTheme2 is a revamp of iTheme that was originally released by Nick La.It is the perfect theme for technology & Mac related blogs. It uses media queries to target different displays such as desktop, notebook, iPhone, iPad, and other mobile devices.
Source | Demo
Catch Box
Catch Box is a simple, lightweight and box shaped responsive WordPress theme that automatically adapts to the screen's size, ensuring that your content is always displayed beautifully no matter what device visitors are using. It's powerful admin theme options designed to suit almost all projects.
Source | Demo
Sampression Lite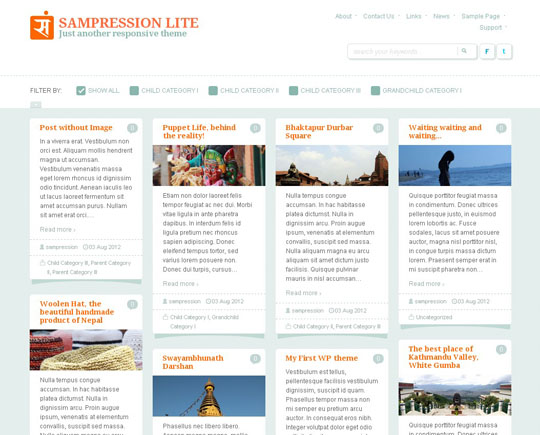 Sampression Lite is a fully responsive theme, perfect for blogging. It's lightweight responsive design allows this theme to adapt across a range of screen sizes.
Source | Demo
Pinboard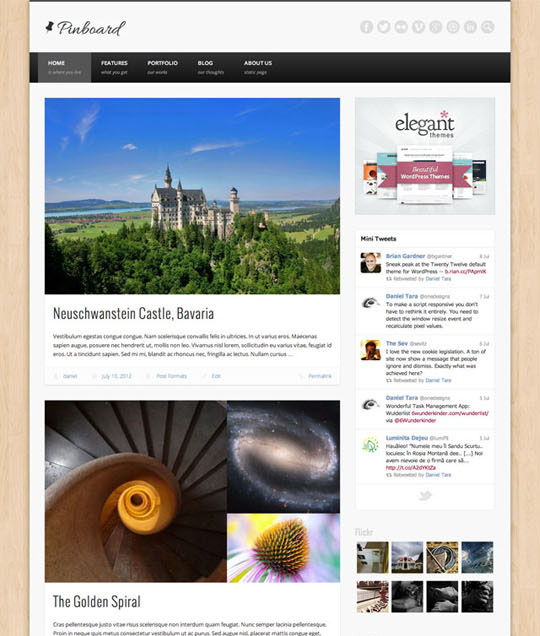 Pinboard has been designed with showcasing content in mind. It has several options for layout and the number of columns on which content is displayed and has a portfolio section if you wish to elegantly show your work.
Source | Demo
Buttercream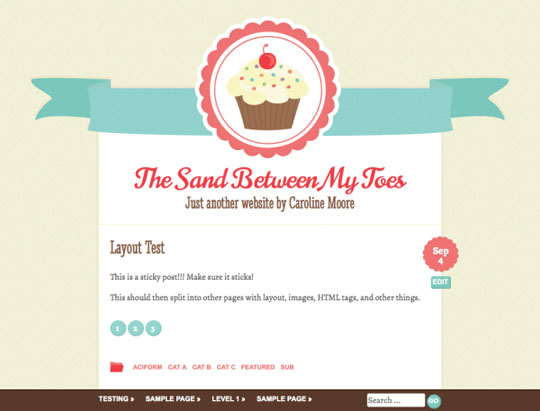 Buttercream is a sweet treat for your blog or website. This theme supports all post formats, an optional responsive design for smaller screens (perfect for iPhone, iPad and other mobile devices), custom backgrounds, a custom pop-up menu and three widget-ready sidebars in the footer.
Source | Demo
Book Lite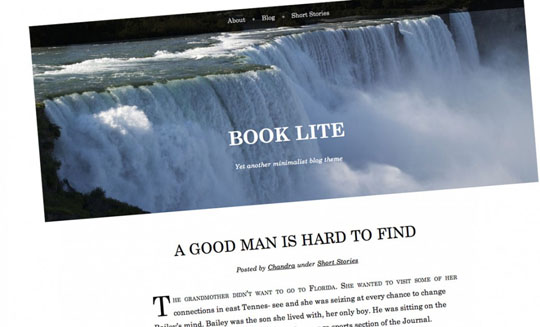 This theme focuses on typography, white spaces and clean look. The whole theme is heavily inspired by old classic novels.
Source | Demo
Montezuma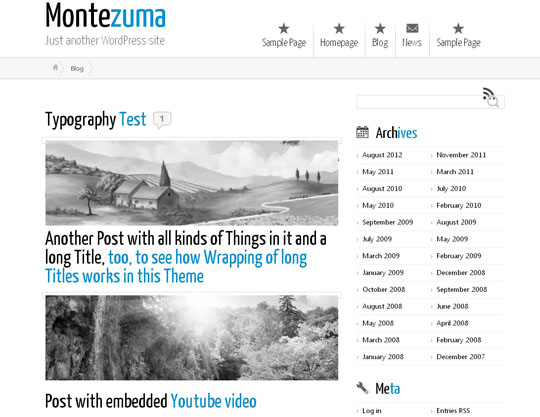 Montezuma is a responsive, customizable and search engine optimized HTML5 / CSS3 theme. Choose between responsive, flexible and static layouts. Edit or create new page templates online, without FTP uploads.
Source | Demo
Siren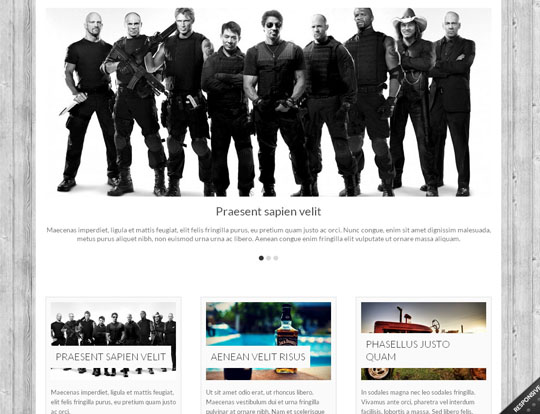 This responsive theme is built upon the responsive grid system called RWDgrid . The theme will adjust itself to fit on various display devices. The content will adjust between 1200px for widescreen desktops to 300px for mobile devices.
Source | Demo
Yasmin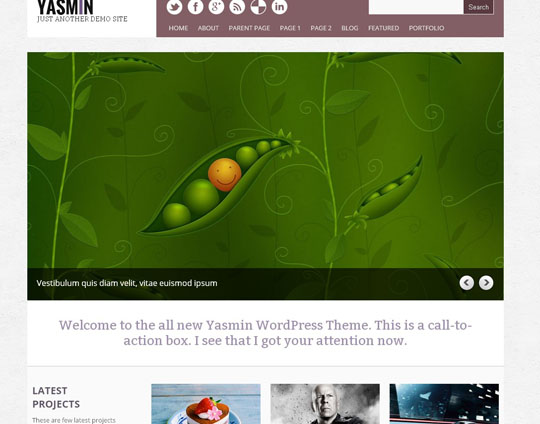 This theme is also powered with features like custom post type, taxonomies, custom menu, featured thumbnails etc.Portfolio post types are used to display your portfolio items. This theme supports 2 portfolio items.
Source | Demo
Respo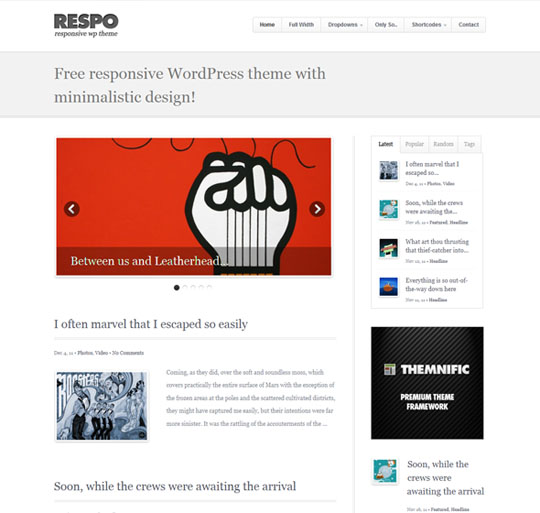 Respo is amazing WordPress theme with clean, sleek and customizable design. The theme is suitable for presonal blogs and/or online magazines.
Source | Demo
Lugada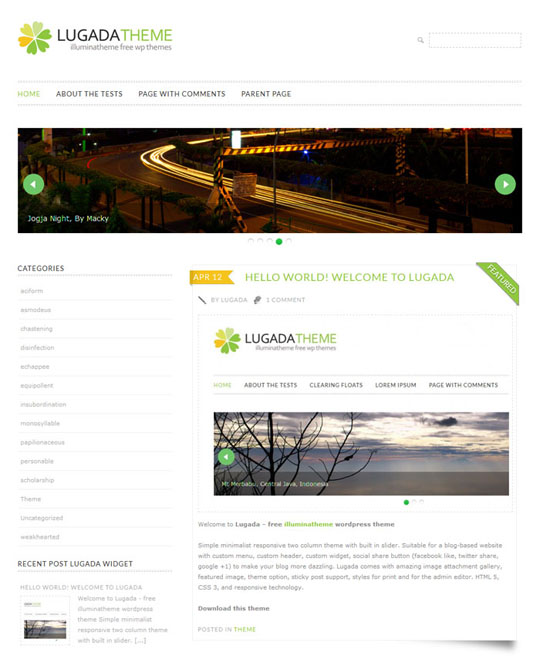 Simple minimalist responsive two column theme with built in slider. Suitable for a blog-based website with custom menu, custom header, custom widget, social share button (facebook like, twitter share, google +1) to make your blog more dazzling.Lugada comes with amazing image attachment gallery, featured image, theme option, sticky post support, styles for print and for the admin editor. HTML 5, CSS 3, and responsive technology.
Source | Demo
Bunker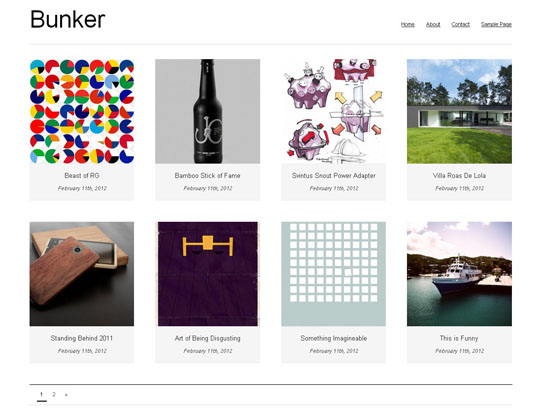 Bunker is based on ZURB Foundation css thus making it fully responsive to mobile phone, tablet or just simply a smaller size of screen resolution. Bunker is just as easy as other theme to used.
Source | Demo
Pytheas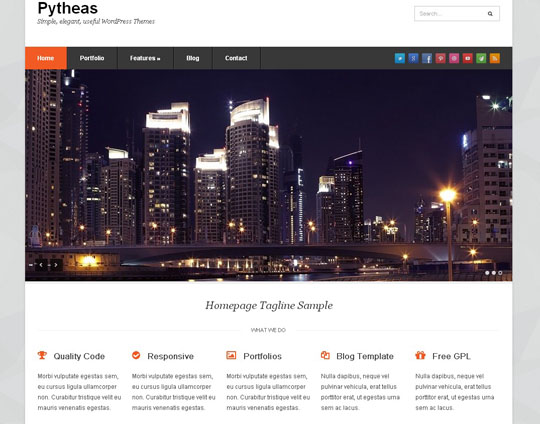 Pytheas is the first of a new "explorer" series of free WordPress themes. Built without clutter and with a minimal design its a great solution for either small websites or as a starter theme.
Source | Demo
Tetris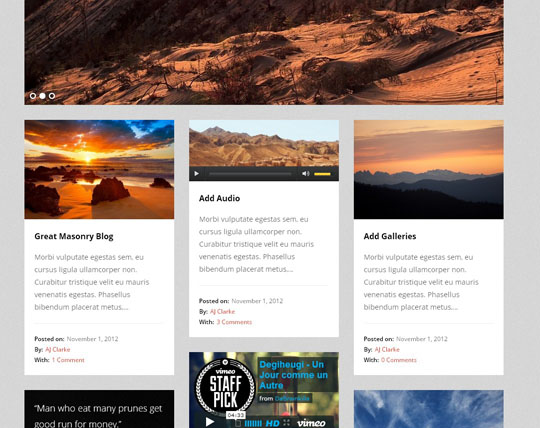 Tetris is a responsive Tumblog style WordPress theme created by AJ Clarke from WPExplorer.com. The theme features a masonry style homepage and archive pages to showcase your posts in a modern fashion and makes use of WordPress post formats so sharing different media types is extremely easy.
Source | Demo
Photo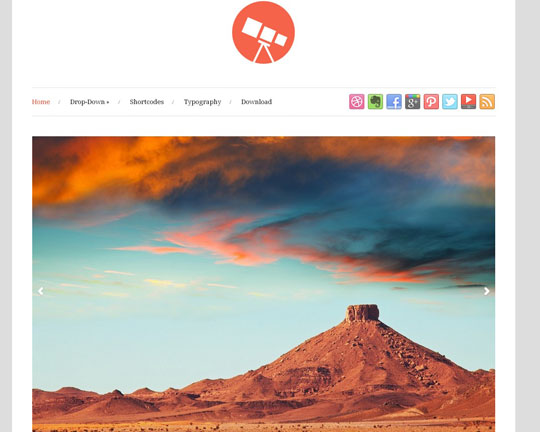 Photo is a responsive gallery and photography WordPress theme. This is a simple theme perfect for photography, web designs, graphic art, or any other collection of projects that you'd like to share with the world.
Source | Demo
Thoughts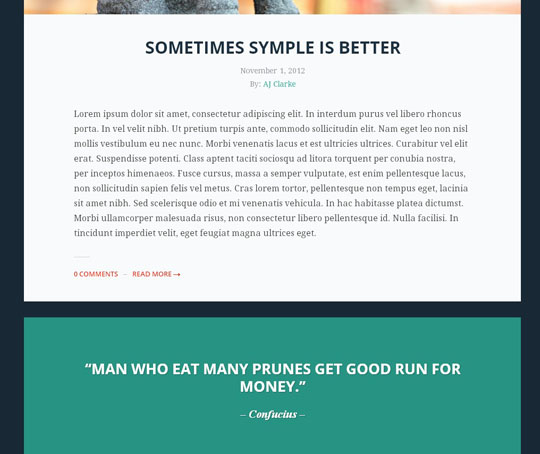 Thoughts is a simple responsive WordPress theme created for writers. The theme doesn't have any widgetized areas, no sidebar or footer…it's literally intended for your to share your thoughts and media.
Source | Demo
Auto Focus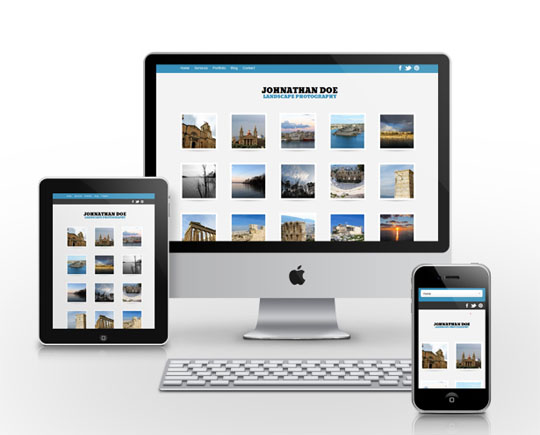 Auto Focus is a free WordPress theme created with photographers in mind with 5 color schemes.
Source | Demo
Lensa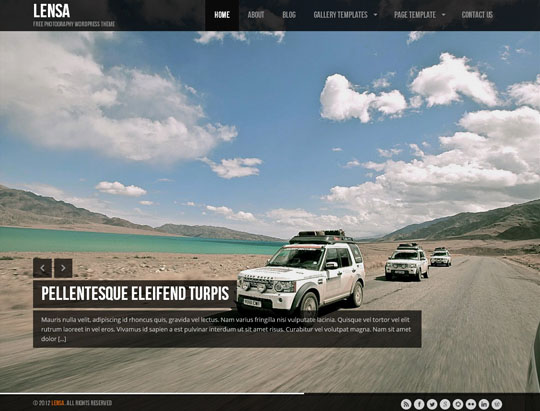 Lensa is a full-screen WordPress gallery theme designed for those of you who are addicted to high-resolution photography.
Source | Demo
Leatherly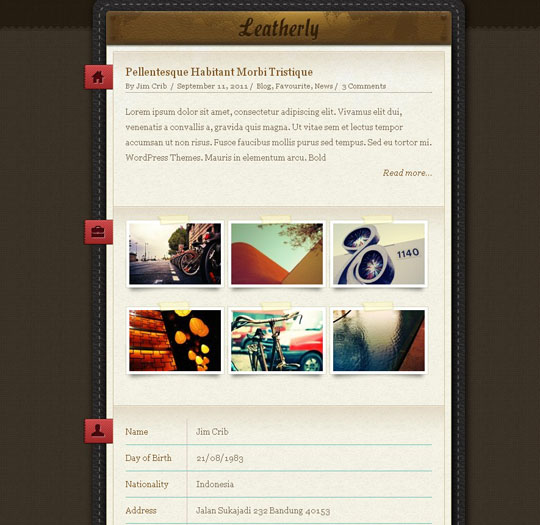 Leatherly is a free WordPress theme specifically created for those who want to benefit from the web on a brief one-page website. If you want to use the web to showcase your work and find leads and clients, Leatherly is definitely for you.
Source | Demo