When you are traveling to a different destination for business purposes, there are many aspects that you have to manage yourself. This article talks about some apps that are immensely useful for business travelers.
Many business travelers often have a harrowing time managing various aspects of their business tour such as – flight status, hotel bookings, transportation, managing their itinerary and schedule etc. But with a device like the iPhone and some of the best apps at hand, they need not worry anymore about these problems. Let us take a look at some iPhone apps that help business travelers on their official tours.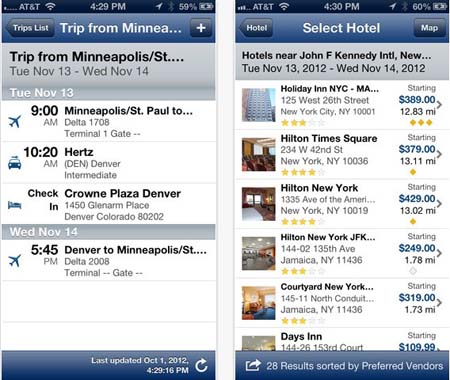 Tired of managing all your receipts and bills from your business trips? Want a comprehensive app for managing your travel information? If your answer is yes to one or both these questions, then download the Concur app. This iPhone app helps you manage and track all your business trip related expenses and receipts; you can submit and approve expense reports, import data from your credit cards, take photographs of receipts and itemize your hotel charges with Concur*.
Additionally, this app lets you book airfare, hotels, manage your itineraries, check flight status, add events and meetings. Basically, it is a no frills application that covers only the essential requirements of a business traveler.
*You can integrate this app with TripIt.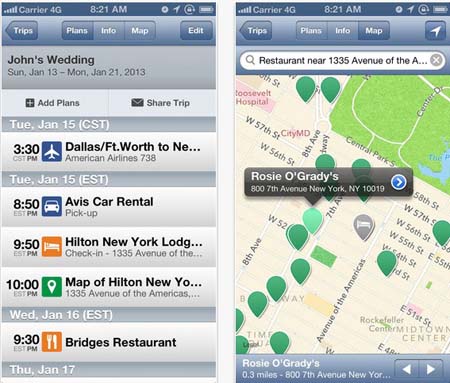 TripIt is one of the best apps in terms of travel – business or otherwise. This is why, no list of travel apps is complete without mentioning this app. Use it to store all your trip details, create an expansive itinerary, sync it with your calendar and plan your trip with ease. One of the major features in this app is that it instantly recognizes reservations from over 3000 booking sites which include but are not limited to – cruises, restaurants, and concerts. Also, if you are a frequent flyer, then it helps you by monitoring your flights for potential savings on airfare and provides you flight status alerts and other reminders on the go.

Another handy app on the list for business travelers is CWT To Go. This app allows you to plan out your flight, car and hotel itineraries in one place and provides you free flight notifications, delays, cancellations, gate charges and flight check-in information with boarding pass. Interestingly, you can access a travel counselor using this app in case of any emergency. You can also access instant information about your destination including the local services available, maps and weekly weather forecasts, so that you never reach a place unprepared!

If you want to plan your entire business trip with a few taps, then WorldMate is the best app you can use. It helps you know the best hotel deals, upgrades and much more. You can even cancel your reservation and re-book a room easily, by using this app. Additionally, use it to manage everything for your business trip, be it your flights, hotels, cabs, meetings or anything else and share your travel itinerary. Some other features in this app that are worth mentioning is – Global weather forecast, tip calculator with global tipping guide, currency converter with exchange rate updates and local search powered by Yelp. All these and many other features and functions make this a complete app for your business tour.
To conclude
So, the next time you plan a business trip, pick and choose any of the above mentioned apps. I am quite sure you'll find them useful for your trip.