WordPress is the best know blogging platform and it is the most powerful content management system.When it was first released,people were only writing and sharing their thoughts but day by day it has been improved and today it is also one of the best solution for businesses.Many companies prefer wordpress as an ecommerce website to represent their business and to sell their products.
Wordpress is a very functional CMS because of plugin system.Plugins give you the ability to add specific functionality to your wordpress site.When it comes to an e-commerce platform,Paypal is widely used for payments or donations.
In today's post we have gathered premium plugins for Paypal integration to your website.Every plugin has its own functionality so if you are serious for an e-commerce platform the below plugins will help you to build a perfect system.
5sec PayPal Buttons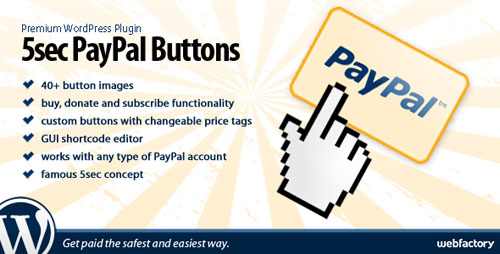 This is a premium wordpress plugin with buy,donate and subscribe functionality.It works with any type of Paypal Account.
Features:
Buy, donate and subscribe functionality
Custom buttons with changeable price tags (see it in action)
GUI shortcode editor (screenshot)
Works with any type of PayPal account
Super easy to use and setup
Paid Downloads Pro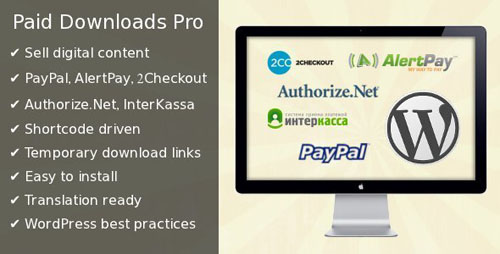 Paid Downloads Pro is a plugin that allows to sell any digital content. The plugin automatically delivers the product (temporary encrypted download link) to customer after completed payment done via PayPal, AlertPay, Authorize.Net, 2Checkout or InterKassa. Just upload files and insert shortcodes like [paiddownloads id="XXX"] into your posts or pages.
Features:
Sell digital content: use this plugin to sell your music, books, video, software, any files.
Multiple payment gateways: accept payments via PayPal, AlertPay, Authorize.Net, 2Checkout or InterKassa
Shortcode driven: insert shortcodes like [paiddownloads id="XXX"].
Temporary download links: plugin generates encrypted link that is valid for limited time
Easy to install: install and activate the plugin as any other plugins.Translation ready: plugin might be translated to any language.
Built using WordPress best practices: no any alerts from Plugin Check.
PayPal Express Gateway for WooCommerce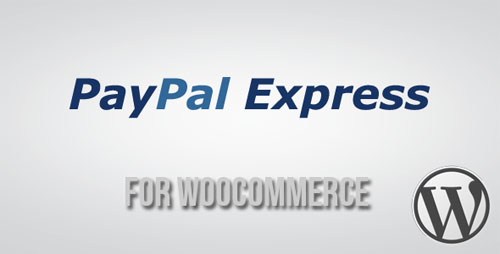 PayPal Express Payment Gateway is a WordPress Plugin which allows the WooCommerce plugin to accept payments from PayPal Customer's who wants to pay from their PayPal Account Balance.
PayPal Pro Payment Module for WooCommerce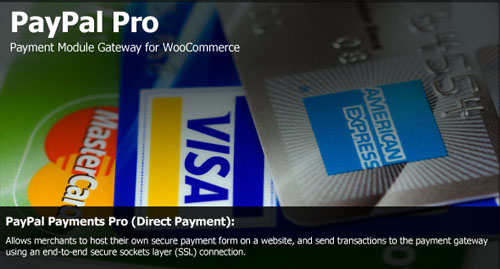 PayPal Payments Pro (known as Website Payments Pro outside the US) is an API -based solution that enables merchants and developers to accept credit cards, debit cards, and PayPal payments directly on their website.
Features:
Sandbox server to perform test transactions
Authorization and Sale transaction methods
Process credit and debit cards directly during the checkout procedure
PayPal Pro Credit Card gateway for WooCommerce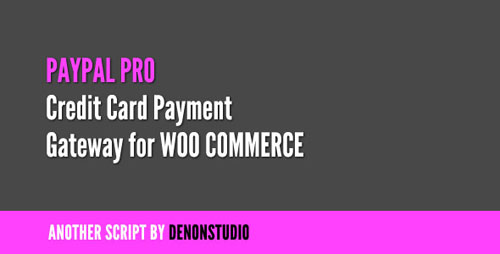 Do you want to accept credit cards on your website and save users confusion and time? This credit card gateway plugin for Woo Commerce lets you accept credit card payments directly on your website via PayPal.Customers use their credit card during the checkout process and Paypal handles the rest. This lets your users never leave your website for making payments.
Credit Card Payments WordPress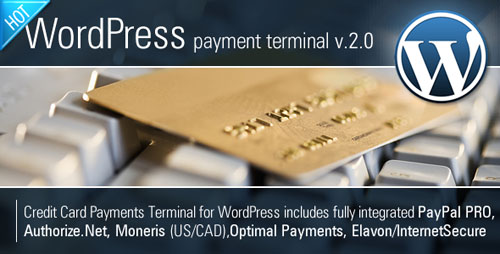 This script allows you to have a quick & easy payment terminal for your clients to pay with major credit cards (Visa, Master Card, American Express, Discover) on your WORDPRESS website without leaving it. Installation and configuration of the script takes less than 5 minutes (however you do need to have SSL and one of 4 merchant accounts (PayPal, OptimalPayments, Moneris US or Moneris Canada, Authorize.net, Elavon/InternetSecure).
Features:
Unlimited services addition
Transactions viewer with filters
Filter transactions by date period
Sort and search transaction list
Customizable widget area fields
Shortcode [ccpt_paybutton] – use it to add "pay" button to any post/page on your blog
Shortcode [ccpt_paybutton id="X"] (where X – service ID) – use it to add "pay" button for particular service you've setup in services section, can be added to any post/page.
Script is compatible with our WP PayPal Payment Terminal
PayPal Payment Terminal WordPress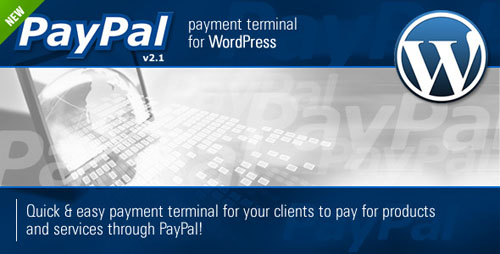 This script would be ideal for taking donations/contributions on your blog, or accepting payments from your clients or receiving payments for pre-defined services!
Features:
Display as widget in sidebar or in any page/post -unlimited services addition
Filter transactions by date period
Sort and search transaction list
Customizable widget area fields
Automatic notifications to you and your customer
Donation System for WordPress

This is a plugin to make donations.
Features:
Admin Panel in embeded in WordPress
Donator Quotes – Let donators say something publicly, if they wish to
 Links System – Let donators link to their web pages
 If your site has something about SEO you will love the dofollow/nofollow feature! You can set the amount user has to donate, to get a dofollow link on their web page
If some donators aren't looking for exposure, you can offer them:
To hide the amount they have donated in the list
To hide their name in the list
Avoid spam! You can enable approve system to manually approve the donation, before it appears on the list
System automatically checks entered email, if the domain is valid and does it have an email service.
Star System – Encourage your visitors to donate higher amounts, by giving them "medal stars" if they donate at least XX $ (you can set the amounts, star images easily in admin panel)
PayPal File Download WordPress Plugin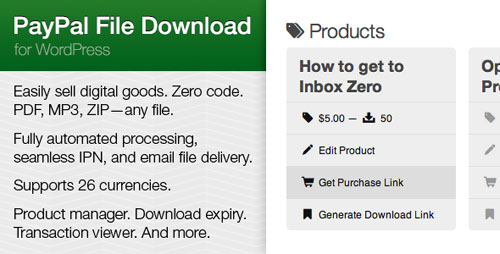 PayPal File Download for WordPress is the easiest way to sell digital content. Easily sell and automatically deliver e-books, PDFs, ZIPs, and any other kind of file to your customers—with built in IPN , email delivery, and download expiry.Integrating directly with PayPal Website Payments Standard with a built-in seamless IPN system, your users will be able to hit Buy Now, check out, and instantly have your digital goods delivered to their email inbox in seconds.
Features:
Multiple products with different prices, editable in the Products settings page
Transactions viewer, where you can view all customer data, like name, address, and email
Support for 26 different currencies (see bottom of description for supported currencies)
Don't hassle with IPN . turnkey operation, seamless built-in IPN , payment processing, and validation
Edit the email that goes out when payment has been successfully processed
Expire links after a customizable amount of time to prevent abuse
Zero code experience required