Websites are very dynamic nowadays.Especially if your website is adaptive to users with more interaction then the admin panels must be admin-friendly to control the website easily.
So the design of an admin panel is very important.It must be clean,simple and of course fast loading.
For example if you are the administrator of a shopping website or a gaming website you definitely need a highly customizable admin template.
In today's post we are featuring really well-designed admin templates both for commercial and free.
Simpla Admin – $20

Simpla Admin is a professional template with a beautiful and user friendly interface. With various smart and intuitive jQuery functions, navigating the interface is a breeze.
Source | Demo
Constellation – $20

Constellation is a powerfull admin skin for building advanced backends, both for desktop and mobile users. It provides a wide range of styles from data visualization to lists and calendars, all fluid and nestable. This skin is build on HTML5 and CSS3 , and is powered by jQuery for maximum user experience.
Source | Demo
White Label – $25

White Label is a full featured skinable and responsive CMS /Admin Panel with custom plugins, widgets, forms, validations, charts, galleries and much more.
Source | Demo
Adminica – $25

Adminica is a cleanly coded, beautifully styled, easily customisable, cross-browser compatible Admin Template and Web Application Interface.Adminica is packed full of features, allowing you unlimited combinations of layouts, controls and styles to ensure you have a trully unique app.
Source | Demo
Complete Liquid – $20

Complex Liquid Admin template that contains a login page as well as a modular content page that includes all the elements you could possibly need in your admin. From these elements you should be able to generate any required page.
Source | Demo
It's Brain V.1.5 – $21

It's Brain is a new premium admin theme with lots of different features like fixed and liquid 2 columns layout,integrated flot charts,default text input fields with placeholder, autofocus, on hover tooltip, read only, disabled, with maximum length and predefined value etc.
Source | Demo
Magic Admin – $15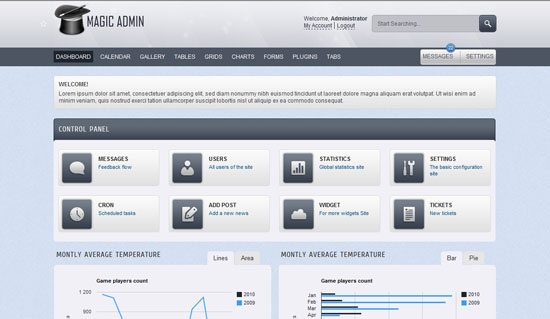 Magic Admin – an admin template. Admin Center covers all the necessary functions for your decisions. In the Magic Admin includes popular jQuery plugins (forms, charts, tables, notifications and much more). Skin is blue with gray elements. Template is built on HTML5 and CSS3 .
Source | Demo
TurboAdmin – $15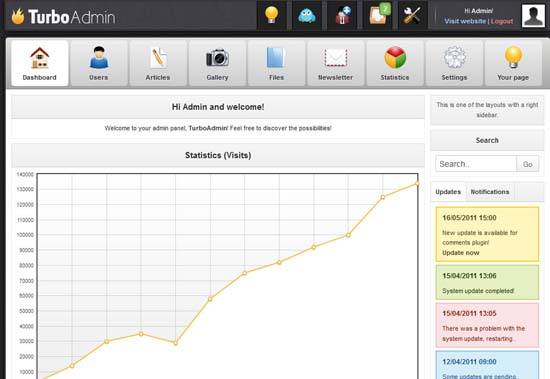 It's a professional and flexible admin template/skin and can be used for all kind of projects such as web applications or backend website solutions.
Source | Demo
Profi Admin – $20

Profi Admin is a clean and simple style template but it's complexity and expandability goes beyond expectations. The big visual menu creates the intuitive navigation while the tabbed and the hidden submenu expands the structure to 3 menu levels. Inspired by the WordPress Administration layout.
Source | Demo
TERMINATOR – $25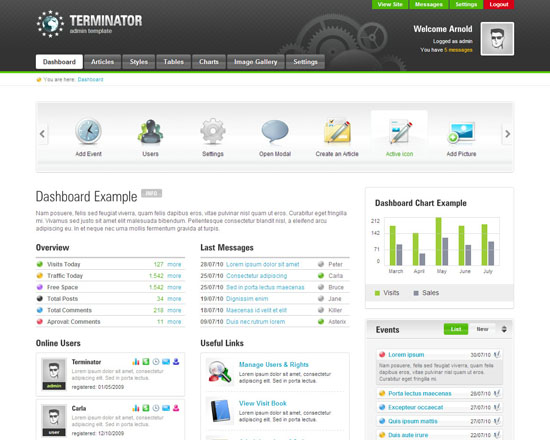 Admin backend template that has a hell of a lot of features. It's designed with cool "Storm Black / Aluminium" colors.Template is touch screen ready, tested on iPad, iPhone and Android.
Source | Demo
Grape – $16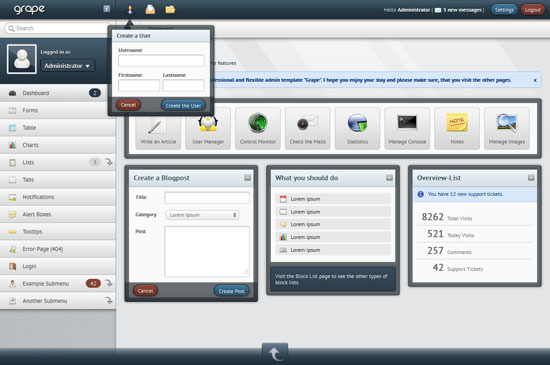 Grape is a professional and very flexible admin template for huge and small backend solutions. It includes custom plugins, forms, validations, charts, tables, notifications and much more. The template is built on HTML5 with CSS3 features powered by jQuery and modernizr.
Source | Demo
vPad – $16

vPad is an easily customizable, feature packed html5+css3 web application template.
Source | Demo
HTML5 Admin Template – Free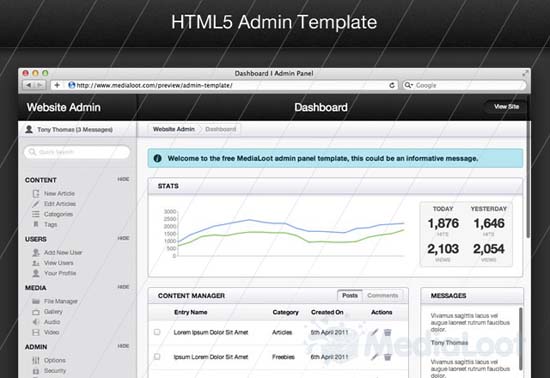 This HTML5 + CSS3 admin area template was created specifically for application and theme developers who want more out of their admin dashboard. Forget using a basic admin template, this theme comes with jQuery Table Sorter built in and easy integration with Google Chart API. The ability to hide and show menu sections is also included, along with tons of styles for various sections, inputs, and alerts.
Source
Spring Time – Free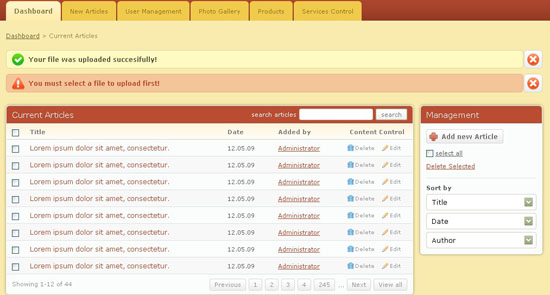 Simple and professional interface for your custom web application.
Source | Demo
Admin Template For Web Applications – Free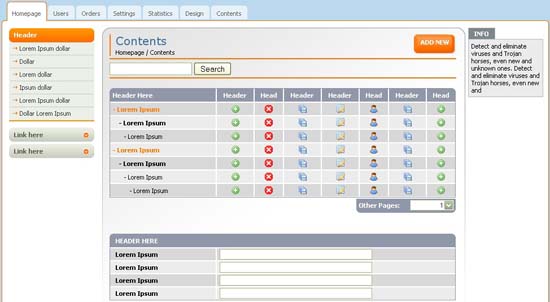 This is an admin template which you can use for web applications like e-commerce projects and content management systems.And also you can find the HTML5-CSS3 version in the package.
Source | Demo
INADMIN Html/CSS & jQuery Admin Panel – Free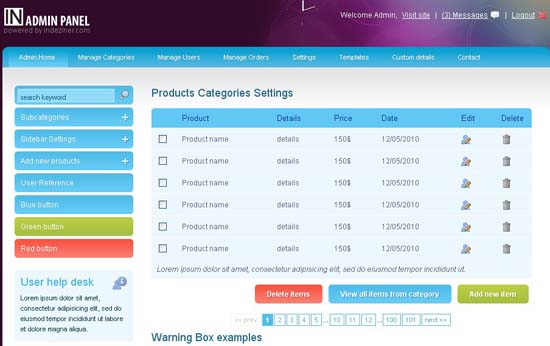 INADMIN is a new FREE administration panel created by INDEZINER.It has a lot of cool features like;digital and analog watch,tableless,full css and xhtml design,dropdown menu,jQuery sidebar accordion menu etc.
Source | Demo
AdminPraise Lite Joomla Admin Template – Free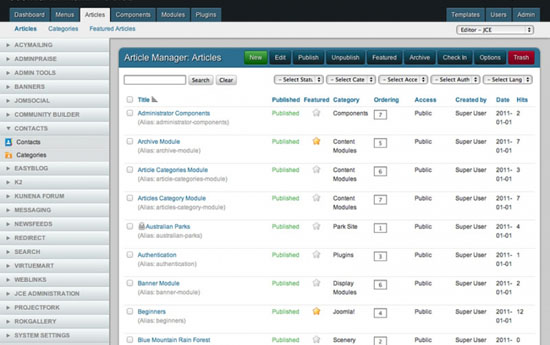 AdminPraise Lite is a super lightweight Joomla! administrator panel template.
Source