Need a book cover? An image for your blog post? A cool photo for your poster? You should consult a stock photo agency.
A stock photo agency is a place where you can get royalty free images for personal or commercial use. By "royalty free" I mean something that you can use by paying only once. You don't need to pay any monthly or annual charges.
Some people are skeptical about royalty free images because they argue that the same image can be used by any number of people. The photograph is not exclusive. Though that's true but since there are millions of images available as stock photos hardly anyone will take notice.
There are hundreds of stock photo agencies available out there. Which one to choose?
Our recommendation for stock photos is Stockfresh.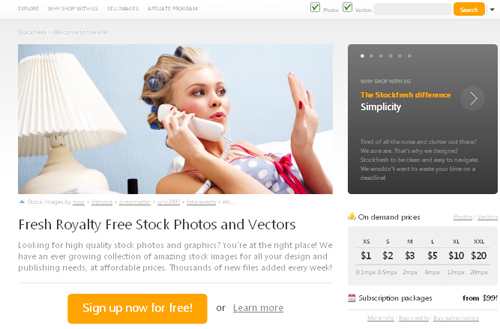 You may have heard the names of stock.xchng and Stockxpert sites. Stockfresh is owned by the same old founders of the former websites. So the players of the game are not new, they know what they are doing since they are doing it from the past ten years.
Stockfresh provides a comprehensive collection of more than 1.2 million images including photographs, graphics and vector illustrations at a pretty reasonable price. With constant new additions to the collection – this number is going up.
You may buy images in two ways – either by buying one image at a time or by buying a subscription package.
The costs of individual images range from $1 to $20 depending up on the size of the image. Some discounts are also available provided you buy a lot of images.
Take a look at the screen shot below.

But if you are a designer and you require a lot of images every month then you may consider buying a subscription package. All subscription packages are profitable over individual image shopping. Take a look below.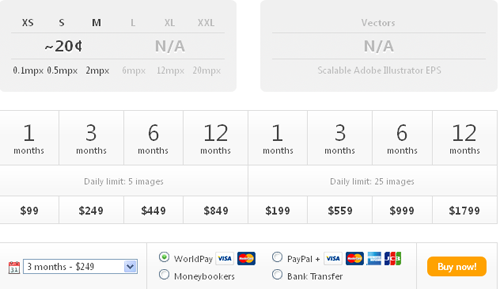 All major payment options are acceptable including PayPal, Moneybookers, WorldPay and online bank transfer.
The contributor commissions of Stockfresh is the highest in the industry. This ensures that the photographers who are actually selling their photos on Stockfresh, deservingly get a lot of profit.
So how is the quality of images? Awesome! Below is a screenshot of "Most popular images" on Stockfresh. The images are simple and beautiful.

28 image categories are available. The images are categorized as Animals, Background, Beauty, Education etc. Take a look yourself by clicking the following link for stock photos by categories.
If the above reasons are not enough to convince you to choose Stockfresh then the following more may help.
Simplicity
– The website is simply designed and is very easy to navigate. No clutter, no confusion just a simple and easy-to-use interface.
Quality
– The extra careful selection process at Stockfresh ensures that not every Tom, Dick and Harry may upload their photos. The authorities ensure that you get only the best of the possible images so that you may not have to waste your time surfing through poor quality images.
Service
– If at any time you face any sort of problems using the website the officials are always there to help you in a timely manner.
So go take a look of the website and let me know your reactions in the comments below.