,    
DesignBeep.com in association with Invoicera has come up with an exciting giveaway this time. We are giving away 5 Invoicera Basic Plans for 3 months for free of cost to our readers. To win a plan you would have to participate in the contest as mentioned in the contest section of this post and you could be among one of the 5 lucky winners who could get free 3 months subscription of Invoicing Plan absolutely free.
We at Invoicera also love the fact that with the subscribers attained from a giveaway event, it allows us later to form a relationship with our subscriber base, and hopefully acquire many more customers for lifetime.
For those who don't know about Invoicera, Invoicera is an online invoicing and time tracking application which reduces your time spent invoicing to minutes!
Why to choose Invoicera.com?
Invoicera is a trouble-free and extremely easy to use online invoicing and time tracking-service designed for freelancers and creative professionals in mind that's well priced and offers a spontaneous user interface with a solid collection of multiple great features.
Invoicera with its exceptional features, outstanding sponsorship, great customer support system and cost efficiency will permit you to handle your online invoicing tasks professionally. You can save more time and manage your business in a smooth and proficient way with Invoicera and moreover, will also get paid faster from your clients as automatic late payment reminders will be sent to your client.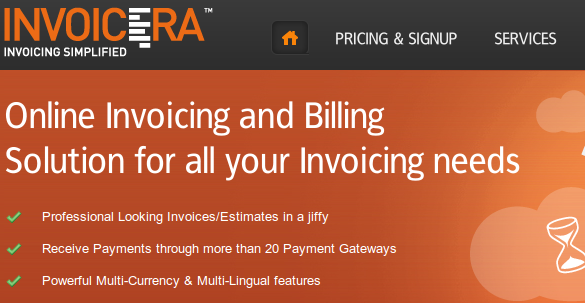 Additional Useful Features of Invoicera :
1. Multiple Languages and Currency Support: It helps in creating and sending invoices to your clients in their respective currency and language. Invoices in 11 languages can be created for your individual clients from all across the world. This will make your clients comfortable with meaningful and accurate invoices.
2. Time Tracking: Time tracking solution is amazing. It helps you to keep a track of time spent on each specific project and lets you keep a frequent check on every task performed. This ensures how your work is progressing regardless of time boundaries.
3. Expense Tracking: To keep a track of all your projects expenses effortlessly and accurately, Invoicera provides expense tracking .In invoice, the entire expenses of your specific project will be added to allow you to get paid in full. By importing your expenses in your Invoicera's account, you will be able to know about your business profitability and whether it is up to date or not.
4. Customized Invoice Template: To make sure your business identity is reflected and represented through the invoices received by your clients, professionally multiple designed templates have been provided. For those who are not that much technically sound to customize their template, for those Invoicera has come up with a Template Customization Service, with which you can get your invoice/estimate template customized by their experts as per your requirements.
5. Magento Extension: With Invoicera's magento extension, you can easily generate and send professional invoices to your customers with in real time as soon as they place an order on your store.
6. Invoicera with Google Apps: If you are a user of Google apps, then using Invoicera will create many benefits here. The application can easily be accessed through Google apps with single sign in process and further utilizing Invoicera with single Google sub-domain.
7. Invoice Scheduling: Scheduling of your invoice to be sent on specific date and time can be carved out. It would be sent automatically on the set date & time without any complexity. This will make your workload lighter.
8. Late Fees Payment: Invoicera gives you the option to charge late fees from the defaulters. It is just one click away and you can add late fee charges in the invoice and get paid in either percentage terms or in a fixed amount
9. Referral Program: With Invoicera's Referral Program, you can earn 40% recurring commission for life time by simply getting your friends or your business contacts to sign up for the Invoicera's paid subscription.
How you can win this GiveAway?
To win this giveaway you would need to tweet this story and just simply leave a comment below.
Contest will be valid till 12 Feb, 2012
Hurry, the deadline to enter is:Feb 12th, 2012 at 11:59 PM. Winners from all the valid and correct entries will be drawn and will be notified by email on 13th February 2012.
Note: This contest is only valid for New users and free users of Invoicera and existing paid users of Invoicera will not be eligible to win the prize of this contest.
A few simple things to remember:
Post your comment before the contest ends. Any comment after the due date will not be considered liable to the prize.
Please, do not submit entries from multiple email addresses – this is unfair to other visitors and when noted will cause all your entries to be voided.
We'll be emailing you as well and you will have one week to claim your prize. If we don't hear back from you, we'll have to give the prize to someone else.
Here's a limited period Giveaway that you will not like to miss.