If you own an iPhone you always search for quality and working applications.And of course if they are free then there is no problem.Most of iPhone users don't want to pay for paid iPhone applications although they are very cheap.
Most of the big companies give out their applicatons for free but some apps. developers of course sell them.Today we've gathered free iPhone applications that will help you in your life.Some will make you smile and some will be really useful in your daily life.

BOOKS

301+ Short Stories Lite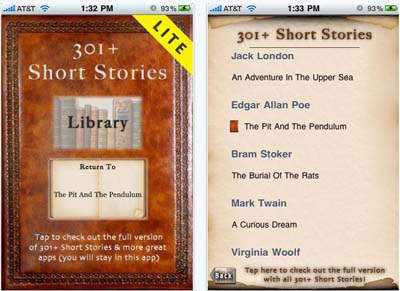 Even for a sampler app, 301+ Short Stories Lite has some of the classic short stories by the great authors such as Sir Arthur Conan Doyle, Jack London, Edgar Allan Poe, Bram Stoker, Mark Twain, Virginia Woolf, and more.Short Stories are perfect for a quick read anytime and it's FREE.
365 Devotions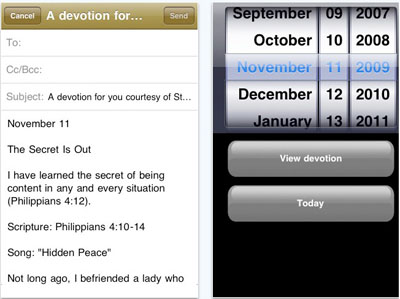 Enrich your Christian life with 365 Devotions. Get a new devotion every day of the year. Based on the book, 365 Devotions, this application provides a devotion, Bible verse, and short prayer for each day that can be read, bookmarked, and even emailed to a friend. You can also switch to any day of the year to see what the devotion was
The Google Books app offers access to over 2 million Google eBooks on your iPhone, iPod touch, or iPad. Take your favorite books with you on the go.
Wattpad is the world's most popular ebook community. Also known as YouTube for ebooks, it's a place where where readers and writers discover, share and connect. With over 1 million downloads per month, Wattpad is the world's most widely used mobile ebook application and one of the world's largest collections of originally-created ebooks.
The iFlow Reader now includes tens of thousands of free books for your enjoyment. When you are done with those, you can buy books in our bookstore and if we don't have the book you want, you can buy it somewhere else and import it into the iFlow Reader. If it's an epub with or without Adobe DRM, you can read it with innovative iFlow Reader.
In celebration of over 5 million downloads and the release of iFlow Reader BeamItDown Software provides 200 Great Books for free.
As you see from apps name there are 101 classic books.There are many settings to access by tapping the sun icons in the corner of books. You can change the font size, color, and even type, in each book
iBooks is an amazing way to download and read books. iBooks includes the iBookstore, where you can download the latest best-selling books or your favorite classics – day or night. Browse your library on a beautiful bookshelf, tap a book to open it, flip through pages with a swipe or a tap, and bookmark or add notes to your favorite passages.
Introducing the MARVEL COMICS app, a revolutionary new way to experience the Marvel Universe on your iPhone, iPod Touch and iPad, featuring the world's most popular super heroes! Download hundreds of comic books featuring your favorite characters
Read New York Times best-selling electronic books right on your iPhone or iPod touch.Version 2.1.3 has been updated to run on the latest iPhone OS – 4.0 and iPad.
BUSINESS

DailyFinance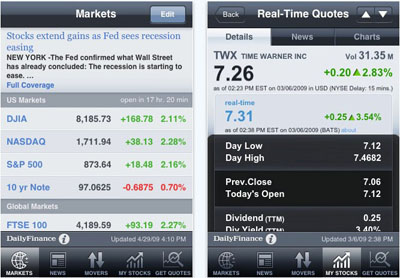 Experience the most powerful iPhone application for investors and market followers. DailyFinance is the only free app with real-time quotes, tracking for multiple portfolios, customizable news from 3,000+ sources and professional-grade charting
Bank of America – Mobile Banking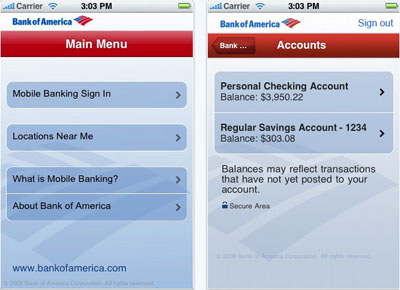 With Mobile Banking from Bank of America, you can easily take your banking with you.* Check your balances, pay bills, transfer money, and locate ATMs and banking centers. Our Mobile Banking app is convenient, fast and free.
News stories by geographical region.News by category including business, technology, entertainment and sport.News in other languages including Spanish, Russian and Arabic.Video including one minute news summaries to keep you informed on the go.You can also personalise the app to suit your interests and download content for offline browsing.
Only CNBC delivers Live, Real-Time Stock Quotes before, during and after stock market hours direct from the NYSE and NASDAQ, company specific news, videos, profiles, returns and key metrics. Plus CNBC's exclusive breaking business news allows you to stay on top of the markets no matter where you are
The CareerBuilder.com iPhone application offers a unique and powerful way to search nearly 2 million jobs on CareerBuilder.com, the US's largest job site.
• Search for jobs by: keyword, location, company, employment type, etc.
• Apply to jobs
• Use GPS to find jobs near you
• Sync CareerBuilder account with the phone
• Create accounts and resumes from the phone
• Receive personalized job recommendations
• See search results in map view
• Save jobs as favorites for later viewing
• Jobs that have been looked at remain marked as 'seen'
• Email jobs to yourself or to friends right from the phone
EasyWriter helps you write emails faster and more accurately using the iPhone's wide keyboard in landscape mode. Use EasyWriter both for new emails and replies (see below) while holding your iPhone sideways (or any orientation).Use Pinch and Zoom to adjust the text size. Your message will never get lost because of an incoming call or text message, because EasyWriter keeps your text safe and secure. Touchtype or watch text as you type, in a text size that is comfortable for you.
Keep track of your money with Spend, a quick and easy-to-use personal budget tracker. Spend travels with you on your iPhone or iPod Touch and does not require internet access, so you can enter your purchases before you even leave the mall or grocery store.
EDUCATION

Dictionary & Thesaurus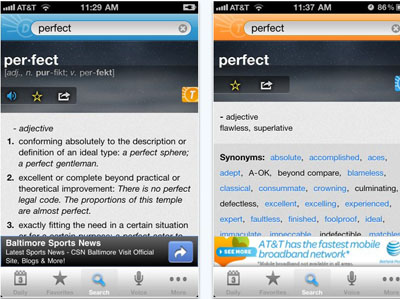 he free Dictionary.com app delivers trusted reference content from Dictionary.com and Thesaurus.com, including nearly 1,000,000 words and definitions and 90,000 synonyms and antonyms. No Internet connection is needed for word look-ups. The app also features audio pronunciation, voice-to-text search and Dictionary.com's popular Word.
Accessing Wikipedia has never been faster and easier than with Wikipanion, designed for easy, search, navigation and display of Wikipedia entries. Streamline your browsing with history grouped by visit date, and bookmarking that not only bookmarks individual entries, but individual sections within an entry.
Simply SHAKE the iPhone/iPod to move to the next fact.
Time Magazine selected "Graphing Calculator" as one of the top 10 back-to-school iPhone applications.Graphing Calculator turns your phone or iPod into an intuitive high-resolution function plotter and scientific calculator
The code is 100% open source and community built. If you are a programmer and good at JS/HTML5 then you can help them improve.Including maps, bookmarks, and a near complete re-design.
PCalc Lite is a fully functional and free taste of our popular scientific calculator. It includes an optional RPN mode, multiple undo and redo, unit conversions and constants, as well as two stylish themes and our highly praised design
With the Discovery News app, you will be constantly updated with news articles, video stories, special features and more – with a primary focus on Earth, Space, Tech, Animals, Archaeology, Dinosaurs, History and Human Beings.
Developed in partnership with NASA, Astronomy Picture of the Day for the iPhone/iPad brings the vastness of space right into your hand. Browse through decades of high resolution NASA space photos hand selected by NASA astronomers.
History:Maps of World" is a fun and educational collection of high-resolution historical maps..Check it out to keep up with your history, learn something about history.
The Chemical Touch: Lite Edition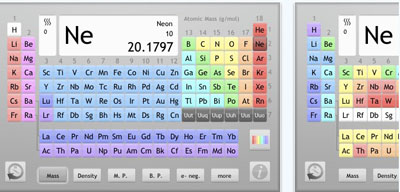 The Chemical Touch: Lite Edition is a free and easy to use periodic table for your iPhone or iPod touch. Consisting of a simplified version of the periodic table display from the full application, it puts the masses, densities, melting & boiling points, radii, and electronegativities of the elements right at your fingertips.
Use your touch screen to rotate and zoom around 29 interactive structures. Discover how each brain region functions, what happens when it is injured, and how it is involved in mental illness. Each detailed structure comes with information on functions, disorders, brain damage, case studies, and links to modern research.
Using AccelaStudy's intuitive flashcard-like approach on your iPhone, iPod touch, and iPad, you can quickly expand your English vocabulary for graduate school exams, university entrance exams, professional advancement, or simply increased language proficiency. Many commonly tested vocabulary words from college and graduate school entrance.
Formulus Free – Formulas for Calculus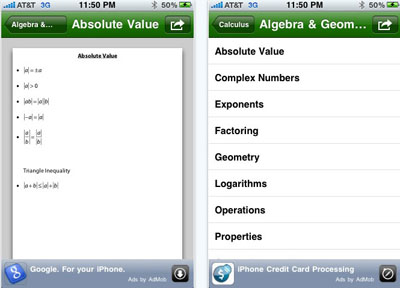 Formulus Free is the perfect study tool. It is a simple, easy to use, easy to navigate collection of the most important formulas and topics for high school and college students taking Calculus and Differential Equations.
FINANCE

Car Factor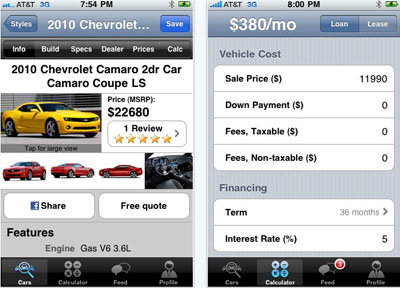 Car photos – outside and inside.Loan calculator.Lease calculator.13,500+ car styles. 350,000+ car options.Filtering by price, body type, or MPG.User reviews.Prices others paid for their cars.Online data updates.Latest auto news
ShoppingList is consequently designed for iPhone OS and focused on user-friendliness. So you can immediately use it, without having to study a manual.Have your shopping list always there, just like your iPhone or iPod, always ready when you come up with something, that you want to buy.
Tax season is filled with questions, and H&R Block wants to help you Get it Right(SM) no matter where you go.
Send money to your friends, manage your account, and more, with the PayPal app. It's free, secure and more convenient than going to the ATM, writing checks, or sending gifts the traditional way.
Bring the power of the most trusted source for financial information to your iPhone, along with tools to help you analyze the world's markets.
Currency provides up-to-date exchange rate information for over 100 currencies and countries! Great for when you travel abroad and need to calculate the latest exchange rates. Great for forex traders.
Mobilize your Card membership with the official American Express App for the iPhone® and iPod touch® (all versions). Pay your bill, see account activity, and more.
HEALTH and FITNESS

Lose It!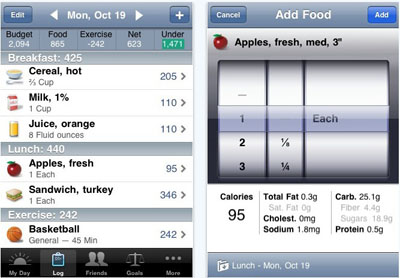 Succeed at weight loss with Lose It! Set goals and establish a daily calorie budget that enables you to meet them. Stay on track each day by recording your food and exercise and staying within your budget. The average active Lose It! user has lost more than 12lbs and more than 85% of our active users have lost weight. Lose It! is completely free.
Comprehensive Medicine combines the best of natural and prescription therapies to create optimal health. Cures A-Z is the free Comprehensive Medicine specialist in your pocket.
Listen to your virtual personal fitness trainers, Jack and Sophia, as they guide you through audio workouts with step-by-step exercise instructions. Put on your headphones and follow along while you weightlift or do cardio at the gym
With EyeXam, evaluate vision on the eye chart using the highest performance method. Developed by two eye doctors, EyeXam also includes tests for color perception, astigmatism, eye dominance, and links to find an eye doctor and obtain more information about eyes
LIFESTYLE

eBay Mobile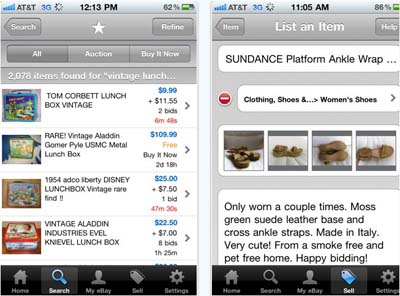 The eBay application for the iPhone is specially designed to run natively on the Apple iPhone and the iPod Touch. Using a streamlined interface that's as elegant as it is practical, eBay members can search, bid, and check their activity on the go. Buyers can sneak in that last-minute bid on a hard-to-find item, sellers can check on their sales, and act on time-sensitive information on the spot without a computer
10,000+ Backgrounds from 100+ Artists and our Design Team. New Backgrounds added daily,check back often.
The Amazon Mobile app allows iPhone, iPad, and iPod touch users to quickly search, shop, compare prices, read reviews, and make purchases on Amazon.com using a simple, yet elegant, interface. Amazon customers have full access to their existing cart, wish lists, payment and shipping options.
Wallpapers HD – The only app available with thousands of high definition wallpapers for you to download for any iOS device.
Eye Illusions Free is an incredible set of the best ever eye tricks: color illusions, appearing and disappearing objects, weird lines, color tests, and much much more.
Compass is a a measuring instrument which indicates the cardinal points under the sunlight. Put your finger in the middle of the compass and line it's shadow up with the app's shading.
MUSIC

Shazam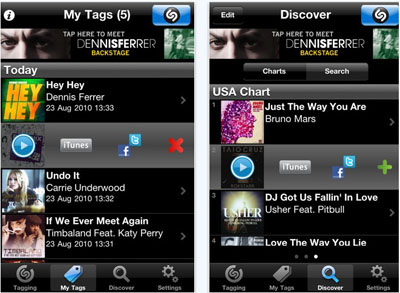 Faster tagging experience and cool new features including 30 sec previews, Tag Charts from 20 countries, Lyrics and Tag on startup! Shazam gives you instant satisfaction when you want to know what song is playing.
iheartradio delivers over 750 of America's favorite radio stations right to your iPhone or iPod Touch. Bookmark your favorite stations, tag songs
Hear thousands of the greatest songs of all time.This $1.99 app is offered for FREE by Bing for a limited time.
Listen to more than 5 million tracks for free with Last.fm on your iPhone.Create personal radio stations based on any artist or genres, and listen to commercial free music for hours.
Check out the newly added Christmas Theme glow sticks, flashlights to entertain your family and friends!
Meet the gorgeous sound of chrome-pressing-against-nickel: here, in all its sweaty glory, is the very first steel ever made for your iPhone and iPod Touch: Steel Guitar.Version 1.1 now features the option to choose between two modes of slide playing, according to your preference.
Get the top guitar app that has been downloaded by over 3 million users worldwide.TouchChords 2.0 shows you how to play songs on guitar while you hear a backing track — even the original song
Best iPhone App of 2009" – Macworld Awards."One of the Best Music Apps" – Rolling Stone Magazine."Top 30 Reasons to buy headphones for iPhone" – NYTimes.com Gadgetwise.Concert Vault for the iPhone gives you FREE access to the world's largest collection of live concert recordings by your favorite performers
NAVIGATION

Google Earth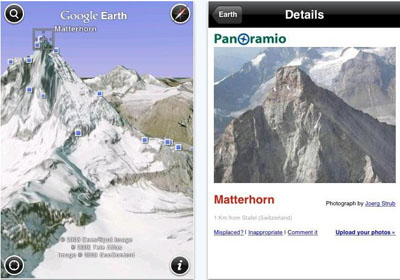 Hold the world in the palm of your hand. With Google Earth for iPhone, iPad, and iPod touch, you can fly to far corners of the planet with just the swipe of a finger. Explore the same global satellite and aerial imagery available in the desktop version of Google Earth, including high-resolution imagery for over half of the world's population and a third of the world's land mass.
Winner of MacWorld 2010 Best of Show, INRIX Traffic is a FREE app that puts the power of real-time traffic and traffic forecasts right in your hand. What's the best way to go right now? When do I need to leave so I arrive on time? INRIX Traffic can help.
InstaMapper is a free real-time GPS tracking service. Use it to track an iPhone online, share your location with friends and family, and record tracks for later analysis.
Beat the Traffic® is the easiest way to enjoy a hassle-free commute in the USA and Canada.Quickly check the latest road traffic conditions in your area and discover the best route to take to avoid traffic jams, all for free.
Features (FREE):
Real-time traffic maps showing speeds & incidents
GPS displays traffic jams near you.
Detailed incidents & roadwork reports.
Traffic camera images in over 34 cities.
Up to 2 hours traffic predictions.
Weather information
Grayscale color mode option.
Report incidents to other users
Ad supported
FastMall – Shopping Malls, Community & Interactive Maps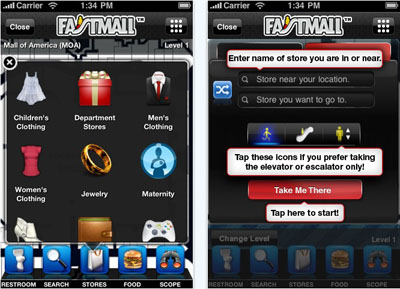 Navigate any mall map WITHOUT the need for GPS or WIFI. Once you download any mall map you can get interactive navigation even without an Internet signal.
Want to know how fast you're going? Speedometer is a full-featured, simple to use speedometer for the iPhone
MetrO helps you find your way in the public transportation systems in more than 400 cities around the world.Download the cities you need and search your route by subway, bus, tram, railway… (depending on cities). NO network connection is required after you have installed the cities
PHOTOGRAPHY

Gorillacam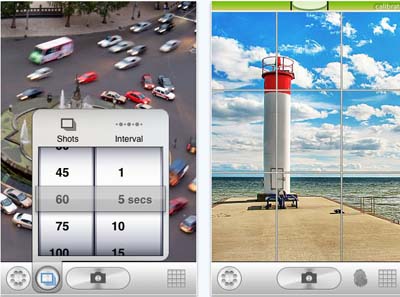 Gorillacam is brought to you by the photography experts at Joby, creators of the world famous Gorillapod flexible tripods, and the Gorillamobile for iPhone 3G/3GS
Adobe Photoshop Express software lets you use simple gestures to quickly edit and share photos from your mobile device. Enjoy having your photo and video library right in your hand — without wasting your device's valuable storage space.
PhotoChop – Chop Photos to Make Crazy Pics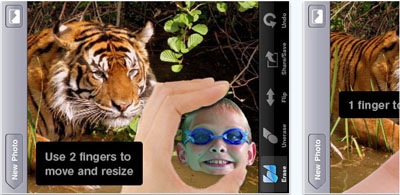 Make hilarious pics of your friends in unbelievable places–put them next to a charging bear, friendly sumo or steamy hottie.Share your PhotoChop creations on your Facebook page.
Normally $2, now FREE for a limited time.Recolor your photos by brushing with your finger to create amazing new artwork and effects. Create things like multicolored apples, blue lions, green polka dot strawberries, and so on.
The perfect application for anyone who wants to keep people from accidentally seeing their private pictures. This is the original and most reliable picture hiding app available on the iPhone since 2008.
Photo Brush lets you easily customize photos by using your finger as a paint brush and a large assortment of designs in a rainbow of colors as paint.
Type your name, click 'Go' and then watch to see your name within a series of amazing photos:
-On a gold necklace
-Written in the sand on a beach
-Shaved into someone's head
-On a 'walk of fame' star
-On a race car
-On a blimp
-On a basketball jersey
SOCIAL NETWORKING

Facebook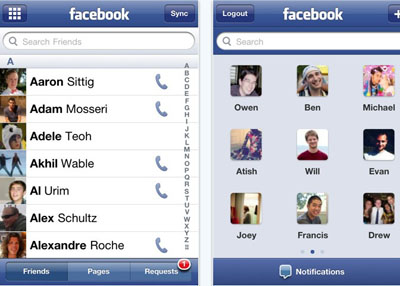 Facebook for iPhone makes it easy to stay connected and share information with friends. Use your iPhone to start a conversation with Facebook Chat, check your friends' latest photos and status updates, look up a phone number, or upload your own mobile photos to Facebook while on the go.
WordPress-UPDATED-bug fixed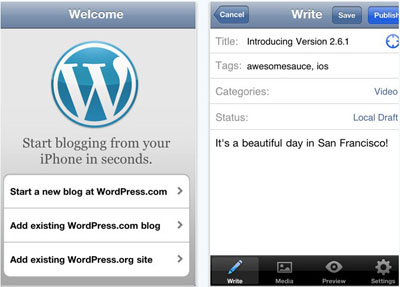 It's easy to manage your WordPress blog or site from your iOS device. With WordPress for iOS, you can moderate comments, create or edit posts and pages, and add images or videos with ease. All you need is a WordPress.com blog or a self-hosted WordPress.org site running 2.9.2 or higher.
Discover what's happening right now, anywhere in the world with the official Twitter for iPhone app.Realtime search, Top Tweets, trending topics and maps show whats happening now everywhere and nearby.
Use Tumblr's iPhone app to easily post quotes, photos, audio, video and more to your tumblelog
Want to save 50%-90% at restaurants, spas, gyms, and more? Download our free iPhone / iPad app to access LivingSocial's daily deals. Each day, we'll introduce you to a new, cool thing to do in your city — and give you a HUGE discount while we're at it.
With Skype on your iPhone, iPod touch or iPad, you can make and receive calls, and instant message anyone else on Skype, wherever they are in the world. You can also save on international calls and text messages to phones. Skype is free to download and easy to use. With the latest version, you can now call over 3G*, and keep Skype running in the
Dragon Dictation is an easy-to-use voice recognition application powered by Dragon® NaturallySpeaking® that allows you to easily speak and instantly see your text or email messages. In fact, it's up to five (5) times faster than typing on the keyboard.
Evernote turns the iPhone, iPod Touch and iPad into an extension of your brain, helping you remember anything and everything that happens in your life. From notes to ideas to snapshots to recordings, put it all into Evernote and watch as it instantly synchronizes from your iPhone to your Mac or Windows desktop.