Welcome to our vibrant collection of free happy birthday animated images and GIFs, meticulously curated to add a touch of whimsy and delight to any birthday celebration! Each endearing animation is designed to bring smiles and laughter, making the special day even more memorable. Explore our captivating assortment, where you'll discover the perfect GIF to elevate the birthday girl's festivities with charm and enchantment.
Delicate Happy Birthday Pretty Girl
Unable to personally wish your niece, significant other, or child a joyous birthday? Fear not! We present to you a delightful, one-of-a-kind, and adorable animated greeting card. This captivating visual treat promises to elicit smiles and evoke heartwarming sentiments in the lucky recipient!
Happy Birthday Girl with Pink Pancake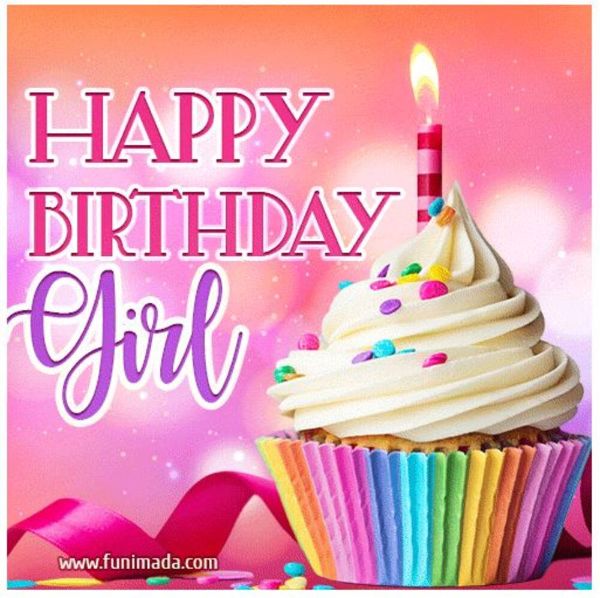 This delightful animated card is designed to spread cheer and sprinkle sweetness on a special girl's birthday. This charming greeting features a playful and scrumptious pink pancake theme, sure to make her day extra delicious. Gift this endearing card to your birthday girl and create cherished memories that will last a lifetime.
Amazing Happy Birthday Honey
When distance separates you from your cherished one, fret not; transmit this extraordinary animated e-card. This gesture will surely delight the person yearning for your presence! Image offers a captivating GIF format and an MP4 video with immersive sound, bound to convey warmth and affection to the fortunate recipient. Effortlessly download the image with a single click, and utilize it at no cost.
Animated Postcard with a Princess
Discover the captivating Animated Postcard with a Princess, perfect for transporting your birthday girl into a world of enchantment and wonder. This mesmerizing greeting showcases a beautifully illustrated princess, creating an air of magic and delight. Share this alluring card with the birthday princess, evoking smiles and fostering cherished memories that will be treasured forever.
Happy Birthday to the Best Girl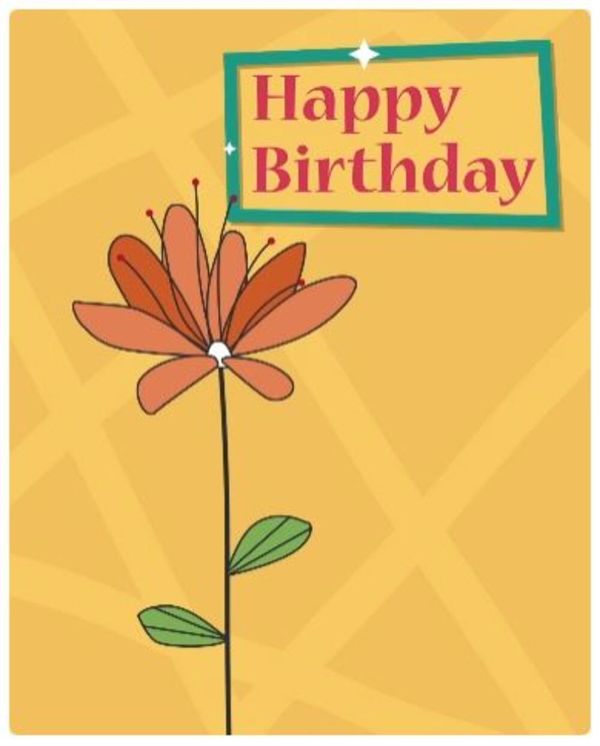 Brighten the day of your sweetheart, relative, or mother with this charming happy birthday card, adorned with floral accents and elegant script. Effortlessly download the free animated image with a single click, available as a GIF or MP4 video with audio in 1080×1350 resolution.
Birthday Girl ECard
Introducing the charming Birthday Girl E-Card, designed to bring joy and warm wishes to a special girl on her big day. This delightful digital greeting combines heartfelt sentiments with captivating visuals, making it the perfect way to express your love and appreciation.
Happy Birthday Beautiful Girl

Celebrate the special day of a stunning young lady with a delightful Happy Birthday Gorgeous Girl greeting. Captivate her heart and brighten her day with this affectionate and memorable message. Spread love and joy!
Happy Birthday Image with Teddy Bear for Daughter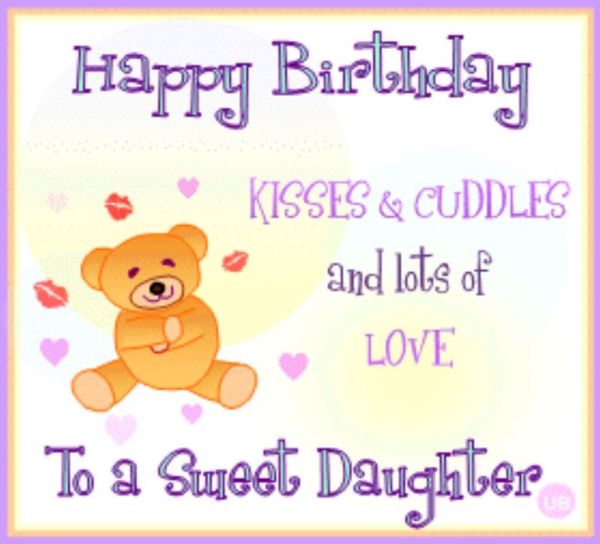 Presenting the heartwarming image, crafted to shower your little girl with love and affection on her special day. This endearing greeting features a cuddly teddy bear, symbolizing the warmth and comfort of a parent's embrace. Share this delightful image with your daughter, creating cherished memories and filling her day with joy and happiness.
My Lovely Sister Happy Birthday Image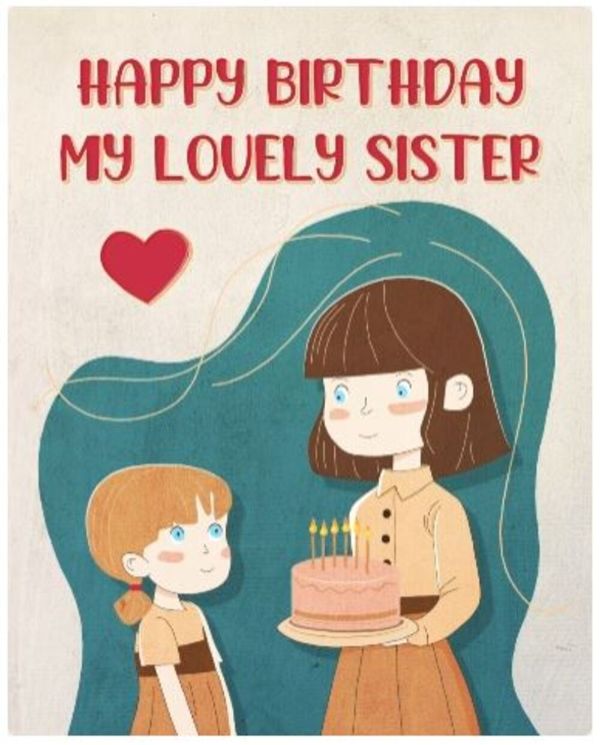 The heartening My Lovely Sister Happy Birthday Image is designed to capture the tender bond between sisters on a special day. This evocative image showcases an older sister presenting a cake to her younger sibling, illustrating the love and care between them. Share this touching tribute with your lovely sister, forging precious memories and celebrating the unique connection you share.
Happy Birthday Dancing Cake GIF
Unveiling the exuberant GIF is an entertaining way to infuse a dash of whimsy into a loved one's birthday festivities. This captivating animated greeting features a jubilant dancing cake, spreading smiles and amusement on their big day. Send this spirited Dancing Cake GIF to the birthday star, bringing a burst of excitement and a distinctive touch to their celebration.
Happy Birthday Coolest Sister
Separated by distance from your cherished sister yet eager to send a thoughtful gift? This exceptional animated card is the perfect solution. Download the animated greeting in either GIF or MP4 video format, and share it effortlessly through social media or instant messaging apps.
Amazing Happy Birthday GIF for Girl

This enchanting animated greeting is designed to elicit smiles and brighten the birthday girl's day, making her feel truly cherished. Share this mesmerizing Happy Birthday GIF with the birthday girl and elevate her celebration with a touch of magic and wonder.
Birthday Present for Her

Your sweetheart, relative, or schoolmate will be delighted to receive a charming Birthday Gift for Her animated card, sent straight from your heart! Effortlessly download a distinctive, pre-designed greeting at no cost with a single click on any device.
Funny Happy Birthday GIF with Dancing Squirrel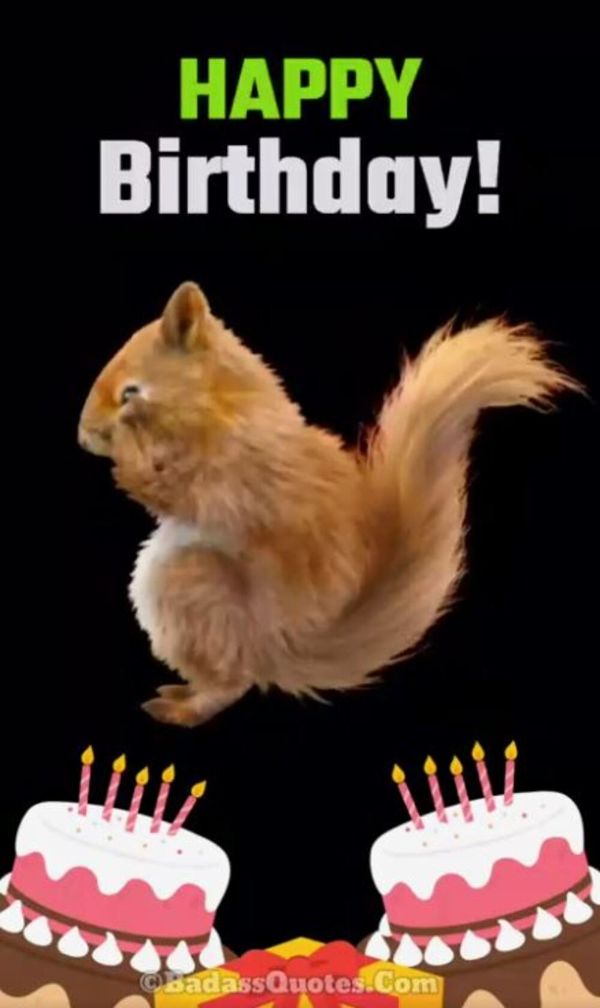 This type of GIF is often used to add humor and entertainment to birthday greetings sent via social media or messaging apps. The dancing squirrel adds a fun and lighthearted touch to the birthday message, making it a popular choice for sending birthday wishes to friends and family. 
Have a Sweet Birthday

If you're looking for a flexible way to wish your loved ones a happy birthday, the Have a Sweet Birthday animated image is a great choice. You can easily download it for free with just one click.
Birthday GIF with Pink Dino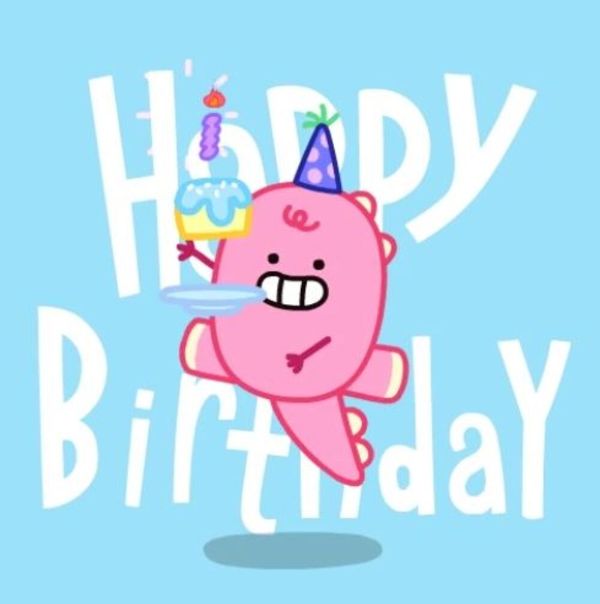 A Birthday GIF with Pink Dino is a fun and whimsical animated image that features a cute pink dinosaur celebrating someone's birthday. The pink dino adds a unique and memorable element to the birthday greeting, making it a popular choice for kids and adults alike. The file format of a GIF allows it to loop endlessly, creating a fun and festive atmosphere.
Happy Birthday My Princess

If you're unable to be with your daughter, sister, or niece on her birthday, this animated card is the perfect way to bring her happiness. This card was specifically designed to add joy to her special day, even if you're far away and unable to give her a gift in person. With this animated card, you can let her know that you're thinking of her and sending your warmest wishes, no matter the distance.
Mickey Mouse Wishing a Happy Birthday Animated Image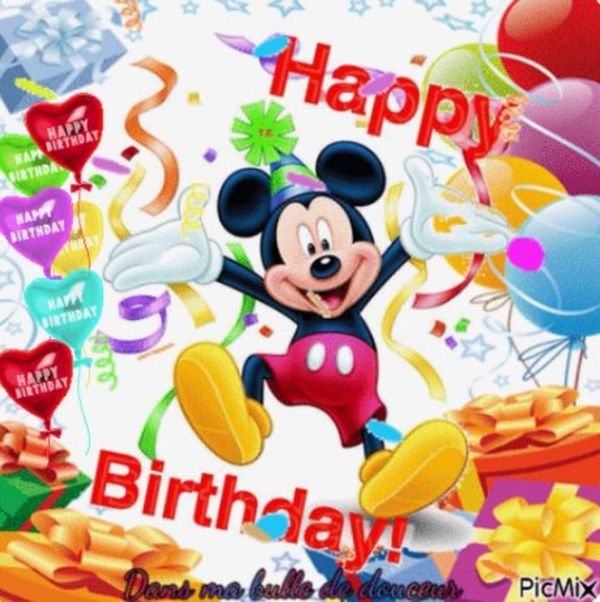 This animated image is a delightful file featuring the iconic Disney character Mickey Mouse extending birthday wishes. This option is perfect for adding a touch of childhood nostalgia and whimsy to birthday messages sent via social media or messaging apps. Mickey's playful and upbeat demeanor is sure to bring a smile to anyone's face, regardless of their age. 
My Dearest Granddaughter Happy Birthday

Surprise your granddaughter with a greeting card, and watch her face light up with joy! You can download the GIF or MP4 video to any of your devices for convenience. The postcard comes in high resolution, 1080×1350, and will look fantastic on both smartphone and computer displays.
Unicorn Happy Birthday Image

It is a magical and enchanting animated GIF that is perfect for adding a touch of whimsy and fantasy to birthday celebrations. This delightful image features a colorful unicorn surrounded by stars, rainbows, and birthday wishes. The unicorn symbolizes purity, joy, and beauty, making it a popular choice for birthday greetings, especially for children and unicorn enthusiasts.
Conclusion
In conclusion, our extensive and captivating collection of birthday animations serves as a testament to the joy that heartfelt wishes and thoughtful gestures can bring to a special occasion. These delightful free happy birthday animated images and GIFs for girls are bound to brighten any birthday girl's day, creating lasting impressions that go beyond conventional greetings. So, go ahead and choose the perfect animated treasure from our assortment to make her celebration truly unforgettable!