Discussions about AI mostly revolve around two scenarios:
  How it's going to lead to a robot uprising
and 
  How it will make some jobs and careers obsolete
In reality, artificial intelligence, as it stands today, is not as malevolent as we imagine it to be.
Rather, it is quite useful and has many practical applications in modern-day business. 
For instance, did you know that in 2021, the market value of AI in digital marketing was estimated at 15.84 billion USD?
The source also projected that this value would increase to over 107.5 billion USD by 2028.
So, you have to wonder, how can YOU use AI to take your digital marketing efforts to the next level?
Here, we will talk about how artificial intelligence can improve your pay-per-click ad strategy.
AI and PPC – Is It a Match Made in Heaven?
Before we dive in, let's quickly go over a simple definition of artificial intelligence.
Artificial intelligence or AI refers to a multidisciplinary branch of science, which includes deep learning, natural language processing (NLP), machine learning (ML), and several other emerging technologies.
When it comes to creating a solid PPC strategy, the primary benefits of AI include:
Exceptional data processing power

Ability to more accurately predict quality scores and click-through rates 

Identify bids that are likely to get the highest amount of traffic

Saving time and manpower in managing PPC campaigns
Although big data, machine learning, and artificial intelligence are still in their infancy, they can help human professionals perfect their craft. 
Top Ways Artificial Intelligence Can Improve Your Pay-Per-Click Ad Strategy
One of the biggest advantages of artificial intelligence in PPC and digital marketing is that it lets you automate many processes that would otherwise take a long time to do manually.
AI can also help you make the most of your PPC spending. But how, exactly? That's what we are here to discuss.
Now, whether you hire PPC expert or do it yourself, here are some of the best ways artificial intelligence can improve your PPC ad strategy:
Bid management is often a gamble for marketers. Bidding too low could cause you to miss out on good opportunities while bidding too high could mean sacrificing ROI. 
In large campaigns that have tons of keywords, optimizing keyword bids manually can be incredibly laborious and time-consuming.
That is where AI comes into the picture. Artificial intelligence is now helping marketers manage their PPC bids and budgets by optimizing the bids and uncovering new keyword opportunities from various unstructured data sources. 
An automated bid strategy effectively eliminates a lot of the guesswork from setting bids to meet your desired goals. 
And the best part is that Google Ads and Bing already offer you tools to automate your PPC bid management using artificial intelligence.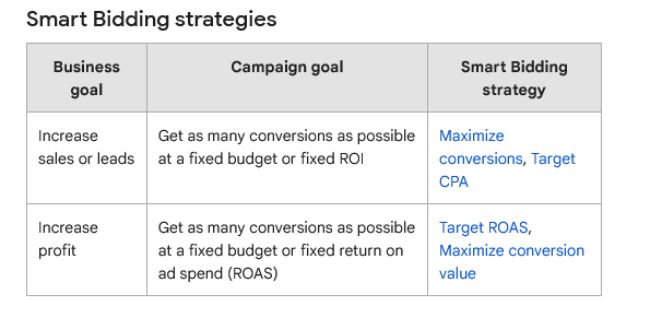 Automated bid strategies can save you time and optimize your account performance, but you should use them wisely. 
After setting up an automated bid strategy, you must monitor it closely to make sure that it is accomplishing the desired outcome.
AI-powered analytics tools and call-tracking software can help you see the connection between the leads generated by specific campaigns or keywords and your offline efforts. You can analyze the data related to your offline conversions, and improve your retargeting efforts based on the findings. 
Appropriate targeting is critical to the success of your PPC ad campaign. Firstly, you should not repel potential customers by badgering them with excessive marketing materials. Secondly, you do not need to allocate your PPC spend on one-time buyers who are unlikely to do business with you again anytime soon.
Pause Poorly Performing Ads and Keywords:
You wouldn't want to waste your money on ads that fail to deliver the desired ROI, would you? 
Stop bidding on ads and keywords that demonstrate poor performance or fail to generate clicks.
Evaluating ad performance and pausing the low-performing ones is crucial to the success of your PPC campaign. But instead of wasting your time looking for these ads manually, you can set up automated rules to pause them.
In Google Ads, automated rules allow you to make changes to your account automatically based on the conditions and settings you choose. 
You can change your ad budget, status, bids, and more. You can also use automated rules for triggering emails when certain conditions occur without the need for additional actions.
Here's how you can set up an automated rule to pause low-performing keywords: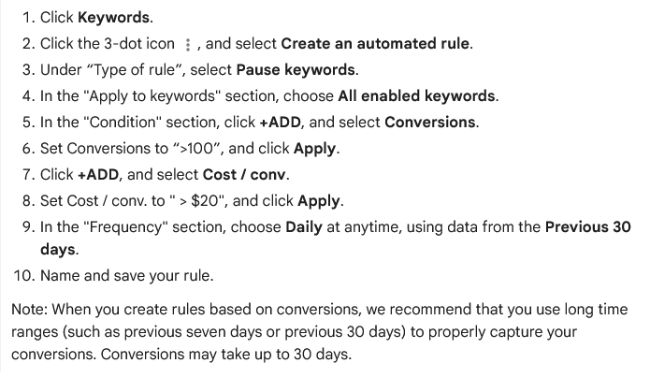 Ad Delivery Optimization:
Making sure your ads appear to the right people at the right time can be tricky. The good news is that Facebook ad delivery optimization helps with that. 
Facebook lets you choose from a wide range of delivery optimization methods based on your campaign objectives.
For instance, when running an ad for an upcoming event, you can select the delivery option called "event responses." This will ensure that Facebook shows this ad to people who are most likely to sign up for the event. 
To do this, all you have to do is select the option from the drop-down menu when creating the ad for the campaign.
Facebook offers a wide range of delivery optimization options to choose from. Some of these include:
Brand Awareness

Reach

Post Engagement

Page Likes

Event Responses

App Installs

Video Views

Leads

Impressions

Conversions

Daily Unique Reach

Link Clicks
Simply put, ad delivery optimization helps Facebook understand the desired goals of your ad campaign.
In other words, you are letting Facebook's algorithms know about your target audience for the ad and also about the results you are anticipating.
AI is not a substitute for human creativity. At least not yet. 
Although artificial intelligence cannot replace designers and copywriters who create marketing materials, it can certainly make PPC ad copies more effective. 
In Google's Responsive Search Ads (RSAs), marketers can provide up to 15 headlines and four descriptions. Then Google, with the help of AI, serves up RSAs to users based on their search terms.
Google RSAs can efficiently generate thousands of combinations based on the basic content inputs you will provide.
These are only a few examples of how artificial intelligence can improve your pay-per-click campaign. 
By incorporating AI into the mix, you can save time, automate tasks, and make your PPC ad campaign more effective.
You can also try the different AI-powered tools to improve the efficiency of your PPC ad campaign and maximize ROI. 
Wrapping Up: AI and PPC is the Future of Paid Ads Marketing
Today, artificial intelligence and pay-per-click advertising go hand in hand. The more you look into it, the more it makes sense.
Various brands are already using chatbots to make their PPC campaigns more engaging. You can also use artificial intelligence as a tool for increasing engagement, reducing bounce rates, and improving conversions. 
Combining AI and PPC can also help to improve lead quality by letting marketers gather useful data about their users in a more conversational format.
In the next few years, as AI will get more advanced, PPC marketers will discover new ways to use this technology. 
For instance, AI-powered virtual agents, capable of natural language generation, will be able to serve as "ultra-intelligent" sales representatives. They will be able to answer all customer queries with ease and efficiency.
The future of pay-per-click advertising looks promising, especially when you consider the impact of AI. Try it now.