Faxing may seem outdated, but it's still one of the most efficient ways to send and receive documents. Most companies across all industries leverage fax machines to transmit documents to their employees and customers. Fortunately, traditional fax machines have been replaced with digital solutions due to technological advancement. Today, you can send and receive documents over the internet through online faxing. 
An Overview Of Online Faxing
Online faxing refers to using a digital application to send and receive faxes via the internet. Such a tool replaces traditional fax machines, so you won't need to invest in them. In other words, online faxing is a cloud-based service that enables users to share faxes over the internet through emails and mobile applications.  
Why Online Faxing 
There are numerous reasons to include online faxing in your business. One of these is cutting down on operational expenses. When you opt for traditional faxing, you must invest in fax machines, printers, toner, ink, and paper. All of these will have an impact on your company's expenses, which could reduce profits. By implementing this technology, you can avoid spending money on physical documents and instead work with their digital counterparts. 
Another great benefit of online faxing is that it allows you to store documents in the cloud. So, you may free up valuable storage area in your home or office to put it to better use on things that are more essential to your business other than physical documents.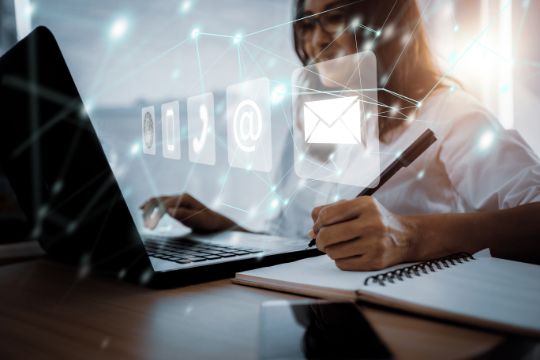 Online faxing isn't limited to just that, though. Additionally, it also enhances your data security. Keeping to the old-fashioned faxing method could put your business information at risk. For instance, passersby may access your physical documents on printers or while in transit. Moreover, office documents may be destroyed by natural calamities like fire, hurricanes, floods, etc.  
On the other hand, online faxing ensures no unauthorized people can access your files. And since most services offer secure data solutions, you won't be worried about cybersecurity attacks.  
Finding The Right Online Faxing Solutions
As detailed in the previous section, there are many reasons or benefits for investing in online faxing technology. However, you must partner with the best online fax service provider. But with so many on the market, it can be overwhelming to identify the most suitable solution. That said, here are some effective strategies to simplify the process. 
  – Define Your Needs
The first and one of the most important steps when finding the right online faxing solution is to define your needs. This involves determining the number of documents you're likely to send or receive in a particular duration which can be daily, weekly, or monthly. Doing so helps you to select the best plan for your business. 
Before you make your decision, you need to note that some of the cheap plans have a lower limit on the faxes you can send and receive within the specified time. So, assess your needs to ensure you choose a plan that best suits you. That goes a long way in ensuring you find the best service provider. 
   – Research Various Service Providers 
Another great way to streamline the process of finding the right online faxing service is to research various service providers. This way, you'll know the quality of their solution and customer service. For obvious reasons, you probably don't want to partner with a company that isn't fully dedicated to providing top-notch fax services to its clients. 
One of the best ways to learn about any online faxing service provider is to read online reviews. Keep in mind that you can get a sense of the company's standards and the quality of its services from the feedback of other customers. As a general rule, the more positive reviews for a service, the better.
Besides, reaching out to various service providers is a great way to evaluate their customer service. For instance, a service provider who responds slowly to your initial query cannot be relied upon to provide superior service. Strive to work with a company that provides real-time communication. Thus, you can rest assured that they will always be present to provide prompt solutions. 
  – Take Advantage Of Free Demos 
Leveraging online faxing technology is a huge investment that needs to be carefully considered. Otherwise, it might cost you a lot of money. For instance, installing the wrong software may force you to spend extra cash replacing it. You could have avoided that by taking advantage of free demos. 
Today, most online faxing services are offering free demos for their solutions. Working with such a vendor will provide you access to a trial version of their product before integrating it into your company's infrastructure. As such, you'll know whether it's the right service before you spend on a solution that might not serve your needs.  
Takeaway
Leveraging the power of online faxing technology is one of the most effective ways of taking your business enterprise a notch higher. It allows you to save money, enhance the security of your data, reduce storage space, etc. However, you must work with the right service. You can implement the strategies in this article to ensure you find the right online faxing solution for your company.