You'll be delighted to know that creating a successful blog doesn't require any money whatsoever.
There are plenty of free resources out there that can help you kick-start your blogging journey.
But, like any online business, there are a few important decisions you need to make to move in the right direction.
In this guide, I'll tell you the information and resources you need to build a profitable blog from scratch.
Let's dive in.
How to Start a Blog for Free?
Before you pick a free blogging platform, it's important to check a few important boxes.
Find a Niche
This is probably going to be the most crucial stage of your blogging journey.
Your success in blogging majorly depends on what niche you work on.
Here's how you can find the right niche for your free blog.
Go With a Micro-Niche
A micro-niche is simply a niche within a relatively bigger niche.
For instance, "Hiking" is a part of the broader "outdoors" niche.
Just like the "Keto diet" is a micro-niche within the much broader "Diet" niche.
The benefit of choosing a micro-niche?
There's generally lesser competition, which allows you to rank for your target keywords relatively easily.
Of course, these are just a couple of examples.
You want to do your homework before picking a niche.
the two criteria for choosing a blogging nice are:
– Your interest
– Profitability
Think about what you will like to talk about and make a list of topics.
Then, check if it can make you money. For instance:
Can you monetize your content with affiliate offers?
Do you have a product of your own that you'd like to promote via your blog?
If you're unsure about monetizing your blog, you can always go with a display ad network like AdSense.
All you'd need to do is sign up for it and get approved; the rest will be taken care of by Google.
Find a Name
Next, you need to find a suitable name for your blog.
It should be short, relevant, and easy to pronounce and remember.
Choose a Blogging Platform
Your success as a blogger depends a lot on what hosting platform you choose.
That gets even trickier when you have to pick from the free ones.
After all, a free hosting provider is going to store your files on their servers for free.
The point is you have to check a few factors before deciding on a free hosting platform.
A couple of downsides to free hosting?
– 1. You're sharing your space with other people, which can slow your site down
– 2. Your blog's domain will have an extension like, "yourblogname.wordpress.com".
With paid options, you get a lot more control over your resources and domain name.
So, it's worth considering paid options once your blog starts generating some income.
Best Free Blogging Platforms
With niche and domain selection out of the way, it's time to pick a free blogging platform.
Let's review a few industry leaders.

WIX is an easy-to-use platform, which makes it suitable for beginners.
The drag-and-drop website builder lets you create your site. You don't even need prior experience in website creation.
Plus, it lets you host your site on its servers for free.
All you have to do is pick a template, edit it to your heart's content, and publish it online.

WordPress.com is another great free option for blogging enthusiasts.
Keep in mind that it's different from WordPress.org, which is a content management system, but doesn't come with free hosting.
Since WordPress.com has an easier learning curve, it's more beginner-friendly.
However, you don't get a lot of control over how your website looks and functions.


Blogger is one of the best free blogging platforms, partly because it's owned by Google.
The best thing is creating and managing a blog with Blogger is super easy.
This is why most beginners choose Blogger to kick-start their blogging journey.
All you'd need to do is pick your domain name and start publishing blog posts.
Here's what a post on Blogger looks like on the back-end:
Since it's hosted on Google's servers, you don't have to worry about your blog's speed.
However, know that your domain name will have "Blogspot" at the end. You can always buy a domain name and customize your blog URL.  
But that's all you need to invest in a Blogger blog.

LinkedIn is probably the most popular social media platform for professionals.
So, seeing it on a list of the best free blogging platforms might be a little surprising for you.
But, while LinkedIn isn't the first choice for people looking to get into blogging, it deserves some attention.
The reason is LinkedIn Posts.
LinkedIn posts let you share your thoughts with LinkedIn users.
The good thing is that LinkedIn posts get ranked on search engines like Google, just like blog posts.
Thankfully, LinkedIn already has a ton of authority, which helps you rank your posts on the first page of Google.
That being said, many bloggers use LinkedIn as an extra source of traffic for their main blog.
While LinkedIn is a great free option, it's not ideal for the long term, especially because you can't customize it.  

Medium is an amazing platform for writers all around the globe.
No matter your experience and industry, you can kick-start your writing journey on Medium in a few minutes.
Just create an account and start publishing your content; it's super easy to use. A feature that makes Medium stand out from the rest is its huge audience.
Around 60 million people visit Medium every month.
This means your content can reach a lot of eyeballs.
Plus, your Medium posts are also indexed and ranked on Google.
And, because Medium already has very high authority in the eyes of Google, you won't have a hard time ranking your posts.
However, the downside is that you don't control a lot of things on your Medium blog.
You'll have a lot less control over your blog's branding; something that's not a problem with content management systems like WordPress.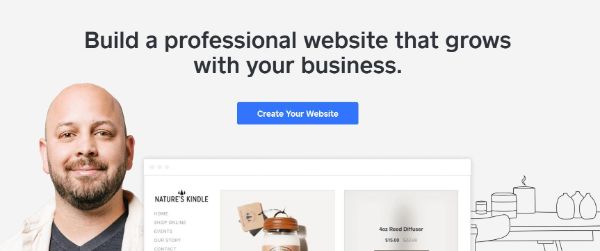 Weebly is another free yet powerful blogging platform you can rely on.
It's not only great for blogging though; you can also sell products and showcase your portfolio on a Weebly site.
Weebly and WIX are somewhat similar. Both platforms let you build your blog with a simple drag-and-drop action.
In addition, you can use your own customized domain with Weebly if you can buy one.
All in all, Weebly is a user-friendly platform that you can use to start a blog without any technical knowledge.
But, of course, since it's free, there are a few limitations.
On the free Weebly plan, you get five custom pages, 500MB storage, ad spaces, and a Weebly subdomain.
Final Thoughts
We've talked about how to start a blog for free, using the best platforms.
If you've read this far, you have the knowledge to kick-start your blogging journey without any initial investment.
Keep in mind that blogging is a tough industry. While getting started with a free platform is a good option, it's not ideal for the long term.
What you should do is start free, generate some revenue from your content, and invest it into a paid hosting service and domain.