Windows PC is widely used to carry out business plans as well as save/edit personal videos, images, and documents. It seems Windows PC is very reliable to use. However, there are various incidents which can cause data loss on Windows PC. And it's quite depressing when files lost accidentally. The good news is that there are still some ways available to recover deleted and lost files from Windows PC and some of them are free. Here in the following, let's explore the free ways for how to recover deleted files from Windows PC.
Method 1. Restore Deleted Files from Recycle Bin
Recycle bin is the place where deleted files are saved temporarily. They're saved in recycle bin for a couple of days, generally 30-days, in case of people regretting deleting files. When you accidentally deleted files on Windows PC, you can check out recycle bin, find the needed files and restore them.
– 1. Just double-click or right-click to open recycle bin icon on your Windows PC.
– 2. Scroll down to look for needed files
– 3. Select needed files. Right-click and select "Restore".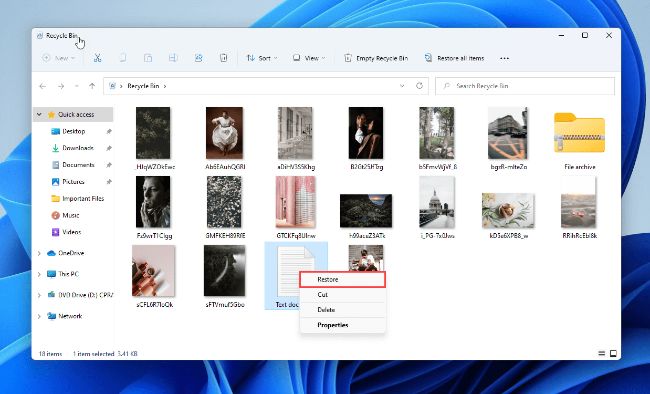 That's how to restore deleted files from Windows PC recycle bin. It works for all the deleted files directly from Windows PC internal hard drives, not for any deleted file from Windows PC connected external hard drive, like CF cards and USB flash drives. However, if you have emptied the recycle bin, then you must try the following ways to retrieve the deleted files.
Method 2. Restore Deleted Files from Previous Version
Windows PC has a built-in feature named as previous version. It is used to save all versions of a folder and a file. You can also try your luck to restore deleted files by using this feature.
– 1. Open My Computer and navigate to the folder where the needed file(s) was deleted.
– 2. Right-click on the folder and click Restore Previous versions.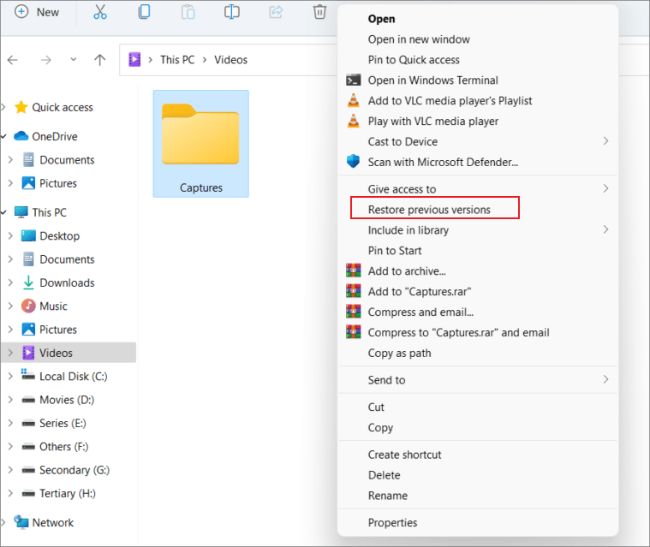 – 3. Next, find the previous versions you need from the list.
– 4. Select it and click "Open"
– 5. Find the deleted files. Drag and drop it to a new location.
Method 3. Retrieve Deleted Files from Windows PC by Restoring from a Previous System Restore Point
Windows 10 comes with a data backup feature named as System Restore. It is developed to help users back up Windows PC system automatically. By doing this, when any incident happens, users can restore the computer a previous point, decreasing the data loss issue. You can follow the steps to restore deleted files from Windows PC by restoring from a previous system restore point.
– 1. Type "create a restore point" in the search box at the bottom left of the window.
– 2. Select "System Restore".
– 3. From the list, select a system restore point which contains the files you deleted and click Next.
– 4. Confirm the restoring action and click Finish.
– 5. Restart your computer and check out the changes after then. If succeed, then you can see the deleted files are there.
Method 4. Recover Deleted/Missing/Lost Files from Windows PC with Free Data Recovery
What worse is that people still can't find the deleted files on Windows PC after trying method 1 to method 3, and there is no backup file at all. In this case, the last resort is making use of professional data recovery software to recover deleted files. Professional data recovery software can scan hard drive, making the invisible files visible, letting users to recover them selectively.
iBeesoft Free Data Recovery is freeware, which is very suitable for users who do not have large-sized files to recover. It enables users to recover up to 1000 file types, covering all the daily used pictures, videos, documents, archives, and more. what's even greater is that during the scanning process, it will fix corrupted videos and pictures which got corrupted during deletion process. Here are the steps for how to recover deleted files from Windows PC with the free data recovery software.
– Step 1. Download and install iBeesoft Free Data Recovery software on your computer. Please note that you should not save and install it on the hard drive where the deleted files used to be.
– Step 2. Launch the free data recovery software and click "Scan" button beside the partition where files were deleted. It will take a few minutes for the software to finish the scanning process.
– Step 3. After the scanning, you can see all the recoverable files are sorted into directory. You can click open "Deleted Files" in the left panel and check the found deleted files on the right side.
– Step 4. After seeing the needed files, select them and click "Recover" to save them to a new location on your Windows PC.
4 free ways for how to recover deleted files from Windows PC are introduced. They are workable and helpful when you deleted files from Windows PC accidentally. However, the most important thing is that you should back up important files regularly in case of data loss happen.